Nov. 22, 2018 04:55AM PST
Blockchain Investing

YDreams Global Interactive Technologies Inc. (TSXV:YD, www.ydreamsglobal.com) ("YDreams" or the "Company") is pleased to present its November monthly corporate update.
YDreams Global Interactive Technologies Inc. (TSXV:YD, www.ydreamsglobal.com) ("YDreams" or the "Company") is pleased to present its November monthly corporate update.
Arkave VR receives AWARD: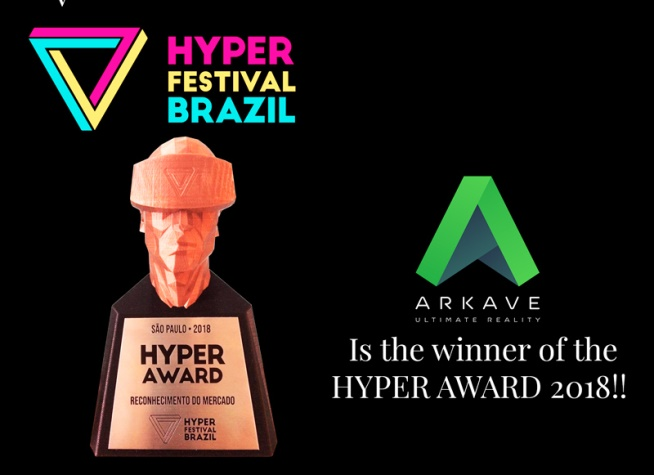 Click Image To View Full Size
In November, Arkave VR received the Hyper Award 2018, in Brazil. The award provides further validation that the Arkave VR is a one of the most advanced and entertaining VR platforms in the market.
"The voting took place recently through an online portal available to all festival attendee's. Voters could support an individual product, case, company or solution that they believe is the most outstanding and highest quality experience in the VR market today" – Stated Hyper Festival in their public announcement.
The Hyper Festival is the most important VR event of South America and is sponsored by important brands like Facebook and Adobe.
IAAPA and record month for events
In the past 30 days, Arkave VR was booked at 8 events, creating a substantial source of revenue for the division. The Company is expanding this business model in North America through partnerships and creating a dedicated team in Brazil to support this increased demand for the product.
The Company recently made its first appearance at the largest event in the world for Theme Parks and Family Entertainment Centers. The event takes place in Orlando every year, with editions in Europe and China as well. Thousands of companies that supply services and products for the out of home entertainment industry were present. Virtual Reality had a strong role at the event this year, allowing Arkave VR to be measured against the best experiences available in the VR market.
The product was met with incredible enthusiasm and is being considered by several experienced operators. It was considered the most innovative VR solution with the best quality and available at a price range that is affordable.
The Company recently unveiled its latest version of Arkave VR, which no longer requires a backpack. Through a partnership with HTC and Intel, YDreams was the first to bring a full body, free roam VR experience without the use of backpacks or wires.
"Upgrading Arkave VR so it doesn?t require backpacks may seem insignificant but it's a crucial feature for Family Entertainment Centers and Theme Parks Operators. It greatly increases the throughput of each Arena, allowing more players per hour and thus increasing margins for the operator." – Stated Francisco Chaves, Head of Arkave. "Being the first company to accomplish this puts Arkave VR as a top contender for being the main option for FECs".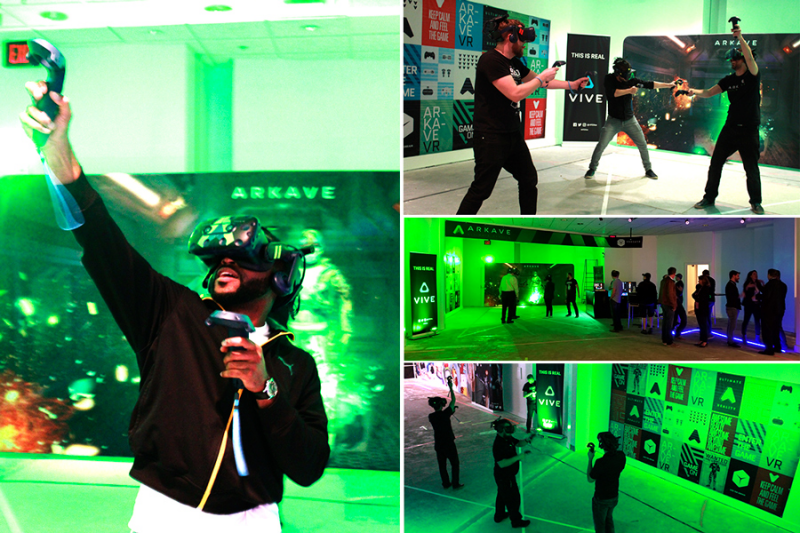 Click Image To View Full Size
About the event, Daniel Japiassu, CEO of YDreams Global stated: "This is by far the most important event for Arkave VR in terms of promotion. We are already planning to come back with a stronger presence next year. The number of requests and quotes from serious buyers looking for VR solutions was incredible and will only increase in years to come. We hope to close deals fast, some clients want to open Arenas before Christmas! Operators are eager to bring new technologies to their venues and Arkave VR is the full package".
The event was also the first after signing a distribution agreement with Studio 41b and Dynamic Design. The companies work together and have an impressive list of clients like Walt Disney World and Legoland.
After the event, Arkave VR was installed in their showroom so the company can now easily demo Arkave VR for their many clients in Orlando and Miami.
New project for Energy client
This week the YDreams Global Studio Division launched a new project for one of its main clients Enel Energy.
The brand is a multinational corporation present in 35 countries on 5 continents and one of Europe's leading energy companies.
The new project was launched at an event in Brazil. The client represents the largest private energy provider in the country. The projects goal is to ensure the company's strong vision for green and sustainable energy is understood and to promote the services provided by the brand.
YDreams has delivered several projects for the client in 2018 and hopes to continue to grow the relationship in 2019.
eSports Event Teaser Announcement:
The Company would like to announce that it continues to intensify its initiatives related to eSports. As previously stated, the Company is working on a new product that combines eSports Tournaments, VR and complimentary interactive exhibitions.
The plan is to launch a gaming festival in Q2 2019, stay tuned for more news on this exciting initiative.
About YDreams Global
YDreams Global Interactive Technologies Inc. (www.ydreamsglobal.com) is a technology company with offices in Vancouver, Sao Paulo and Rio de Janeiro. that combines Augmented and Virtual Reality Technology, Design and Intelligence to respond to the challenges and demands of today's users and consumers.
The YDStudio division works as a partner for companies and brands to reframe their strategy through relevant human-centered ventures that integrates digital experience with physical presence and venues. YDStudio anticipates future challenges and connects them with the needs of the market, building innovative concepts and delivering them with international excellence.
YDreams Global?s Studio have developed over 1,300 projects for clients all over the world, such as Disney, NBA, Adidas, Cisco, Nokia, Nike, Mercedes Benz, Coca-Cola, Santander, AmBev, Qualcomm, Unilever, City of Rio and Fiat.
Beyond the YDStudio division that works in a project based industry, the Company has launched the product Arkave VR, a gaming arena that brings the most immersive experience of Virtual Reality with a highly scalable business model.
Arkave VR has a flagship store in Brazil and is being expanded to the United States and Canada through a network of distributors that will focus on the thousands of Family Entertainment Centers that exist in North America and are in constant search for innovative attractions.
More Information:
Daniel Japiassu
Director and Chief Executive Officer
hey@ydreamsglobal.com|www.ydreamsglobal.com|www.youtube.com/ydreamsglobal
Neither TSX Venture Exchange nor its Regulation Services Provider (as that term is defined in the policies of the TSX Venture Exchange) accepts responsibility for the adequacy or accuracy of this release.
This communication contains "forward-looking statements" within the meaning of applicable Canadian securities regulations. All statements other than statements of historical fact herein, including, without limitation, statements regarding our current and future plans and objectives, are forward-looking statements that involve various risks and uncertainties. There can be no assurance that such statements will prove to be accurate and future events and actual results could differ materially from those anticipated in such statements. Important factors that could cause actual results to differ materially from our expectations as well as a list of risk factors that we deem relevant are disclosed in the documents we file from time to time via SEDAR with the Canadian regulatory agencies to whose policies we are bound. Forward-looking statements are based on our current assumptions, estimates and opinions and are inherently subject to significant business, economic and competitive uncertainties and contingencies, many of which are difficult to predict and generally beyond our control. We do not undertake any obligation to update forward-looking statements should our assumptions, estimates or opinions change, other than as required by law and readers are advised not to place undue reliance on forward-looking statements.
Statements included in this announcement, including statements concerning our plans, intentions and expectations, which are not historical in nature are intended to be, and are hereby identified as, "forward-looking statements". Forward-looking statements may be identified by words including "anticipates", "believes", "intends", "estimates", "expects" and similar expressions. The Company cautions readers that forward-looking statements, including without limitation those relating to the Company's future operations and business prospects, are subject to certain risks and uncertainties that could cause actual results to differ materially from those indicated in the forward-looking statements.
Click here to connect with YDreams Global Interactive Technologies Inc. (TSXV:YD, www.ydreamsglobal.com)  for an Investor Presentation.
Source: www.thenewswire.com
Investing News Network websites or approved third-party tools use cookies. Please refer to the  cookie policy for collected data, privacy and GDPR compliance. By continuing to browse the site, you agree to our use of cookies.