TD Bank Files Patent Application to Use Blockchain to Track Digital Assets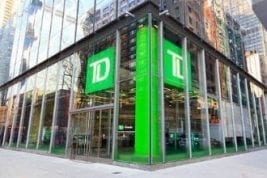 TD Bank's blockchain patent application was filed about a year and a half ago in September 2016 and was published this past Thursday.
With the tumultuous year the blockchain industry is having, it's always a good sign when a major financial institution is on board with this relatively new transformative technology.
Published late last week (March 29) Toronto-Dominion Bank (NYSE:TD; TSX:TD) filed a patent application in September 2016 to use blockchain–referred to as an "apparatus"– as a digital asset tracking system, which includes "a storage device and a processor coupled to the storage device."
The financial institution claimed in the application that the tracking system would track digital assets such as digital accounts having digital containers, and to facilitate point of-sale computer transactions.
"A first draft is generated from a first account to an account associated with the second client. The first draft comprises a value in a second currency equivalent to the value of the first transfer," the abstract reads.
In short, what that means is the software would create a trail–or blocks–of information or data sold from one person to another with the transactions stored and the total value provided in a currency.
Since the application filing just over 18 months ago, there has been no official word as to whether or not TD Bank will follow through with the application or not. However, the application filing references praise to blockchain technology multiple times throughout the document.
"One advantage of block[chain] based ledgers is the public nature of the block chain architecture that allows anyone in the public to review the content of the ledger and verify ownership," the document read. "The decentralized block[chain] approach also makes the system fairly robust in comparison to centralized server systems by allowing multiple distributed networks to verify the contents of a single ledger."
The application further adds that decentralized ledgers are advantageous because they minimize the risk of false ledgers, stating that the "size" of the blockchain can often times become an "onerous task to search and pin point a specific transaction."
TD Bank isn't the only financial institution looking to adopt blockchain technology. According to research conducted by IBM (NYSE:IBM), it's expected this year that 91 percent of banks will invest in blockchain solutions. In terms of overall spending in the blockchain industry, IDC projects that number will reach $2.1 billion in 2018, up from $945 million 2017, to reach a staggering $9.7 billion by 2021, representing a compound annual growth rate (CAGR) of 81.2 percent between now and then.
With financial institutions working towards adopting blockchain technology and the amount of spending going into the industry over the next few years, there are no shortages of investing opportunities to be had in the industry.
In the days following TD Bank's patent application going public, its share price on the NYSE has dropped slightly from $56.53 to $56.10 as of Tuesday's (April 3) close, while on the TSX its share price has decreased from $73 to $71.89 at market close on Tuesday.
Don't forget to follow us @INN_Technology for real-time news updates.
Securities Disclosure: I, Jocelyn Aspa, hold no direct investment interest in any company mentioned in this article.