Will Ethereum be a Better Investment Than Bitcoin in 2018?
Ethereum has been off to an impressive start so far in 2018 having reached several new record highs and climbing over 13,000 percent since early 2017. Is 2018 the year of Ethereum?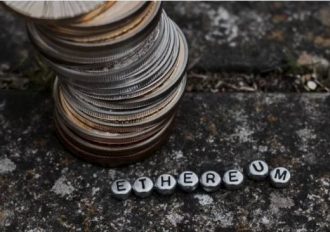 While 2017 was the year of Bitcoin, 2018 is shaping up–in a big way–to be the year Ethereum takes off. 
Since January 1, the second-largest digital currency by market cap has increased by roughly 74.7 percent–up from $755.76 to briefly $1,369.78 on Wednesday (January 10) before dipping back under and fluctuating between $1,299 and $1,320.68.
Bitcoin, on the other hand, has been more volatile. On January 1, the cryptocurrency was valued at $14,112.20 and subsequently reached a year-to-date high of $17,627.40 on January 5, but has since dipped back down to $14,638.50 as of January 10.
As a result, speculation has been circling as to what a better investment is: Bitcoin, or Ethereum?
With Ethereum consistently reaching new highs this week alone, David Mondrus, CEO of Trive said that the resilience Ethereum has shown while other cryptocurrencies are dropping is indicative that Ethereum is "the next safe haven."
"Ethereum is [currently] known as the strongest, most resilient of the [cryptocurrency] networks," Mondrus explained in a phone interview with the Investing News Network (INN). "Bitcoin has its scaling problems."
Mondrus continued, stating that bitcoin has had a scaling issue for several years now and that the blocks currently have a 1 megabyte (MB) limit, which means that blocks on the bitcoin blockchain are only able to contain 1 MB of data.
"Ethereum has its scaling problems [as well], but in Ethereum's case, the move towards a scalable solution–like sharding–is well underway," he said.
Looking deeper into 2018, Mondrus said he expects Ethereum to scale well this year, making it a "better place to be" over cryptocurrency darling Bitcoin–and that it will continue to show resilience.
"I think what's made it more resilient is the ecosystem and the governance of Ethereum are much more positive in their approach than Bitcoin," he explained.
As a Quartz.com article touched on, Ethereum will continue to grow not only in its value, but in the number of Dapps that are built on its platform.
"In 2018, it will move from proof of work to proof of stake," the article stated.
Other reasons to be optimistic about Ethereum over Bitcoin includes the fact that it is, as it stands, the "most widely used" and most stable network," Mati Greenspan, senior market analyst at eToro told Forbes.
"Investors shifting funds to Ether is similar to what we would call a 'flight to safety' in traditional markets," Greenspan continued.
All told, the year is still young for Bitcoin, Ethereum, and the plethora of other cryptocurrencies, but as it currently stands Mondrus said he's more excited about Ethereum and its technologies.
Where will you put your money in 2018? Bitcoin or Ethereum? Let us know in the comments!
Don't forget to follow us @INN_Technology for real-time news updates! 
Securities Disclosure: I, Jocelyn Aspa, hold no direct investment interest in any company mentioned in this article. 
The Investing News Network does not guarantee the accuracy or thoroughness of the information reported in the interviews it conducts. The opinions expressed in these interviews do not reflect the opinions of the Investing News Network and do not constitute investment advice. All readers are encouraged to perform their own due diligence.