Weekly Round-Up: Investors Look Beyond the Headlines
Resource prices found their footing on more signs of recovery in the US — while another big pipeline deal grabbed attention in the oil and gas sector.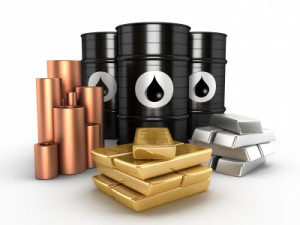 Commodities gained ground this week as investors zeroed in on rising employment and manufacturing activity in the US; however, some of those gains were masked by one-time events.

The biggest downside surprise of the week came on Wednesday, when the commerce department announced that the US economy contracted by 0.1 percent in the fourth quarter of 2012. However, that was largely due to lower government spending, including a 22.2-percent drop in defense expenditures and lower spending by businesses to increase their inventories.
"This shows that underneath the surface, the fourth-quarter economy was really pretty good despite all the defense cuts. I think the private sector is leading the way," Jack Ablin, chief investment officer at BMO Private Bank, told Reuters.
On Friday morning, the labor department reported that although the US added 157,000 new jobs in January, that wasn't enough to keep the unemployment rate from rising from 7.8 percent to 7.9 percent. The figure also fell short of the consensus forecast of a gain of 166,000 positions. However, that was mostly offset by an upward revision to 2012's numbers: the labor department said the country created 335,000 more jobs during the year than initially estimated, with most of those gains coming in toward the end of the year.
In addition, orders for durable goods (items made to last three years or more) jumped 4.6 percent in the US in December, largely due to higher orders for aircraft. Absenting transport-related items, orders rose 1.3 percent; industrial sector orders gained 2.2 percent.
"We got a significant pullback in the third quarter, but we have seen three months now of better data," Julia Coronado, chief North American economist at BNP Paribas, told MarketWatch. "It's broad-based, too. It's not just one sector."
In morning trade Friday, Brent crude is up 1.17 percent, at $116.87 a barrel, while copper is up 0.95 percent, at $3.77 a pound. Gold is up 0.55 percent, at $1,671.10 an ounce.
Gold

Luna Gold (TSX:LGC,OTCQX:LGCUF) expects its Aurizona gold mine in Brazil to produce 95,000 to 105,000 ounces of gold this year at an average cash cost of $705 to $715 an ounce. Luna also plans to complete Phase I of Aurizona's expansion this year. That should boost the project's output to an equivalent of 125,000 ounces a year during the fourth quarter.
The company also plans to continue drilling at its Luna Greenfields property and deliver NI 43-101 compliant resource estimates on its Piaba deposit and the Aurizona mine in the first quarter.
Rubicon Minerals (TSX:RMX,AMEX:RBY) reported that it expects first production at its Phoenix gold project in the Canadian province of Ontario in the second half of 2014. The company also said that it is considering using a different mining method at the project. The new approach, called the longhole method, should increase Phoenix's productivity and could lower its operating costs. However, the change could increase the project's capital expenses beyond the $214 million in Rubicon's preliminary economic estimate.
Oil and gas
Kinder Morgan Energy Partners (NYSE:KMP) agreed to buy Copano Energy (NASDAQ:CPNO) in a deal worth about $5 billion, including the assumption of debt. Copano investors will receive 0.4563 Kinder Morgan units for each unit they hold, which amounts to $40.91 per unit — a 23.5-percent premium on Copano's closing price the day before the deal was announced. Kinder Morgan expects the sale to close in the third quarter of 2013.
Copano operates 6,900 miles of pipelines with 2.7 billion cubic feet per day of capacity. "As a result of this acquisition, we will be able to pursue incremental development in the Eagle Ford shale play in south Texas, gain entry into the Barnett shale combo in north Texas and the Mississippi Lime and Woodford shales in Oklahoma," said CEO Richard D. Kinder.
Chesapeake Energy (NYSE:CHK), the second-largest natural gas producer in the US, reported that CEO Aubrey K. McClendon will retire from the company on April 1, 2013. McClendon holds interests in many of Chesapeake's wells and allegedly borrowed $1 billion against these stakes from a lender that is also invested in Chesapeake, which could put him in a conflict of interest. The SEC is investigating, CNNMoney noted.
Tethys Petroleum (TSX:TPL,LSE:TPL) signed two new contracts that effectively double its selling price for gas in Kazakhstan. The agreements, which Tethys made with a subsidiary of Kazakh state-owned gas distributor KazTransGas, will pay the company $65 per 1,000 cubic meters after marketing and distribution costs, up from US$32.50. The contracts are for annual volumes of up to 150 million cubic meters and run through December 31, 2013.
Copper
Workers at Chile's Escondida copper mine voted in favor of a new labor deal with BHP Billiton (NYSE:BHP,ASX:BHP,LSE:BLT), Reuters reported. BHP operates the project and holds a 57.5-percent stake, while Rio Tinto (NYSE:RIO,ASX:RIO,LSE:RIO) owns 30 percent. A consortium led by Japan's Mitsubishi (TSE:8058) owns the other 12.5 percent. The deal includes a 23-million peso (US$48,665) signing bonus and a 5-percent wage increase.
BHP and Rio are currently planning a $4.5-billion expansion at Escondida, which is the world's largest copper mine. Through the first nine months of 2012, Escondida's output was up 31.6 percent from a year earlier, to 787,000 metric tons, Reuters reported.
Gold Reach Resources (TSXV:GRV) announced an updated resource estimate for its Seel and West Seel deposits, both located at its Ootsa property in British Columbia. Gold Reach now estimates that the deposits contain 2.8 billion pounds of copper in the inferred category, plus 0.58 billion pounds indicated. The company also reported increased gold, silver and molybdenum estimates.
Securities Disclosure: I, Chad Fraser, hold no positions in any of the companies mentioned in this article.