Weekly Round-Up: Europe Weighs on Commodities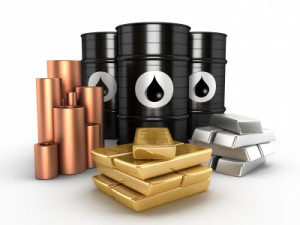 Commodities are ending the week little changed from last Friday, with oil up modestly and gold and copper flat.
In the United States, house prices posted their biggest jump in six years. Prices appreciated for the 10th consecutive month in December, rising 0.4 percent from November and 8.3 percent over December 2011, according to data-analysis firm CoreLogic.
The country's industrial sector also showed strength: the Department of Commerce reported this week that orders for goods made in US factories rose 1.8 percent in December. That's up from a decline of 0.3 percent in November. But even with the jump, December's gain still missed the 2.6-percent increase that economists had forecast.
Retail sales figures look healthy as well. Reuters said that sales at the 20 retailers it surveyed rose 5 percent in January, well above its estimate of a 3.1-percent rise. The figure will be closely watched in the coming months, however, as consumers absorb a 2-percent payroll tax increase that came into effect on January 1.
Meantime, comments from European Central Bank (ECB) President Mario Draghi drew attention to the euro, which has gained in value against the US dollar. "The exchange rate is not a policy target, but it is important for growth and price stability and we certainly want to see whether the appreciation is sustained," Reuters reported Draghi as saying. The ECB chief's comments raised concerns that the euro could hurt European exports and keep inflation below the bank's 2-percent target — that's because a strong currency lowers the price of imported goods.
In morning trade Friday, Brent crude is up 1.41 percent, at $118.89 a barrel, while copper is up 0.95 percent, at $3.76 a pound. Gold is down 0.16 percent, at $1,668.60 an ounce.
Gold
Kirkland Lake Gold (TSX:KGI) finished its service cage project at its mine in the Kirkland Lake gold camp in Ontario, Canada. At the end of last year, the company slashed its 2013 gold production forecast to 90,000 to 110,000 ounces, largely due to delays related to this work. The company said the service cage is now operating and is helping to clear a backlog that includes ore that is ready to be brought to the surface and material that is waiting to be sent into the mine. Kirkland Lake also said that it remains on track to meet its revised 2013 production numbers.
Great Panther Silver (TSX:GPR,AMEX:GPL) reported positive gold and silver showings at its Guanajuatito mine complex in Mexico this week. In the Valenciana mine area, the company's latest drilling results include an intercept of 2,900 g/t silver and 26 g/t gold over 1.3 meters. At the Guanajuatito mine, highlights include 1,010 g/t silver and 6.67 g/t gold over 1.1 meters. The company plans to continue its drilling on the site this year.
Corex Gold (TSXV:CGE) signed an agreement with a subsidiary of Vale (NYSE:VALE) under which Vale can acquire up to 65 percent of Corex's Santana copper-gold project in Mexico by funding a total of $16 million of work on the property. The 7,700-hectare project is 50 kilometers southeast of Alamos Gold's (TSX:AGI) producing Mulatos mine.
Oil and gas
Suncor Energy (TSX:SU,NYSE:SU) reported a net loss of $562 million, or $0.37 a share, in the fourth quarter of 2012. The loss includes a $1.49-billion writedown of the company's Voyageur oil sands upgrader, construction of which is currently suspended due to lower oil prices.
On an operating basis, the oil sands giant earned $1 billion, or $0.65 a share. That fell short of the consensus forecast of $0.76. Production rose, but prices for the company's oil sands crude fell, and some of its offshore platforms were shut down for planned maintenance.
Petroleo Brasileiro (NYSE:PBR), Brazil's leading oil producer, reported higher fourth-quarter earnings this week, though its full-year profit dipped. Petrobras' profits rose 53.5 percent from the year-ago quarter, to 7.75 billion Brazilian reals (US$3.89 billion), according to a report from The Wall Street Journal. That topped the consensus forecast of 6 billion reals. However, Petrobras' full-year profits fell to 21.2 billion reals from 33.3 billion in 2011 due to lower production, maintenance shutdowns and the need to import fuel to meet rising Brazilian demand. The company now plans to cut its dividend to save cash for further investments.
Copper
Xstrata (LSE:XTA) reported a big rise in reserves at Collahuasi, the world's third-largest copper mine. Xstrata and Anglo American (LSE:AAL) each own 44-percent stakes in the Chilean operation, while a consortium of Japanese companies led by Mitsui & Co. (TSE:8031) holds the remaining 12 percent.
Collahuasi contains a measured, indicated and inferred 9 billion metric tons at an average grade of 0.81 percent copper and 0.02 percent molybdenum, according to the mine's updated resource estimate. That's a 19-percent increase over the December 2011 estimate. The partners aim to boost the mine's output after last year's production fell 37.8 percent from 2011, according to Reuters.
McEwen Mining (TSX:MUX,NYSE:MUX) announced an updated resource estimate on its Los Azules project in Argentina. Contained copper in the indicated category declined slightly from the company's last estimate, to 4.45 billion pounds. However, its inferred resource jumped 29 percent, to 13.95 billion pounds. The expanded resource includes 6,966 meters of new drilling from 10 additional holes.
Tintina Resources (TSXV:TAU,OTCQX:TINTF) reported assay results from 15 new holes that it drilled at its Black Butte project in Montana. Highlights include hole SC12-168, which intersected 23.66 meters grading 5.45 percent copper, 0.11 percent cobalt and 20.9 g/t silver. The company plans to release a revised preliminary economic assessment on the project in the second quarter of 2013. It then plans to commission a prefeasibility or feasibility study to be completed by the third quarter of 2014.
Securities Disclosure: I, Chad Fraser, hold no positions in any of the companies mentioned in this article.