Precious Metals Weekly Round-Up: Gold Dips Ahead of US-China Talks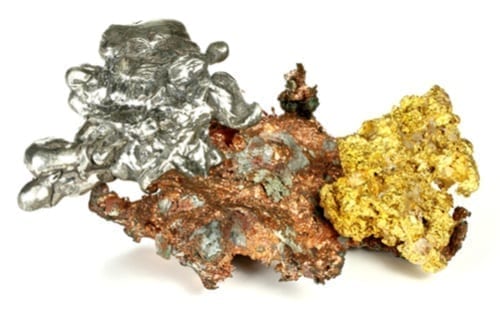 Precious metals were down on Friday, but gold and palladium both had a positive week, posting gains in the previous two sessions.
Gold and silver dipped on Friday (November 30) as investors awaited the expected meeting between US President Donald Trump and China's President Xi Jinping at the G20 summit currently being held in Argentina.
As of 9:20 a.m. EST, the yellow metal was trading at US$1,219.93 per ounce. As for the white metal, it was down 1.68 percent on Friday, sitting at US$14.15 per ounce as of 9:21 a.m. EST.
"There is caution ahead of the G20 meeting between Trump and Xi, a little bit of nervousness about placing fresh positions ahead of their discussion, where the outcome is pretty much uncertain," said Capital Economics analyst Ross Strachan.
Trump and Xi are expected to address the ongoing trade tensions that have existed between the two countries on the sidelines of the G20 summit on Saturday (December 1).
"Gold has been quite stable so far, which reflects the relative stability we're seeing in the dollar ahead of the G20 summit. How gold responds will depend on the message conveyed by the two Presidents," said Craig Erlam, an analyst at OANDA.
Despite gold and silver prices sliding Friday morning, both precious metals were up in the previous two sessions following Federal Reserve Chair Jerome Powell's remarks which implied that the central bank would go slow on interest rate hikes in 2019.
"The setup for gold is getting better and better, particularly due to the uncertain economic outlook due to the Trump presidency, and gold looks set for a strong 2019," noted Mark O'Byrne, research director of GoldCore.
Bullion remains on track to hit a second straight monthly gain.
As for the other precious metals, platinum was down 2.20 percent and as of 10:32 a.m. EST, it was trading at US$800 per ounce. For its part, palladium was down on Friday but up for the week. The metal garnered a record high on the back of a shortage in supply, leaving it about US$23 per ounce shy of being on par with gold. As of 10:35 a.m. EST, palladium was trading at US$1,170.00 per ounce.
Precious metals top news stories
Our top precious metals stories this week include a report from Goldman Sachs (NYSE:GS) that reveals the investment bank expects commodities to soar in 2019; an interview with Rob McEwen of McEwen Mining (TSX:MUX,NYSE:MUX); and Endeavour Silver (TSX:EDR,NYSE:EXK) uncovering high-grade silver-gold intersections in multiple veins at its Bolanitos mine.
Goldman Sachs predicted that in 2019, growth in the economy will begin to wane and investors will look to diversify their portfolios, leading to a shift in focus to gold and a landscape in which the price of the yellow metal could climb.
In Goldman's report published on Monday (November 26), the investment bank's analysts were upbeat on commodities, stating that they saw a long, or bullish, trade in gold.
"We see diversification value in adding gold to portfolios. If US growth slows down next year, as expected, gold would benefit from higher demand for defensive assets," Goldman said.
The Investing News Network (INN) spoke with Rob McEwen, chairman and chief owner of McEwen Mining, about what happened to gold and silver this year and where he sees the precious metals heading in 2019.
McEwen noted that 2018 saw a "total lack of interest" from investors towards the yellow and white metals. However, he explained that lately there have been some "rays of sunshine," and that these metals are not to be counted out — they will rebound in the new year, and McEwen expects prices to increase.
"I expect a better price in 2019. You're seeing in many currencies, the price of gold has been increasing, and some quite large increases have occurred in countries where the currencies are in doubt, such as Turkey, Argentina or Mexico. In local terms, the gold price has climbed quite significantly," McEwen said.
Endeavour Silver uncovered high-grade silver-gold intersections in multiple veins on Wednesday (November 30).
According to Endeavour, a total of 55 drill holes from surface and 11,000 meters were completed by the end of October on seven different vein targets as part of a drill program at its Mexico-based Bolanitos mine. All targets are located within 4 kilometers of the Bolanitos plant.
"These step-out drill results have outlined several new mineralized areas and provided extensions to known areas, with potential for new resources to extend the mine life at Bolanitos," stated Luis Castro, vice president of exploration.
Also in the news
Also making news this week is Kirkland Lake Gold (TSX:KL,NYSE:KL,ASX:KLA), which announced on Friday (November 30) that its Fosterville mine is not only on track for record quarterly production in Q4 2018, but its full-year 2018 production is now expected to exceed 330,000 ounces versus current guidance of 300,000 – 310,000 ounces.
The strong performance at Fosterville's can largely be attributed to higher-than-expected grades and the advancement of two additional stopes from the high-grade Swan zone. Based on the improved outlook for Fosterville, the miner now expects that full-year 2018 consolidated production will exceed the current target range of 655,000 to 670,000 ounces.
"Fosterville is clearly firing on all cylinders heading towards the end of the year, with Q4 2018 production on track to easily beat the current production record of 90,618 ounces, achieved last quarter. We continue to see significant grade outperformance from stopes in both the Swan and Eagle zones," stated Tony Makuch, president and CEO.
"Higher than planned grades are leading to increased levels of production in 2018 and are expected to favourably impact production levels in both 2019 and 2020," he added.
Meanwhile, gold miner Pan African Resources (LSE:PAF,JSE:PAN) completed its exploration drilling program at its Royal Sheba project, in Barberton, Mpumalanga, and reported a mineral resource estimate of 800,000 ounces, out of an 8.97-million-tonne reserve, grading 2.62 grams per tonne gold.
Approximately 370,000 ounces was near surface and conducive to open pit mining, out of a total 5.8-million-tonne reserve grading 1.96 grams per tonne gold.
"The drilling programme has confirmed that the orebody extends to surface, with the potential to establish a new open pit mining operation, which will transition to an underground mining operation only after a number of years," stated Cobus Loots, CEO.
Finally, Sibanye-Stillwater (NYSE:SBGL,JSE:SGL) announced that the Commission for Conciliation, Mediation and Arbitration has made a ruling regarding areas where striking members of the Association of Mineworkers and Construction Union (AMCU) may picket on the miner's premises and defined rules which will apply to any picketing by AMCU members.
"The purpose of picketing is to allow striking employees to demonstrate peacefully in support of a protected strike, and the absence of defined picketing areas and agreed picketing rules results in intimidation and has played a significant role in the levels of violence and damage to property," said Neal Froneman, CEO.
"The safety and wellbeing of our employees is our first priority, and the implementation of clear picketing rules is a key step towards securing the safety of all of our employees," he added.
Don't forget to follow us @INN_Resource for real-time news updates!
Securities Disclosure: I, Nicole Rashotte, hold no direct investment interest in any company mentioned in this article.