Osprey Gold Development Ltd. (TSXV:OS, OTCQB:OSSPF)  is pleased to announce it has entered into a definitive agreement (the "Option Agreement") pursuant to which it has acquired (the "Acquisition") an option (the "Option") to acquire the Caribou Gold Property ("Caribou Property") from John Logan Enterprises Ltd. ("Logan"). Pursuant to the terms of the Option Agreement, Osprey …
Osprey Gold Development Ltd. (TSXV:OS, OTCQB:OSSPF)  is pleased to announce it has entered into a definitive agreement (the "Option Agreement") pursuant to which it has acquired (the "Acquisition") an option (the "Option") to acquire the Caribou Gold Property ("Caribou Property") from John Logan Enterprises Ltd. ("Logan"). Pursuant to the terms of the Option Agreement, Osprey may acquire a 100% interest (subject to certain royalties) in 16 contiguous mining claims (256 hectares) hosting the past-producing Caribou Property located 80 km northeast of Halifax, Nova Scotia (see accompanying map for specific property location and details).
Company President Cooper Quinn said, "Having completed our legal and technical due diligence on the Caribou Project, we're very excited to add it to Osprey's portfolio. It fits well within our portfolio of historic high-grade producers in the Meguma terrane, and we believe Caribou has the potential to hold a sizable gold resource. We're looking forward to getting work started on the property, to begin generating targets in the high grade gold quartz stockwork zones, as well as to test to potential within the overlying argilites. Strategically, the project is in an excellent location, being on the road system, and only 13 kilometres from Atlantic Gold's Moose River Consolidated mineral processing facility."
About the Caribou Property
Strategically located, 8 kilometres north of Atlantic Gold's Touquoy Mine and Moose River Consolidated mill site and completely surrounded by Atlantic Gold claimholdings (see Figure 1 below);
Historic drill results in stockwork zones include 11.2 metres grading 10.86 grams per tonne ("g/t") gold in Hole CM-98-01 and 9.8 metres grading 12.2 g/t gold in Hole SB-88-11 [NTD: Source];
Project area includes broad areas of Halifax Group argillites, a favored host rock for disseminated gold and which at the Caribou Project are largely unexplored;
Reported past production of over 100,000 gold ounces between 1869 and 1955, as reported in a historical technical report titled "NI 43-1 01 Technical Report For the Caribou Gold Property Upper Musquodoboit, Halifax County, Nova Scotia", prepared for Scorpio Gold Corporation by Guy Mac Gillivray, P.Geo. of W.G. Shaw and Associates Limited in a report dated October 8, 2008 (the "Historical Report");
An inferred historic resource of 94,763 ounces of gold in 350,305 tonnes grading 8.81 g/t gold, uncut as set forth in the Historic Report (the "Historic Estimate"); and
Using a grade cap for gold of 47.0 g/t (to compensate for nugget effect) the Historical Estimate for the Caribou Gold Property is 350,305 tonnes grading 5.83 g/t gold, or 67,425 ounces of gold;
The reader is cautioned that a qualified person has not done sufficient work to classify this Historical Estimate as current mineral resources and Osprey is not treating this Historical Estimate as a current mineral resource. While this Historical Estimate was prepared using the categories set out in Sections 1.2 and 1.3 of National Instrument 43-101 as defined in the "Canadian Institute of Mining, Metallurgy and Petroleum Standards on Mineral Resources and Mineral Reserves Definition Guidelines" in effect at the time, there is no guarantee that it would be consistent with current standards and it should not be regarded as consistent with current standards. The Historical Estimate is relevant to obtain a reference to mineral potential present on the property. The Company has not undertaken any verification of the historical data upon which the historical estimates are based on.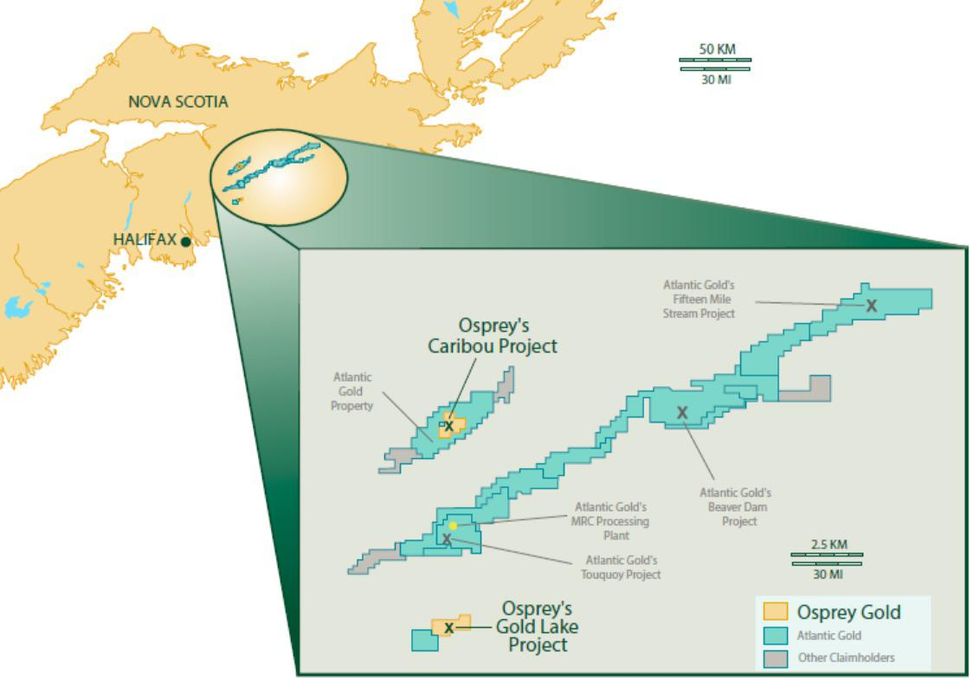 Cannot view this image of Figure 1?
Please visit 
http://orders.newsfilecorp.com/files/5059/28898_a1504806574218_67.jpg
 to view this image
Figure 
1
 – Location map for Caribou Project, Halifax County, Nova Scotia
The Historical Report discloses that underground production from the Caribou district was first recorded in 1869. Since then approximately 108,250 ounces of historical gold production has been documented from the property in various production records and reports. Mining and milling records indicate an average mined grade of approximately 13 g/t, with local areas of 68 g/t. The Historic Estimate includes distinctive zones of gold in stockwork veining hosted by shears within the anticline. These contain broader zones of high grade gold than normally seen in the camp.
Lode gold mineralization is interpreted to be controlled by a north-northwest striking low angle axial structure that cuts the 35 km-long Caribou-Cochrane Hill Anticline.
Osprey intends to plan exploration programs to test the argillites, extend known high-grade veins, and expand and test for new zones of stockwork veining.
Location maps for the Caribou Property can be found at the Company's website, 
www.ospreygold.com
.
Terms of the 
Option
Under the terms of the Option Agreement, Osprey acquired the Option to acquire a 100% in the Caribou Property in consideration for aggregate payments of $900,000 and 100,000 common shares of Osprey, payable over a period of three years as follows:
Aggregate payments totaling $200,000 and issuing 100,00 common shares of Osprey on closing of the Acquisition, which payments and share issuances have been made as at the date hereof;
$200,000 and minimum work expenditure commitment of $100,000 within one year of closing of the Acquisition;
$200,000 and an additional minimum work expenditure commitment of $100,000 within two years of closing of the Acquisition;
$300,000 and an additional minimum work expenditure commitment of $100,000 within three years of closing of the Acquisition.
Upon completion of the exercise of the Option and earning its interest in the Caribou Project, Osprey shall grant Logan a 3.0% Net Smelter Royalty ("NSR") payable upon commencement of commercial production. Osprey retains the right to buy down 1.0% of the NSR for $500,000, and an additional 1.0% for an additional $750,000.
About Goldenville and Osprey
Osprey is focused on exploring historically producing gold properties in Nova Scotia, Canada. Osprey has the option to earn 100% (subject to certain royalties) in four properties, including the Goldenville Gold Project, Nova Scotia's largest historic gold producer. Goldenville hosts a current Inferred Resource of 2,800,000 tonnes at 3.20 grams per tonne ("g/t") gold for 288,000 ounces of gold (2,800,000 tonnes at 4.96 g/t gold for 447,000 ounces of gold uncapped) near the town of Sherbrooke, NS. All four properties in Osprey's current portfolio have a history of high-grade gold production. A copy of the Company's technical report titled "Technical Report on the Goldenville Property, Guysborough County, Nova Scotia Canada" prepared by Brandon Macdonald, P.Geo., dated effective February 15th, 2017 is available under the Company's profile at www.SEDAR.com.
The technical information in this release has been reviewed and approved by the Company's Vice President of Exploration Perry MacKinnon, P.Geo, a 'Qualified Person' under NI 43-101.
Additional information regarding Osprey and the Goldenville property is available under the Company's profile at www.sedar.com and at www.ospreygold.com.
For further information please contact:
ON BEHALF OF OSPREY GOLD DEVELOPMENT LTD.,
"Cooper Quinn"
Cooper Quinn, President and Director
For further information please contact Osprey at (236) 521-0944 or cooper@ospreygold.com
Neither the TSX Venture Exchange nor its Regulation Services Provider (as that term is defined in the policies of the TSX Venture Exchange) accepts responsibility for the adequacy or accuracy of this release.
All statements in this press release, other than statements of historical fact, are "forward-looking information" with respect to Osprey within the meaning of applicable securities laws. Osprey provides forward-looking statements for the purpose of conveying information about current expectations and plans relating to the future and readers are cautioned that such statements may not be appropriate for other purposes. By its nature, this information is subject to inherent risks and uncertainties that may be general or specific and which give rise to the possibility that expectations, forecasts, predictions, projections or conclusions will not prove to be accurate, that assumptions may not be correct and that objectives, strategic goals and priorities will not be achieved. These risks and uncertainties include but are not limited to exploration findings, results and recommendations, as well as those risks and uncertainties identified and reported in Osprey's public filings under Osprey's SEDAR profile at www.sedar.com.  Although Osprey has attempted to identify important factors that could cause actual actions, events or results to differ materially from those described in forward-looking information, there may be other factors that cause actions, events or results not to be as anticipated, estimated or intended. There can be no assurance that such information will prove to be accurate as actual results and future events could differ materially from those anticipated in such statements. Osprey disclaims any intention or obligation to update or revise any forward-looking information, whether as a result of new information, future events or otherwise unless required by law.
Click here to connect with Osprey Gold Development Ltd. (TSXV:OS, OTCQB:OSSPF) to receive an Investor Presentation.

Source: www.newsfilecorp.com
Investing News Network websites or approved third-party tools use cookies. Please refer to the  cookie policy for collected data, privacy and GDPR compliance. By continuing to browse the site, you agree to our use of cookies.