Northern Empire Files Technical Report on Sterling Project-Nevada 709,000 oz Au at 2.23 g/t
Northern Empire (TSXV:NM) (the "Company" or "Northern Empire") is pleased to announce filing of the NI 43-101 resource estimate report on the Sterling Property, located in Nye County, Nevada (the "Sterling Property") owned by Sterling Gold Mining Corporation ("SGMC"), a wholly owned subsidiary of Imperial Metals Corporation ("Imperial Metals"). The Company has previously announced entering …
Northern Empire (TSXV:NM) (the "Company" or "Northern Empire") is pleased to announce filing of the NI 43-101 resource estimate report on the Sterling Property, located in Nye County, Nevada (the "Sterling Property") owned by Sterling Gold Mining Corporation ("SGMC"), a wholly owned subsidiary of Imperial Metals Corporation ("Imperial Metals"). The Company has previously announced entering into a letter of intent with SGMC to acquire the Sterling Project (for further details please refer to the Company's news releases dated February 15, 2017 and April 3, 2017).
The Sterling Property hosts four different gold deposits, three of which are Carlin-type deposits (Sterling, Daisy, SNA) while the fourth is defined as an epithermal gold deposit (Secret Pass).
Table 1 through Table 4 outline the in-place gold resource estimates for the Sterling Property. All resource estimates are derived from a 3D block model using ordinary kriging methods. For the Sterling Deposit, the resource estimate was separated into two categories, namely surface (pit constrained) resources and remaining non-pit constrained resources. All resources have an effective date of March 29, 2017, and all the resources are considered Inferred. The report was completed by Norwest Corporation.
Bolded text indicates the base case estimate.



1. Results based on cyanide soluble assay testing.
2. Surface definition: Theoretical surface pit constrained resource.
3. Non-pit constrained definition: Resource remaining below theoretical surface pit.
4. CIM definitions are followed for classification of Mineral Resource.
5. Mineral Resource has been estimated using a gold price of US$1,200 per ounce and a US$2.31 per tonne mining cost.
6. Totals may not represent the sum of the parts due to rounding.
7. The Mineral Resource estimate has been prepared by Derek Loveday, P. Geo. of Norwest Corporation in conformity with CIM "Estimation of Mineral Resource and Mineral Reserves Best Practices" guidelines and are reported in accordance with the Canadian Securities Administrators NI43-101. Mineral resources are not mineral reserves and do not have demonstrated economic viability.
8. This Inferred Resource estimate is "In Place" and does not include gold recovery from a downstream processing operation.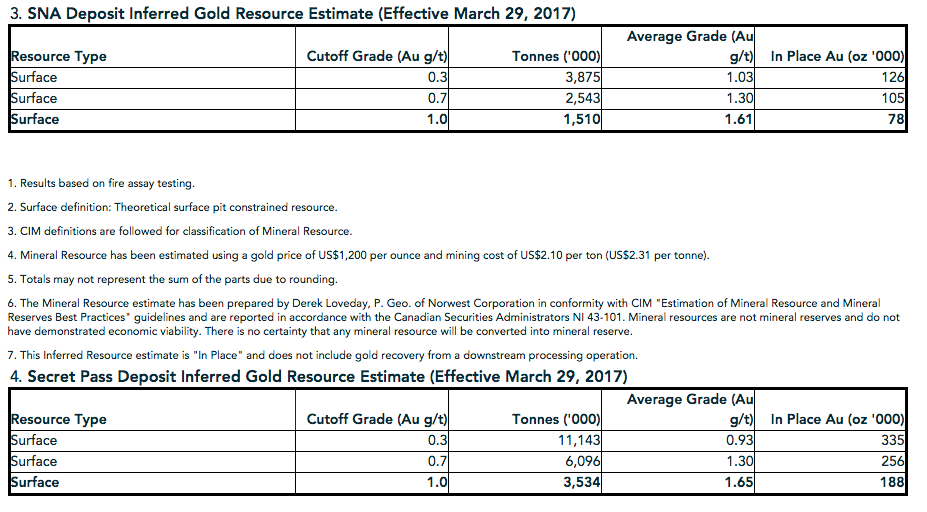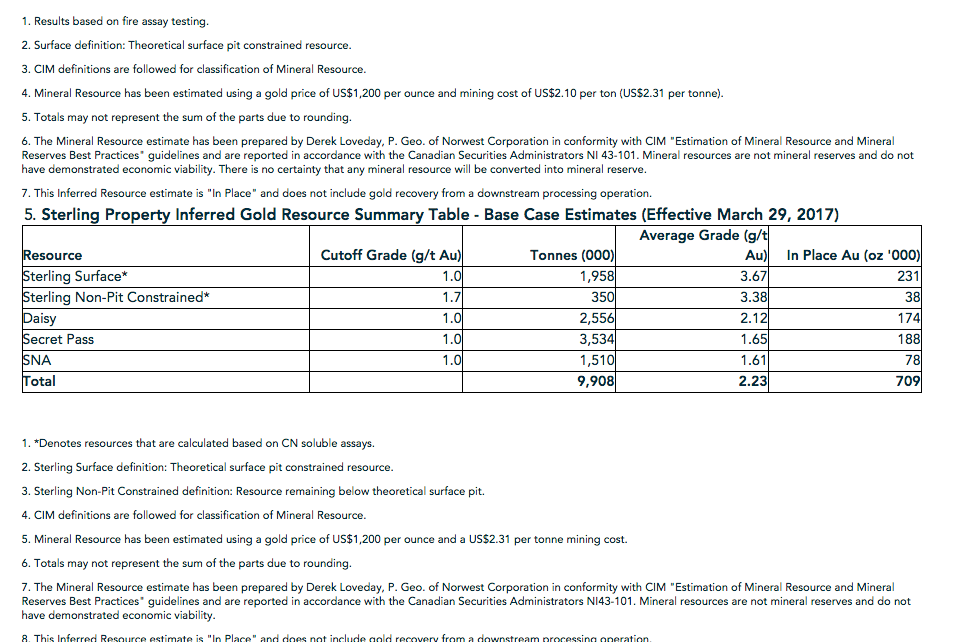 These resources are based on drilling and assaying completed by Imperial Metals and other previous operators on the Property. Five separate open pits and two underground mines were operated on the Property, as recently as 2015.
Data used to calculate the resources was collected by the current owner and previous operators of the property. Assaying was done by both internal and external labs. Norwest has reviewed the data and found it to be of sufficient quality to apply an Inferred Resource classification.
About the Sterling Project
The Sterling Property is located approximately 100 miles NW of Las Vegas on the eastern flank of the Bare Mountains within the Walker Lane Trend. The Sterling Mine is accessed via highway I-95 and gravel roads.
The Sterling Mine has previously operated as both an open pit and underground operation. Production records show that from 1980 to 2000 mining on the Sterling orebodies produced 194,996 oz gold ("Au") at an average grade of 7.44 g/t Au. Recoveries have averaged 88% without milling.
The Bureau of Land Management has issued a Finding of No Significant Impact ("FONSI") and approved the next phase of mining at Sterling. This permit was issued on May 12, 2016 and has an indefinite term.
To achieve the FONSI, Imperial Metals created designs for the new pits and heap leach facilities that Northern Empire will be able to use going forward.
Imperial Metals ceased underground mining of a separate orebody in 2015. Processing facilities, mine offices and staff are on site and are currently being used to rinse heaps from prior operations.
About Northern Empire
On February 15, 2017, Northern Empire announced that it entered into a letter of intent with Sterling Gold Mining Corporation, a wholly owned subsidiary of Imperial Metals Corporation to acquire a 100% interest in the Sterling Property, located in Nye County, Nevada, and certain royalty rights for claims located in Nevada and California. The Sterling Project is a fully permitted gold project with exceptional exploration potential and represents a unique opportunity for Northern Empire to rapidly transition from a grass roots explorer to developer.
Authors and Qualified Persons Statement
The 2017 resource estimate was prepared by Norwest Corporation in accordance with requirements of National Instrument 43-101 Standards of Disclosure for Mineral Projects (NI 43-101). Technical work, analysis and findings were completed by Derek Loveday, P.Geo., Allan Turner, P.Geol., and Sean Ennis, P.Eng. Each person is an independent "Qualified Person" as defined by NI 43-101 and has reviewed and approved the information in this news release.
Norwest has reviewed and verified the data disclosed in this news release to conform to CIM "Estimation of Mineral Resource and Mineral Reserves Best Practices" guidelines and to NI 43-101. Data used to calculate the resources was collected by the current owner and previous operators of the property. Assaying was done by both internal and external labs. Data verification by Norwest included review and spot checks of laboratory certificates completed by independent laboratories; and site inspection and verification of exploration drill hole locations, as well as onsite sample storage, preparation and laboratory facilities.
Norwest has reviewed and verified the surface and non-pit constrained Inferred Mineral Resource estimates in this news release to conform to the CIM definition of Inferred Mineral Resources.
The CIM definition of an Inferred Mineral Resource is as follows:
"An Inferred Mineral Resource is that part of a Mineral Resource for which quantity and grade or quality are estimated on the basis of limited geological evidence and sampling. Geological evidence is sufficient to imply but not verify geological and grade or quality continuity."
Michael G. Allen, P.Geo, President and CEO of Northern Empire, and a non-independent Qualified Person as defined by NI 43-101, has also reviewed the information contained in this news release and has verified the data.
ON BEHALF OF THE BOARD OF NORTHERN EMPIRE RESOURCES CORP.
Michael G. Allen, President, CEO and Director
NEITHER THE TSX VENTURE EXCHANGE NOR ITS REGULATION SERVICES PROVIDER (AS THAT TERM IS DEFINED IN THE POLICIES OF THE TSX VENTURE EXCHANGE) ACCEPTS RESPONSIBILITY FOR THE ADEQUACY OR ACCURACY OF THIS NEWS RELEASE.
Certain information set forth in this news release, and the news release dated February 15, 2017 referred to herein
,
contains "forward-looking statement", and "forward-looking information" under applicable securities laws. Except for statements of historical fact, certain information contained herein constitutes forward-looking statements, which include the Company's expectations about the completion of the transaction with SGMC and the related financings, future performance based on current results, resource estimates and expected cash costs and are based on the Company's current internal expectations, estimates, projections, assumptions and beliefs, which may prove to be incorrect. Some of the forward-looking statements may be identified by words such as "will", "expects", "anticipates", "believes", "projects", "plans", and similar expressions. These statements are not guarantees of future performance and undue reliance should not be placed on them. Such forward-looking statements necessarily involve known and unknown risks and uncertainties, which, may cause the Company's actual performance and financial results in future periods to differ materially from any projects of future performance or results expressed or implied by such forward-looking statement. These risks and uncertainties include, but are not limited to: liabilities inherent in mine development and production; geological risks, the financial markets generally, the results of the due diligence investigations to be conducted by the Company, the ability of the Company to complete the related financings or obtain requisite TSXV acceptance. There can be no assurance that forward-looking statement will prove to be accurate, and actual results and future events could differ materially from those anticipate in such statements. The Company undertakes no obligation to update forward-looking statements if circumstances or management's estimates or opinions should change except as required by applicable securities laws. The reader is cautioned not to place undue reliance on forward-looking statements.
CONTACT INFORMATION
Northern Empire Resources Corp.
Michael G. Allen
President, CEO and Director
604 646 4524Northern Empire Resources Corp.
Jeff Sundar
Director
604 764 5944
Click here to connect with Northern Empire (TSXV:NM) to receive an Investor Presentation.
Source: www.marketwired.com