New Deal Ends Standstill at Northern Dynasty's Pebble Project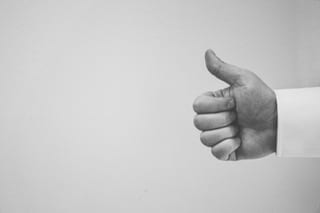 The Alaska-based project has been stalled since 2014 due to actions taken by the US Environmental Protection Agency.
Northern Dynasty Minerals' (TSX:NDM,NYSEMKT:NAK) Alaska-based Pebble project has been at a standstill for several years, but on Friday (May 12) the company reached a settlement that paves its way forward.
The deal is between a Northern Dynasty subsidiary and the US Environmental Protection Agency (EPA), which stalled progress at Pebble in 2014 by saying that large-scale mining at the site would "pose risks to salmon and Alaska Native cultures." The move set the stage for the organization to invoke a clause of the Clean Water Act to block Northern Dynasty from applying to the Army Corps of Engineers for any project permits.
Since then, Northern Dynasty has sued the EPA twice, and Friday's agreement settles those suits. According to a press release, the EPA has agreed that Pebble "can proceed into normal course permitting under the Clean Water Act and National Environmental Policy Act." Specifically, the EPA has said it will not file a recommended determination under Section 404(c) of the Clean Water Act for at least four years, or until the US Army Corps of Engineers has completed a final environmental impact statement for Pebble.

Northern Dynasty bills Pebble as "one of the greatest stores of mineral wealth ever discovered," and the project has many supporters. It has a measured and indicated resource of 6.44 billion tonnes containing 57 billion pounds of copper, 70 million ounces of gold, 3.4 billion pounds of
molybdenum
and 344 million ounces of
silver
; its inferred resource stands at 4.46 billion tonnes containing 24.5 billion pounds of copper, 37 million ounces of gold, 2.2 billion pounds of molybdenum and 170 million ounces of silver.
The company's share price has been on a tear since Monday, and as of Friday at 2:19 p.m. EST was up 19.63 percent on the TSX and 17.5 percent on the NYSEMKT. On the TSX it rose as high as $3.19 this week, while on the NYSEMKT its highest point was $2.32.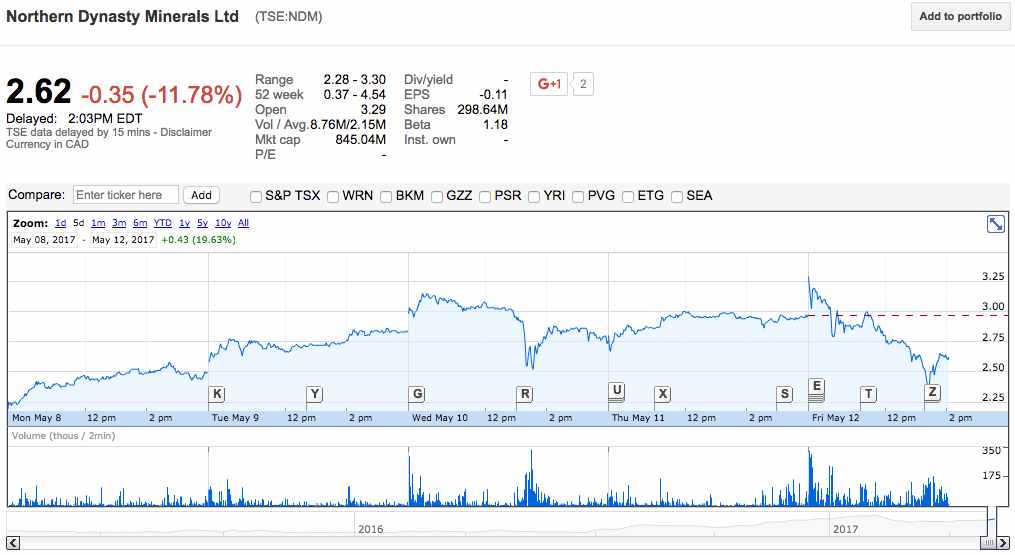 Chart via Google Finance.
Despite those positive moves, it's worth noting that the settlement between Northern Dynasty and the EPA does not guarantee that Pebble will become a mine. In a statement, EPA Administrator Scott Pruitt said, "[w]e are committed to due process and the rule of law, and regulations that are 'regular.' The agreement will not guarantee or prejudge a particular outcome, but will provide Pebble a fair process for their permit application and help steer EPA away from costly and time-consuming litigation."
It's also worth noting that Pebble has a large number of longstanding opponents — and news of the agreement between Northern Dynasty and the EPA has left them fuming. In
an article published earlier this week
, Alaska Dispatch News quotes a few of them, including Alaska House Speaker Bryce Edgmon, who said he was "keenly disappointed" to hear that the EPA might settle with Northern Dynasty. "The people of the Bristol Bay region don't need this kind of stress hanging over our heads once again and continuing on year after year," he added.
Nevertheless, Ron Thiessen, president and CEO of Northern Dynasty, seems pleased with the outcome. "From the outset of this unfortunate saga, we've asked for nothing more than fairness and due process under the law — the right to propose a development plan for Pebble and have it assessed against the robust environmental regulations and rigorous permitting requirements enforced in Alaska and the United States," he said. "Today's settlement gives us precisely that, the same treatment every developer and investor in a stable, first world country should expect."
Thiessen added that the coming year will be a busy one, and investors will no doubt be watching the company's next steps with interest. He noted that Northern Dynasty is currently in the planning stages of designing a smaller operation at Pebble, and plans to announce new initiatives that will make the project more responsive to the concerns of Alaska residents.
Don't forget to follow us @INN_Resource for real-time news updates!
Securities Disclosure: I, Charlotte McLeod, hold no direct investment interest in any company mentioned in this article.