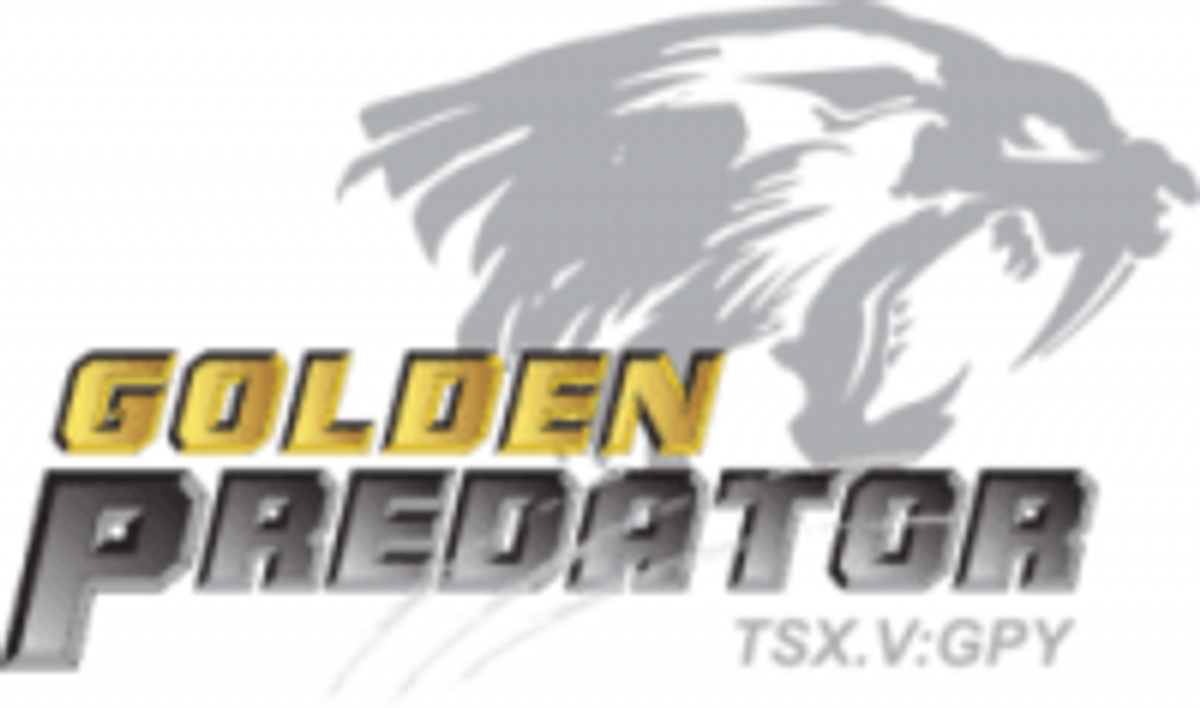 Golden Predator Mining Corp. (TSXV:GPY)  and its wholly owned subsidiary, the Yukon Mint™ are pleased to announce the First Yukon Mint™ .9999 gold coin was unveiled on May 30th, 2018 at a Company event in Toronto, Canada.
Golden Predator Mining Corp. (TSXV:GPY)  and its wholly owned subsidiary, the Yukon Mint™ are pleased to announce the First Yukon Mint™ .9999 gold coin was unveiled on May 30th, 2018 at a Company event in Toronto, Canada. A community event will follow in Yukon, Canada. Mr. Rob McEwen, Chief Owner and Chairman of McEwen Mining Inc., one of Golden Predator's largest shareholders purchased the first gold coin from the Yukon Mint™.
The 2018 Kaska 'Keda' (Dene for 'Moose') Gold Coin depicts the winning art work of Kaska Nation artist Miranda Lane on both a one and 1/2 ounce .9999 gold coin which will be available for sale, in limited edition, commencing National Aboriginal Day, June 21, 2018.
Gold from the Golden Predator 3 Aces Project bulk sample is incorporated into the coins and a percentage of the net profits from the sale of the coins will be shared with the Kaska Nation. The bulk sample material was processed at the Company's test facility using water and gravity only, without the use of chemicals.
The First Yukon Mint™ .9999 Gold Coin (in one ounce and 1/2 ounce sizes): Limited Edition Series
The Yukon Mint™ gold coins will be part of a limited annual series of First Nation art on the Obverse side of the coin, selected through design contests, combined with the iconic image of Klondike Gold Rush on the Reverse. The inaugural mintage has been limited to 180 one-ounce and 140 ½ ounce gold coins. Each coin has been engraved with a security feature to ensure its authenticity.
True North Moose (Keda) – Obverse
Ms. Lane's submission to the Yukon Mint's 2017 'My Kaska Nation' art contest was based on her original work, True North Moose, and depicts the Moose (Keda) honoured and recognized for all the gifts she provides for her people. The Moose represents hunting, food nutrition, community, sharing, kindness and survival and is found in the North of the medicine wheel, with North representing the place of wisdom. The sun, moon and trees represent the reciprocal arrangement we all have with Mother Earth.
Klondike Gold Rush Stampeders – Reverse
An iconic image linked to the Yukon that speaks to the history and entrepreneurial spirit of exploration. The Klondike Gold Rush (1897-1899) was an epic journey to an uncharted land in search of adventure and opportunity in the continent's final frontier. It seared the word "Klondike" into the collective consciousness of a generation. This everlasting iconic image is further celebrated with its depiction on the Reverse of all Yukon Mint™ coins.
About Miranda Lane
Miranda Lane is a self-taught artist and spiritual intuitive. When she was a child, her grandfather (Mother's father) Chief Little Jimmy, shared the importance of animal medicine and the value of our interconnectedness with all beings and Mother Earth – these lessons have greatly influenced and contributed to her artistic endeavors. She describes herself as someone who "paints intuitively from the heart, capturing the gifts of Mother Earth, using Spirit animals to deliver messages to help others on their Earth walk".
About the Yukon Mint™
The Yukon Mint™ is focused on creating coins and bars that will be Yukon in almost every aspect, from raw material to design. Inquiries can be made to info@yukonmint.com.
Golden Predator Mining Corp.
Golden Predator Mining Corp. is a gold exploration company focused on advancing key projects with significant exploration upside, good infrastructure and community support. The Company is actively exploring on its 3 Aces Project in Canada's Yukon, and holds 100% of the advanced Brewery Creek Project, a past-producing brownfields project with a 2014 Preliminary Economic Assessment prepared in accordance with NI 43-101.
For additional information:
Janet Lee- Sheriff
Chief Executive Officer
(604)260-0289
info@goldenpredator.com
www.goldenpredator.com
Neither TSX Venture Exchange nor its Regulation Services Provider (as that term is defined in policies of the TSX Venture Exchange) accepts responsibility for the adequacy or accuracy of this release. No stock exchange, securities commission or other regulatory authority has approved or disapproved the information contained herein. This press release contains forward-looking information that involve various risks and uncertainties regarding future events. Such forward-looking information can include without limitation statements based on current expectations that the private placement will complete as described herein, that the Project will advance through permitting and feasibility.  Actual results and future events could differ materially from those anticipated in such information. These and all subsequent written and oral forward-looking information are based on estimates and opinions of management on the dates they are made and are expressly qualified in their entirety by this notice. Except as required by law, the Company assumes no obligation to update forward-looking information should circumstances or management's estimates or opinions change.
Connect with Golden Predator Mining Corp. (TSXV:GPY) and receive an Investors Presentation.
Source: www.globenewswire.com
Investing News Network websites or approved third-party tools use cookies. Please refer to the  cookie policy for collected data, privacy and GDPR compliance. By continuing to browse the site, you agree to our use of cookies.