Gold Stays Low as Hope Fades for Fiscal Cliff Resolution
There was little movement in the gold price this week as investors remained focused on US lawmakers' negotiations to avoid the "fiscal cliff."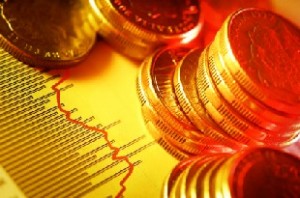 Gold remained stuck in the doldrums on Thursday, staying near four-month lows of around US$1,660 an ounce.
With little news to move the gold price amid thin holiday trading, spot gold finished at an even $1,663, up $3.60 from Boxing Day. Gold futures also increased marginally, with the February gold contract last trading up $3.40 an ounce , at $1,664.10.
The precious metal was lifted slightly by short covering and bargain hunting, even reaching $1,666 at one point during the day, but those gains were limited by the US Labor Department's news that applications for unemployment benefits fell to one of the lowest levels of the year. The US dollar gained as a result, putting pressure on gold.
Gold investors and traders are also increasingly leery of stalled negotiations over the US "fiscal cliff" deadline, with many preferring to sit on the sidelines and wait and see. Lawmakers in Washington have until January 1 to come up with a deal that will avoid $600 billion in tax increases and spending cuts slated to kick in come the new year. Economists predict that the measures will push the country into a recession.
Senate Majority Leader Harry Reid on Thursday did not inspire any hope of a resolution, and was quoted by The Independent as saying it "looks like" the US is heading over the fiscal cliff.
Company news
Randgold Resources (NASDAQ:GOLD) announced that production at its Tongon gold mine in Cote d'Ivoire was impacted due to a mill fire. The incident occurred on December 24 during a planned shutdown. "The fire has been fully extinguished and no injuries have been reported but both cyclone clusters, flotation cells and blowers along with associated infrastructure for both milling circuits suffered damage," Randgold said in a statement. The company's stock suffered a 0.54-percent decline on Thursday.
Al Jazeera reported that 4,000 miners suffering from lung disease have launched South Africa's largest-ever class-action lawsuit against AngloGold Ashanti (NYSE:AU), Goldfields (NYSE:GFI) and Harmony Gold Mining (NYSE:HMY). The plaintiffs claim to have contracted severe lung ailments such as tuberculosis and silicosis while working in underground gold mines and are demanding millions of dollars in compensation from the defendants, which are some of the world's biggest mining companies.
Kinross Gold (TSX:K) Canada's third-largest gold producer, denied a statement from Southridge Enterprises (OTC Pink:SRGE) that says the two companies are working together to develop properties in Mexico. In a statement quoted by Bloomberg, Toronto-based Kinross said the company "has not entered into a joint venture agreement with Southridge Enterprises, and is not actively pursuing any such agreement at this time."
Focus Minerals (ASX:FML) completed a AU$225-million private placement with Shandong Gold Mining (SSE:600547), which will take a 51-percent equity stake in the Australian gold miner.
Funds from the deal, approved by shareholders earlier this month, will be put towards developing Focus' existing gold projects in the Goldfields-Esperance region of Western Australia.
"This is one of the largest mining deals for an emerging mid-tier Australian gold producer in recent times and underscores the importance of Australia-China mining interests," said Don Taig, Focus Minerals' chairman.
The Australian Federal Court has approved a AU$426-million merger between Silver Lake Resources (ASX:SLR) and Integra Mining (ASX:IGR). Under terms of the agreement, Silver Lake will hand over one of its own shares for every 6.28 Integra shares held.
Meanwhile, Silver Lake also reported that commissioning of its Murchison gold project, in Western Australia, is on track, with production expected to begin in March. The project will ramp up to 100,000 oz per year by 2014.
"We are looking forward to commissioning the Murchison gold project, bringing it into production and ramping up to 100,000 ounce per annum rates on time and in line with budget," said Silver Lake's managing director, Les Davis.
Junior company news
Santacruz Silver Mining (TSXV:SCZ) announced the completion of an updated NI 43-101 mineral resource estimate on its Rosario project in Mexico.
"This resource classification upgrade provides us with more certainty that the Rosario Project will be an emerging silver producer that will be the foundation of the Company as we advance towards becoming a mid-tier silver producer. We remain on schedule to achieve commercial production at the Rosario Project within the first quarter of 2013," said Santacruz's president, Arturo Préstamo. The deposit hosts 270,000 tonnes of mineralization containing 210 grams per tonne silver, 0.94 g/t gold, 3.69 percent zinc and 1.17 percent lead.
Northern Gold Mining (TSXV:NGM) and Champagne Resources entered into a letter of intent under which Champagne has granted Northern Gold the right to acquire all of its mining claims located in each of the Guibord, Michaud and Holloway Townships in Ontario, Canada.
Related reading: Gold Sell-off as Fiscal Cliff Deadline Approaches
Securities Disclosure: I, Andrew Topf, do not hold equity interests in any of the companies mentioned in this article.