The UK Looks for a Tin Mining Renaissance
The revival of a historic mine, as well as an untapped underwater resource, could breathe new life into the country's tin mining industry.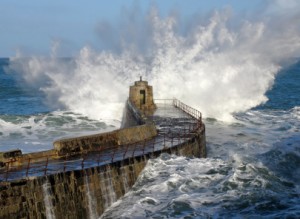 Two recent developments could be about to breathe new life into the long-dormant British tin mining industry.

Tin mining has deep roots in the county of Cornwall, located in Southwest England. Early mining of the metal in the area has been traced back more than 500 years, and in 2006, the United Nations Educational, Scientific and Cultural Organization (UNESCO) designated the region a Mining World Heritage Site.
For much of the 19th century, Cornwall was the world's premier tin-mining area, with upwards of 2,000 mines in operation, according to the BBC. Then lower-cost tin was found in Australia in 1872, followed by discoveries in Bolivia and Malaysia. Rising international competition severely weakened the Cornish tin-mining industry, reducing it to a handful of mines that struggled on through the 20th century. Tin mining came to an end in Britain in 1998, when the last tin mine, South Crofty, in the town of Pool, closed due to slumping tin prices.
Celeste Copper aims to restart tin mining at South Crofty
But that wasn't the end of the story. In 2001, the mine was purchased by a company called Baseresult Holdings, whose aim was to restart production at the site. The plan was helped by a rise in tin prices through the early 2000s. But Baseresult still faced some resistance, mainly from local groups that wanted to redevelop South Crofty for other uses, such as leisure and industrial space. However, the Cornwall County Council upheld Baseresult's mining permissions in 2006.
In 2007, the company and another partner formed a joint venture called Western United Mines in order to own and operate South Crofty. Western United became a wholly-owned subsidiary of Cornish Minerals in 2010, and in May 2011, a Canadian company called Celeste Copper (TSXV:C) bought a 19 percent stake of Cornish Minerals, with options to earn up to 100 percent by making further investments in the mine's development.
In September 2012, Celeste released an NI 43-101 compliant technical report on the mine's Dolcoath section that showed an inferred resource of 2.47 million metric tons (MT) grading 0.46 percent tin, 0.53 percent copper, 0.23 percent zinc and 0.68 percent tin equivalent.
Celeste estimates that the entire project contains roughly 7.95 million MT of tin with a total value of 1.5 billion British pounds (US$2.4 billion), according to an October BBC report. The company now plans to spend 7.8 million British pounds (US$12.4 million) in the next 12 months to prepare the site for mining. That includes 1.1 million pounds for drilling and 2.6 million pounds to pump water out of the old mine works.
In all, roughly 15 million British pounds have been invested in the project so far, out of a total of 75 million needed to restart the mine. Celeste is currently employing 40 full-time employees at the site and feels that number could expand to 220 when the operation returns to full production.
Spot tin prices rose as high as $33,000 per MT on the London Metal Exchange last year. Tin has since moved down to around $20,380, but that's still high by historic standards. The metal's main uses, in solders, tin plating and chemicals, also put it in a good position to rise on a global economic rebound.
Undersea deposits: the UK's next tin-mining frontier
A further rise in tin prices would also help bring one of the country's more speculative ventures, underwater tin mining, closer to reality.
Cornwall-based Marine Minerals is investigating the possibility of recovering tin from the seabed off the county's coast. Marine's plan involves recovering the metal from waste material from historic tin mining in the area that was dumped on the sea floor.
The operation is still at a very early stage. The company only recently received permission from the Marine Management Organisation, which helps oversee the UK's waterways, to proceed with its research.
This is not the first scheme to collect tin from the Cornwall seabed. Back in the 1980s, methods like dredging were used, but Marine Minerals sees that approach as environmentally irresponsible. The company is now investigating new strategies, such as filtering the tin from the sand at sea and taking only the portion containing the metal ashore for processing.
A full environmental and social assessment of the plan is also being initiated. If the project goes ahead, the company believes it could create well-paying jobs.
More — and bigger — tin projects seem likely
Mining geologist Nick Pettit feels projects like South Crofty and Marine Minerals' undersea proposal could be just the beginning, thanks to higher tin prices. "Half a percent of tin metal in your ore could be significant and enough to make you a lot of money," he told Cornwall's Pirate FM News. "There's an awful lot of deposits in Cornwall that carry that amount of tin."
"Modern mining likes to be on a very large scale," he added. "Cornish mining tended to be on a much smaller scale. Modern mining will be much, much larger … I think it's inevitably going to start and, I would say, in the next five years."
Securities Disclosure: I, Chad Fraser, hold no positions in any of the companies mentioned in this article.