Dangers of Indonesian Tin Mining Highlighted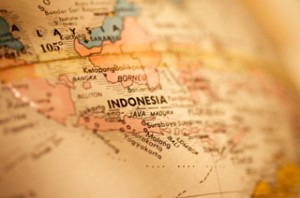 How many tin miners died for your smartphone? The question may sound provocative, but it's not too much of a reach either. Tin mining can be so dangerous that the price of extracting the industrial metal can sometimes be measured in terms of human lives. 
In a lengthy investigative piece last week, Bloomberg Businessweek recounted the story of an Indonesian tin miner whose life was suddenly cut short when a 16-foot-high wall collapsed on top of him in a tin pit on Bangka Island, Indonesia. The accident occurred in an illegal mining operation, and according to the article, the miner, a 40-year-old father of two, "worked among thousands of Indonesians who wield pickaxes and buckets each day" to extract tin destined for use as solder to meld electronics for the world's tablet computers, smartphones and other electronic devices. In July, five miners were killed when a mudslide thundered down on top of them.
Police reports show that a miner a week dies on Bangka, a seahorse-shaped island at the southern end of the archipelago that is the epicenter of the country's tin-mining industry. The region is estimated to produce a third of the world's tin.
In Indonesia, tin is produced by two companies, PT Timah, majority-owned by the Indonesian government, and Koba, which is jointly owned by Timah and Malaysia Smelting Corporation Berhad (OTC Pink:MSGCF). Most of the tin sourced by Timah comes from small-scale miners who work in crews of four or five, overseen by subcontractors, according to the company's annual report. Tin from the illegal operations, which have lax safety standards, is often mixed with tin from legitimate operations and sold to smelters.
The country also mines tin using floating dredges that scoop tin ore from the ocean floor using buckets or vacuums. The operations have run afoul of local fishermen who claim the dredging disturbs the seabed and their livelihoods. Like much of the tin mined on land, the "floating tin mines" are illegal.
Tin is not often referred to as a conflict mineral. That moniker is normally reserved for minerals like tantalum, the sale of which often funds brutal violence carried out by warlords in unstable mining jurisdictions like the Democratic Republic of the Congo (DRC). But according to Bloomberg, "Indonesian tin is becoming more desirable for companies hoping to avoid controversy over sourcing materials in Africa."
Publicly-traded companies like Apple (NASDAQ:AAPL), which source tin, tantalum and other minerals to manufacture iPhones and iPads, are now required by the US Securities Exchange Commission (SEC) to disclose their use of conflict minerals originating in the DRC and adjoining countries. Companies must "disclose their use of conflict minerals that include tantalum, tin, gold, or tungsten if those minerals are 'necessary to the functionality or production of a product,'" according to an SEC press release issued August 22. The release outlines new rules under the Dodd-Frank Wall Street Reform and Consumer Protection Act, otherwise known as the Conflict Minerals Act.
Companies that produce solder made from tin and electronics manufacturers that buy solder can skirt the legislation because Indonesia is not mentioned as part of the required disclosure of conflict minerals.
The amount of tin in electronics may be surprising to those who think of the metal as ubiquitous in soup cans, where in fact it was long ago replaced by cheaper steel. States Bloomberg:
"A large flat-screen television can contain as much as 4.8 grams of solder, according to German solder maker Henkel. The iPad or a competing tablet can hold at least 20 percent of that amount, with its tin content weighing in at anywhere from 1 to 3 grams, according to Henkel and ITRI, a U.K.-based industry trade group. That means the construction of as few as five iPads, which weigh about 1.4 pounds each, consumes as much tin solder as the average car, which weighs about 4,000 pounds."
While the electronics industry is expected to keep demand for tin strong, Indonesian tin smelters are turning their furnaces off and a looming shortage of the metal is predicted.
The Economic Times reported earlier this month that Indonesia is idling about 70 percent of its tin-smelting capacity amid a three-month bear market caused by demand reductions in the key consumer markets of China, Europe and the United States. The article notes that 24 of 28 smelters in Bangka-Belitung province have closed. While that may give Indonesian tin miners a temporary reprieve while stockpiles are used up, the idyll should not be expected to last long, since demand for tin is anticipated to outstrip supply in the long term, according to analysts.
The metal tops the list of 13 commodities expected to rise in price by 2016 according to a recent report by CRU:
"The tin market is increasingly under-supplied and there is a dearth of new high quality projects in the pipeline to replace falling output from current mines," the study found. "The few projects that are due to come on stream will fall far short of delivering the volume of metal required to meet forecast demand. The tin market will remain exceptionally tight through to 2016, which will be reflected in prices."
Indonesia remains key to the tin supply-demand dynamic. When the smelter shutdowns were announced last week, tin rose 13 percent. But yesterday the metal plunged nearly 7 percent, falling as low as $19,450 a tonne after it was announced that PT Timah has restarted spot sales, Reuters reported.
Meanwhile, as higher prices continue to drive tin mining in Indonesia, it is only likely to get more dangerous, particularly as ore concentrations plummet and miners are forced to dig deeper pits that are more likely to cave in, states Bloomberg. Quoting one businessman: "[i]f the price is high, we can just dig deeper."
I, Andrew Topf, hold no equity interests in companies mentioned in this article.