General Moly Breaks Ground at Mount Hope
US-based General Moly is starting preliminary work at its Nevada molybdenum project and preparing for heavy construction in the spring.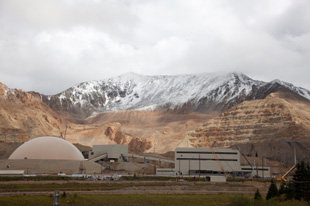 General Moly (AMEX:GMO,TSX:GMO) achieved a significant milestone with its Mount Hope project in early January, beginning preliminary construction at the site after completing the permitting process in late 2012.
"The permitting process was a long road," said Scott Kozak, General's director of investor relations, in a January 30 telephone interview. "We worked as closely as possible with all major stakeholders, from the Bureau of Land Management to Eureka County and the general public. We are very confident in our planning and mitigation efforts and are committed to developing Mount Hope responsibly. We believe Mount Hope will become an important contributor to economic development in Nevada for decades to come."
General is a molybdenum-focused development, exploration and mining firm with two projects, 80-percent-owned Mount Hope and the 100-percent-owned Liberty project, both of which are located in Nevada. South Korea's POSCO (NYSE:PKX), the world's fourth-largest steelmaker by output, owns the remaining 20 percent of Mount Hope.
Molybdenum is the only economically viable mineral at the site, and Mount Hope contains 1.3 billion pounds in the proven and probable categories, according to the company's 2010 investor presentation. General Moly envisions an open-pit mine on the property with a projected life of 44 years. The project will contain on-site crushing, milling and roasting facilities.
Strategic partners, presold production benefit Mount Hope
"Mount Hope is a large-scale, high-grade, lower-cost molybdenum deposit located in a stable jurisdiction," said Kozak. "We also have excellent strategic partners that are both underpinning our financing and are committed customers for when we start production."
POSCO, for example, remains an important strategic partner, according to Kozak. "We reached an agreement with POSCO in 2008," he said. "They have already contributed $200 million to Mount Hope's development, including a $100-million payment in December 2012 after we received all permits required for the construction of Mount Hope. POSCO continues to see this asset as a long-life, stable, significant source of moly, which they need to produce high-grade steels."
One challenge facing all moly miners is the metal's recent price decline. Molybdenum oxide has pulled back from $14 a pound a year ago to around $11.50 today, according to data from Metal-Pages.
General, for its part, is taking the long view. "We view Mount Hope as a long-term asset," said Kozak. "Molybdenum prices have pulled back recently, but it's important to keep in mind that this project has a 44-year life. Over the long term, we believe demand for high-grade steels will be robust and prices will improve. The characteristics moly provides, especially strength and corrosion resistance, remain essential for high-demand products like pipelines; desalinization plants; high-strength, low-weight steels increasingly used in automobiles; and aircraft parts, such as jet engines."
He added, "emerging markets such as China, but also including India, Brazil and others, are moving up the steel production value curve. Transitioning to the production of higher-grade, moly-based steels will accelerate as they develop."
Another plus for General is that the company has already sold the first five years of Mount Hope's production at a floor price that's above current moly prices, according to Kozak.
Cost containment remains crucial
In August 2012, the company reported that Mount Hope's capital cost estimate had risen 11 percent over its 2008 estimate, or $130 million in total. The largest increase was in owners' cost, which jumped 48 percent, or $82 million, largely due to permitting delays and higher permitting costs. Mining equipment costs rose 12 percent, while construction, material and plant facility costs increased 11 percent, largely due to higher construction labor costs and prices for specialized processing equipment.
In October, General signed a $125-million subordinated debt facility with Hanlong (USA) Mining Investment, a subsidiary of Sichuan Hanlong Group of China, which General expects will meet the higher funding requirements.
"We remain laser-focused on managing costs," said Kozak. "One advantage the Mount Hope project maintains is that it doesn't require many of the expensive add ons that often lead to cost blowouts. There is a big pool of experienced miners in the region, so we don't need a fly-in/fly-out workforce. Also, Mount Hope has access to water and power. We have good transportation links, including a two-lane highway a few miles from the mine and rail service in the vicinity that links all the way to the Port of Oakland."
Kozak also highlighted the expertise of the company's management. "Our management team has significant major company experience and a track record of building, developing and operating world-class mines," he said. "Every member of our management team is here because they want to leave their imprint on a world-class project."
Right now, General's work at the site mainly consists of clearing the land in preparation for building. Due to the property's 6,000-foot elevation, the ground freezes thoroughly in winter, making more extensive work difficult. Heavier construction is set to start after the spring thaw. Kozak estimates the mine will take two years to build, with first production following shortly thereafter.
Securities Disclosure: I, Chad Fraser, hold no positions in any of the companies mentioned in this article.