All Eyes on Australia as Coal Miners Face Royalty Hikes, Lower Output
Investors nervously watched this week to see if coal producers would be weighed down by bad weather and higher taxes.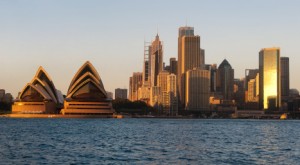 Those invested in the Australian coal sector have had many reasons for concern over the last few weeks, with one of the big ones being potential royalty hikes.

Michael Roche, chief executive of the Queensland Resources Council, said that miners — especially the nation's large coal-mining sector — expect the government to look for a bigger stake of revenues as part of an upcoming new budget in May, according to the Australian Financial Review.
Speaking at a Minerals Council of Australia tax conference, Roche noted that the government seems to be undergoing a "desperate rush for cash."
Eric Ford, chairman of major coal miner Peabody Energy (NYSE:BTU), told the conference that the effective tax rate on an average Australian coal mine is 50 percent. He further noted that the industry has little ability to pay additional taxes.
"It is surely hard to argue that a sector that has shed 9000 jobs in the last 12 months is enjoying a super profit phase," The Australian quoted him as saying.
Elsewhere, the Aussie coal sector took another hit this week — this one legal.
A court overturned the approval for a planned expansion of Rio Tinto's (ASX:RIO,LSE:RIO,NYSE:RIO) Mount Thorley Warkworth coal mine in the Hunter Valley, according to AdelaideNow.
The mine expansion had previously received approval from both state and federal regulators. Rio Tinto's local subsidiary has been pursuing the approvals for over three years.
But a judge with the Land and Environment Court upheld a challenge to the approval, citing "the significant, diverse biological adversity, noise and dust and social impacts of the project."
Rio Tinto warned that it will now be forced to review the viability of the mine. The company said that up to 1,300 jobs could be at risk without the expansion.
Meanwhile, in the ever-important Indian coal market, it appears that new projects may get a boost from a more organized federal approval process.
India's finance minister said this week that the government will set up an independent regulator for the coal sector within the next four months, according to SME News.
The move is seen as a major step in streamlining the approval process for new coal mines. The current approval system has proven difficult to navigate, causing project delays at a time when India is desperately looking for new coal supplies.
Company news
Australia's coal stocks were also in focus this week. Investors were keen to see what effect the first quarter's severe storms had on production from major firms.
BHP Billiton's company filings (ASX:BHP,NYSE:BHP,LSE:BLT) show that the company's thermal coal output fell 10 percent year-on-year during the quarter, to 15.5 million metric tons (MT). Quarterly production was also 15 percent lower than the previous quarter.
That is the major's lowest thermal coal production level in five years.
On the bright side, the company reported that recently installed flood mitigation measures at its metallurgical coal mines prevented significant disruptions. Metallurgical coal output rose 7 percent year-on-year, to 9 million MT.
Rio Tinto also reported a notable impact from the storms. Rio's Australian thermal coal production was down 19 percent quarter-on-quarter, to 4.9 million MT, according to CoalGuru.
The company's Australian hard coking coal output dropped 16 percent quarter-on-quarter, to 1.5 million MT.
America's oldest independent coal company, Westmoreland Coal (NASDAQ:WLB), had better news for the market this week. The company announced that its coal resources have grown to over 1.1 billion MT.
The jump in resource comes after the company spent the past year leasing additional coal acreage adjacent to its existing projects. At its Absaloka mine, the company leased an additional 145 million MT of resource, while it also added 56.4 million MT at its Rosebud Mine.
Westmoreland's updated coal resource base includes 553 million MT of proven and probable reserves in addition to 625 million MT of resource.
North of the border, in Canada, Cardero Resource (TSX:CDU,AMEX:CDY) appears close to leaping a major hurdle in developing its Carbon Creek metallurgical coal project in British Columbia.
The company announced this week that it has extended to April 22 its option to acquire parts of the project license area. Previously, the option agreement had been set to expire April 14.
More significantly, Cardero said that it is negotiating a placement of senior secured notes in order to fully fund the purchase. The deal is reportedly to the tune of $5.5 million, with groups affiliated with Luxor Capital Group. The notes will bear interest at a rate of 10 percent.
Securities Disclosure: I, Dave Forest, do not hold equity interest in any companies mentioned in this article.
Related reading: