India and China Boosting 2011 Diamond Market
Diamond consumption and prices have been on the rise this year. Demand in India and China are expected to keep that momentum going throughout the remainder of 2011.
By Michelle Smith—Exclusive to Diamond Investing News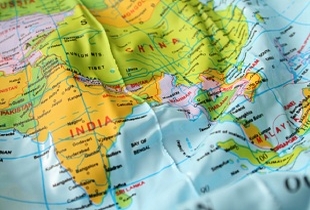 Over the past week commodity prices took a dive and the future of some remains hazy. The diamond market has been impressively strong, and as the mid-year mark approaches, predictions are that 2011 will conclude with the same accolades. At worst, diamond prices are expected to remain firm, but some predictions have prices rising due largely to growing demands in India and China.
India and China
The people of India and China are earning the title of diamond consumers. These two countries have seen market growth of about 25 percent and they contributed 20 percent to the global demand over the past year, according to Crisil, a credit rating company.
Both polished and rough diamonds are moving well in these countries. And, this is happening despite price increases.
The closing of Diamdel's three week auction on May 3 provides indication of the positive market conditions. Prices were up by double digits in some cases, and of the 218 lots made available, all of them sold.
"Consistent demand from Indian based buyers saw them gain a greater share of sales and record demand from Asia Pacific translated into record spot sales to buyers in Hong Kong and mainland China," CEO Neil Ventura commented after the event.
Polished diamonds
Polished diamonds are feeding growing jewelery demands. In China, diamond jewelry markets grew by 25 percent, while growth in India's jewelery demand was 31 percent in 2010, according to Varda Shine CEO of Diamond Trading Company (DTC).
But the jewelry demand is not all about being glamorous, at least not in India. Natives of India are well-known for being jewelry investors. Traditionally, their investments have been primarily in gold.
During a tour of the country to assess the diamond market, Shine said "a visible shift is seen in consumers' perception in the last couple of years, of growing confidence with certification and buy-back guarantees. Inherent gold consumers in India have gradually started diversifying a part of their investment to the diamond jewelery segment."
Rough diamond supply
There are reports that some rough diamonds have increased in value by up to 300 percent over the past two years. Shine said she is not sure of 300 percent but rough diamond prices, which move in line with polished diamonds, have certainly gone up. She also added that in the future prices will continue going up on reduced supply.
India and China have not been immune to the supply crunch, which is blamed on several factors. To begin with, in response to the economic crisis in 2008, major diamond miners cut their output due to the drop in demand. But, the recovery for the diamond market came faster than expected, straining the market and pushing prices up.
Excessive demand is corrected by increased supply. Mining majors, such as De Beers, are planning to boost production, but that is not an overnight process. There is also some anticipation about the price relieving effects of Zimbabwe's return to the market.
Meanwhile, extra pressure is being applied to the rough diamond market because supply problems with polished stones has led cutters and polishers to buy rough diamonds, notes Nico Kruger, CEO of Namakwa Diamonds (LON:NAD).
The increasing demands of India and China are expected to result in price hikes of another 20 percent this year, according to Shivom Seth at Mineweb.
If supply does increase to match demand, predictions have prices stabilizing. Either way, there is little indication at this point that diamond prices will tumble before the end of the year.
Petra Diamonds (LON:PDL) says the positive fundamentals of the market provide a compelling case for investment.