Dunnedin CEO and President Share Company's 2017 Year-End Letter
Jan. 16, 2018 08:32AM PST
Gem Investing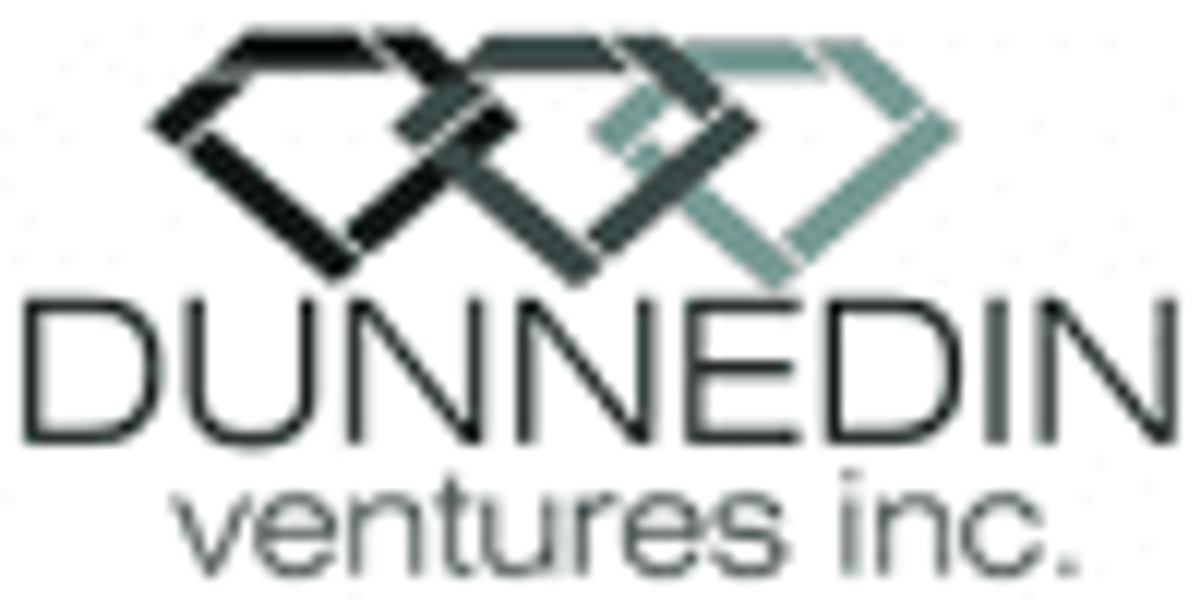 Dunnedin Ventures Inc (TSXV:DVI) CEO Chris Taylor and President Claudia Tornquist have shared an end of year letter with their shareholders
Dunnedin Ventures Inc (TSXV:DVI) CEO Chris Taylor and President Claudia Tornquist have shared an end of year letter with their shareholders, providing an overview of the company's activities in the last year and sharing their plans for 2018.
Please see the letter in its entirety below.
On behalf of the board of Dunnedin Ventures Inc (TSX-V: DVI) we would like to wish you and your families a successful year in 2018, and to take this opportunity to thank you for your investment with our company.
2017 was a year of significant progress and success for Dunnedin, and has brought us to the threshold of what we believe could be transformative success as we prepare for our 2018 exploration program.
A number of important milestones were achieved in 2017, which have considerably advanced the Company:

Over the year Dunnedin raised $6.2 million through private placements and warrant exercises which enabled us to further our successful exploration work
We progressed the spin-out of the Kahuna property gold rights into a new company, Solstice Gold Corp. Solstice will be listed on the TSX-V in early 2018 and Dunnedin's shareholders of July 17, 2017 will receive one share in Solstice for every three shares they held of Dunnedin
The earn-in agreement for the Kahuna Project was accelerated and we acquired 100% ownership of our flagship project, subject to completion of the Solstice spin-out
We added further prospective ground to the Kahuna Project which now extends across 166,402 hectares (1,664 square kilometres)
Dunnedin received a positive determination for the Kahuna Project from the Nunavut Impact Review Board and is permitted for drilling and bulk sampling up to 1,500 tonnes of kimberlite
Further excellent diamond results were received from samples of our Kahuna, Notch and PST kimberlites, including high-quality, commercial-sized diamonds
Our sampling work across the Kahuna property yielded abundant, high-quality diamond indicator minerals which helped define numerous kimberlite pipe targets
In anticipation of a step up in activity in 2018 the company strengthened the management team further with Claudia Tornquist as President, Jeff Ward as VP Exploration, Andrew Berry as VP Operations and Emily McNie as Project Geologist

The main catalyst for Dunnedin through 2018 will be the Company's first drill program, slated to begin in late winter, testing a number of highly prospective kimberlite targets selected by our technical staff under the guidance of Dr. Charles (Chuck) Fipke, Dunnedin's technical advisor.
2017 in Review
Drill Target Generation Nears Completion
After three years of detailed field investigations, Dunnedin is in the final stages of drill target selection and anticipates drilling a series of high-priority kimberlite pipe targets in early 2018.
Working with our advisor and shareholder Dr. Fipke, the Company has used the same till sampling and mineral screening protocols employed during Dr. Fipke's discovery of Canada's first diamond mine at Ekati, N.W.T., but improved by over 20 years of additional diamond data and experience. We believe the potential for new diamond discoveries using these methods is both significant, and with drilling slated to begin early this year, immediate.
When Dunnedin took on the Kahuna project in 2014, it was well known that the property hosts a large kimberlite pipe field, consisting of potentially hundreds of kimberlite pipe targets. Predecessor explorers had confirmed that kimberlite pipes are abundant and have a predictable geophysical signature.
Without Dr. Fipke's Ekati-discovery driven methodology, it was challenging to accurately discriminate between diamond-bearing kimberlite pipes, and those which are barren, other than by drill testing. This was an expensive approach, and left much to chance. Hence, while they were successful in proving an extensive kimberlite field, diamond content within their drilled pipes was limited.
The "silver lining" of this work was their eventual discovery, of high grade diamond-bearing kimberlite dikes like the Kahuna, Notch and PST bodies. The presence of high concentrations of attractive commercial-sized diamonds in these dikes shows that the project has the capacity to host diamond-bearing kimberlite pipes as well, as pipes of similar age could have sampled the same diamond sources.
The Company believes significant value can be derived for shareholders by pursuing both pipes and dikes, but with history as a guide, we also recognize the transformative value a new diamondiferous pipe-type discovery could have for the Company, and have aggressively pursued that opportunity over the past three years.
When considering our exploration options at Kahuna, Dunnedin recognized the cost effective and accurate nature of till-sampling and geochemistry-based methods versus immediate drilling. By using methods pioneered by our advisor Dr. Fipke, we would be able to prioritise the numerous pipe-like geophysical signatures in order of potential to host diamonds, and save a great deal of expense by drilling the most prospective targets first.
Dr. Fipke and Dunnedin's board member Chad Ulansky, as veterans of Ekati, have stated the Kahuna project has some of the best diamond chemistry they have observed since that landmark discovery over 25 years ago.
If past history is any guide, the discovery of a new diamond-bearing kimberlite pipe at Kahuna could be a transformative event for the Company, and highly accretive for shareholder value.
Expanding Our Existing Diamond Resources
In addition to the exciting potential of new discoveries, Dunnedin is fortunate to have reported the first NI43-101 compliant Inferred Mineral Resources on the Kahuna property. Because of the extensive library of historic drilling, the Company is confident these diamond Resources are amenable to expansion with additional drilling at relatively limited cost, and we are evaluating further resource work in addition to new target drilling in 2018.
The Company continued to recover high quality diamonds from further sampling of the Kahuna and Notch kimberlite dikes in 2017 and we remain impressed with the diamonds recovered from these kimberlites. With over 4,000,000 carats of currently defined Inferred Resources, encouraging, near-vertical geometries outcropping at surface, and the location of these bodies adjacent to active mining infrastructure at Agnico Eagle's Meliadine project with year-round access, these targets have compelling potential for low-cost development.
During 2017, the first diamond recovery results were received from the Kahuna kimberlite, where a 144 kg sample yielded a sample grade of 2.32 carats per tonne and included 13 commercial-sized stones (+0.85 mm) totalling 0.334 carats. Although the sample was small compared to historical bulk sampling, the sample grade is approximately double what was historically reported from the Kahuna kimberlite, and suggests further bulk sampling is warranted.
A 43.78 kg sample from the Notch kimberlite next returned a high sample grade of 9.72 carats per tonne and yielded four high quality commercial-sized stones (+0.85 mm) totalling 0.43 carats. The largest recovered diamond was a 0.16 carat clear and colourless elongated octahedron of exceptional quality. To date, Dunnedin has recovered 89 macrodiamonds totalling 2.38 carats (+0.85 mm) from a 2.36 tonne sample of the Notch kimberlite, for a high commercial diamond sample grade of 1.02 carats per tonne.
Dunnedin also received the final sample results from the PST kimberlite, a very high grade kimberlite dike for which no resource has yet been calculated. An exceptional final aggregate sample grade of 4.02 carats per tonne was returned from our sampling of this body. Once again, Dunnedin's samples returned higher sample grades than were historically reported, with the PST sample grade exceeding what was historically reported by 84%. Recent interpretive work by Dunnedin suggests PST has a potential strike length of up to 2.5 kilometres which makes this kimberlite body an exciting target for further exploration.
2018 Plans
The Company expects to begin drilling in late Q1, extending through Q2 of 2018.
While we cannot predict the future, the discovery of new diamond sources can bring rich rewards to shareholders at the time of discovery. Our project is known to host high grade populations of attractive commercial-sized diamonds, and we are seeing many new drill targets with excellent diamond-associated mineral chemistry and geophysical signatures consistent with kimberlite pipes. With drilling so close, we are working daily with our technical team and advisory to make 2018 a profoundly rewarding year for our shareholders.
In closing, serving as CEO and President of Dunnedin has proven to be tremendously exciting and productive, and we continue to focus on making the Company's work rewarding to our shareholders. We've leveraged the discovery of gold at Kahuna to reward our shareholders with ownership of a new gold-focused vehicle, Solstice Gold Corp., and we now aim to reward shareholders with the benefit of a brand-new diamond discovery, using the excellent potential of our Kahuna project as a driver. We would like to thank our employees, shareholders and business partners for their continued contributions and participation in our progress.
Sincerely,
Chris Taylor Claudia Tornquist
CEO & Director President & Director
January 2018
Mr. Jeff Ward, P.Geo., Vice President, Exploration, is the qualified person responsible for the technical content of this document.
Click here to connect with Dunnedin Ventures Inc (TSXV:DVI) for an Investor Presentation
Investing News Network websites or approved third-party tools use cookies. Please refer to the cookie policy for collected data, privacy and GDPR compliance. By continuing to browse the site, you agree to our use of cookies.