Jun. 29, 2010 08:30AM PST
Gem Investing
Diamond mining firms looking to cash in on higher prices and increased demand for stones are starting to ramp up production. The one major company that is curtailing operations, De Beers, is cutting production 5 percent per year for 5 years to increase mine life.
By Michael Montgomery—Exclusive to Diamond Investing News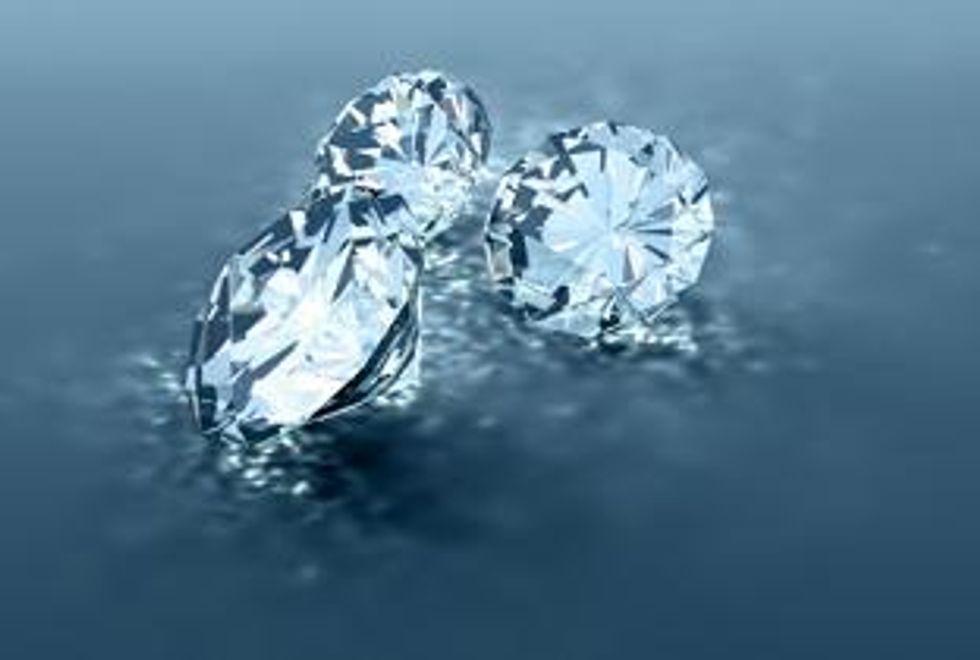 Prices for rough and polished stones have steadily improved in 2010, a sign that the global economy is making a recovery. As the prices climb companies are looking to cash in on the demand, and turn a profit after an abysmal 2009. Mining production is rising for almost all companies across almost all regions.
Diamond production in Namibia is up 102 percent year over year. 580,000 carats have been produced this year as compared with 929,000 carats for all of 2009. At this rate the country is slated to produce nearly 1.4 million carats even though some analysts think that it will stop short of the record 1.1 million produced in 2007. "It is doubtful that production will ever return to pre-crisis levels due to the depletion of the onshore resource," stated John Steytler, an economist for Bank Windhoek.
Russian giant Alrosa also improved its sales forecast for the year. The company expects rough diamond sales to jump to $3.28 billion, with a net profit for the company of $191.5 million.
Lucara Diamonds Corp. [CVE:LUC] has started producing stones from its Mothae mine in Lesotho. The company has found a massive gem in the first initial days of mining. "Recovery of this 53.5 carat stone on initial start up at the Mothae mine is a huge win for Lucara and Mothae Diamonds… this diamond is more than twice the size of any previous diamond recovered from Mothae," said Lucara CEO, William Lamb.
Lucara is also working on its AK6 project in Botswana, a joint venture with African Diamonds PLC [LON:AFD]. The project has an estimated resource of 11.2 million carats, and was initially developed by De Beers and sold to Lucara in Nov. 2009.
Stellar Diamonds PLC [LON:STEL] is also ramping up production on its two mines in West Africa. The company also has three joint ventures in Sierra Leon, as well as two wholly owned projects in Guinea and Sierra Leon. "The Mandala mine produced 34,409 carats at a grade of 36 carats per hundred tonnes (cpht), which takes the mines total production, since inception in April 2009, to 78,491 carats at a grade of 39cpht," according to Jamie Ashcroft, of Proactive Investors UK. With planned improvements to the company's infrastructure, Stellar looks to improve its capacity another 16,000 carats per month.
There is some concern that the increase in production will cause prices to stagnate as demand for polished stones has still not recovered to pre-crash levels.
"De Beers realizes that if it were to return to full capacity at its mines immediately or even in the long run, this decision, combined with its policy against stockpiling diamonds, would flood the market with rough diamonds it doesn't have sufficient demand for," reported Avi Krawitz, for Rapaport.
De Beers is the only major diamond mining company that announced publicly it would slowdown operations. The industry heavy has said it will decrease production by 5 per cent for the next five years, citing a depletion of resources. De Beers is looking to increase the life of their mines as well as control the price of rough stones by curtailing production. The company has even gone as far as calling the future outlook for the diamond market one of 'Peak Diamond,' which was reported on Diamond Investing News last month.
Investing News Network websites or approved third-party tools use cookies. Please refer to the  cookie policy for collected data, privacy and GDPR compliance. By continuing to browse the site, you agree to our use of cookies.