Tesla's Electric Motor Shift to Boost Demand for Rare Earth Neodymium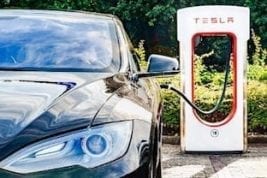 US carmaker Tesla is making the switch to a magnetic motor using neodymium. Demand for the rare earth is expected to increase in the next few years.
With worldwide efforts by governments to cut noxious emissions produced by fossil fuel-powered cars, electric carmaker Tesla (NASDAQ:TSLA) is making the switch to a magnetic motor using neodymium.
Researchers have found that the market for the neodymium-iron-boron magnet used in the motors is now worth more than US$11.3 billion, with demand for the magnets surging by 8.5 percent between 2010 and 2017.
David Merriman, a senior analyst at metals consultancy Roskill, stated, "[s]ome electric car motors use the permanent magnet technology, probably the most famous is the Tesla Model 3 Long Range. All the other Tesla models — Model X and Model 3 standard — use induction motors."
Last year, global demand of 31,700 tonnes for neodymium outstripped supply by 3,300 tonnes. Demand for 2018 is expected to climb to 38,800 tonnes, leaving larger deficits, Merriman added.
A source at a fund manager that specializes in metals told Reuters, "Tesla's decision to switch to permanent magnets has completely changed the dynamics of the market."
While companies and experts are excited about neodymium, there are certain factors that could stand in the way of its success.
For instance, China imposed strict export quotas across a range of rare earths in 2010, saying it wanted to curtail pollution and preserve resources. The Asian country resumed neodymium exports in 2015, but traders fear an export ban could happen again.
Additionally, the process of rare earth extraction tends to be both difficult and expensive, as it requires separating multiple different metals from a single deposit. This is unlike much simpler processes, like recovering copper from ore, for example.
Due to these factors, as well as the environmental damages that rare earths production causes, many automakers are searching for ways to cut down on neodymium use.
In fact, last month, Toyota (NYSE:TM) announced that it had found a way to cut the use of the metal in electric motors by about a fifth. The firm stated that it had created the world's first neodymium-reduced, heat-resistant magnet, and said that it could be used in electric vehicles within the next 10 years.
For now, automakers making permanent magnet motors are strongly reliant on China and its production of neodymium, which according to Roskill accounted for 85 percent of global output of rare earth oxide in 2017. Currently, the price of neodymium sits at around US$70 a kilogram.
Don't forget to follow us @INN_Resource for real-time news updates!
Securities Disclosure: I, Nicole Rashotte, hold no direct investment interest in any company mentioned in this article.