China Strikes Back at US With $3 Billion in Tariffs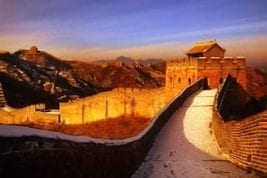 As China and the US get into a tit-for-tat contest of tariffs, experts are worried more about escalation than a full-on trade war.
In response to steel and aluminum tariffs imposed by US President Donald Trump, China has now taken its turn and laid down $3 billion in tariffs on a variety of American imports.
Sunday (April 1) saw Beijing put 128 different items through the tariff process, including products such as pork, wine, ginseng, fruit, metal and nuts.
In 2017, the US exported $20 billion worth of agricultural goods to China, including $1.1 billion in pork alone. China is the third-largest export market for US pork, and the commodity will now face a 25-percent levy.
The move also follows Trump's more recent call for US$50-billion of tariffs on Chinese goods, which came after a White House investigation. The investigation allegedly found evidence of unfair tactics such as theft of US intellectual property and currency manipulation.
As the two countries begin going blow-for-blow on tariffs, murmurs of a trade war are bubbling to the surface once again. Economist Taimur Baig of DBS Group told CBC that the tariffs "signal a most unwelcome development, which is that countries are becoming protectionist."
While not all analysts are convinced a trade war is on the horizon just yet, concerns of escalation between the two nations are becoming prominent.
China's $3-billion tariff smackdown was in rebuttal to the US' steel and aluminum import tariffs, which concern section 232 of the US trade act. However, the more recent tariffs put in place by the US fall under section 301 of that act, and as yet China has not reacted to those.
"It is important to note that the Chinese response to 301 is still to be determined," analyst Chris Krueger told CBC. "If 232 is an indicator, it is probably fairly … reciprocal."
Though experts appear to be keeping calm and watching from the sidelines, investors were less patient after the news of China's tariffs. The Dow Jones Industrial Average (INDEXDJX:.DJI) had tumbled 458.92 points by Monday's (April 2) close, and the index's lowest point that day saw losses reach 758 points.
Don't forget to follow us @INN_Resource for real-time updates!
Securities Disclosure: I, Olivia Da Silva, hold no direct investment interest in any company mentioned in this article.