Indian Steel Producers Aggressively Seek Raw Materials
While demand for steel is expected to cool off slightly in 2011, Indian steel manufactures are aggressively seeking raw material acquisitions such as manganese mines in South Africa. India hopes to increase steel production by 67 percent by 2012.
By Michael Montgomery—Exclusive to Manganese Investing News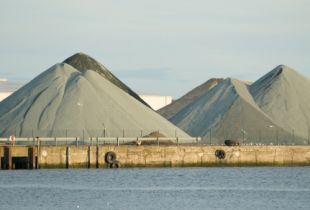 Analysts are mixed on the level of steel demand expected for 2011. This holds power over the manganese market as the majority of the metal is used in steel alloys. Demand in China, which has seen double digit increases in steel demand for the past few years, is cooling off and most expect growth to be around 8 percent this year. In India, growth in the steel market is expected to be similar to China. However, India has been challenged by increasing raw material prices as it imports a majority of essential ingredients for steel production from China. The race between the two nations to secure supplies from Africa has been heating up; most notably in the diamond market, where the two nations have been vying for power, and even investing in infrastructure projects and humanitarian aid.
South Africa was recently brought into the BRIC economic alliance creating an interesting dynamic in the manganese market as South Africa is one of the world leaders in production. South Africa accounted for half of the African continent's steel output in 2010, and saw a 14 percent increase in production year over year.
Indian steel manufacturer Steel Authority of India is looking to create a steel plant in South Africa if the nation is willing to grant mining licenses for iron ore and coking coal. The desire to penetrate the South African market doesn't stop solely with steel producers. Manganese Ore India Ltd. (MOIL) is hoping to start mining manganese in SA as well.
"India needs to secure supplies of manganese ore, a key ingredient in steel, as it plans to increase manufacturing capacity of the alloy by almost 67 percent to 120 million tons by 2012. In that period, the country's manganese ore demand is expected to almost double to 4.5 million tons," said K.J. Singh, chairman of MOIL Ltd.
The company is looking to invest in Africa along with state-run NMDC, the nations largest iron ore producers. The potential acquisitions are not limited to just South Africa either. MOIL is looking towards Gabon for untapped manganese sources.
"The mines ministry source said he expected Manganese Ore India Ltd to be able to produce some 3 million tonnes of manganese per year from Gabon, adding to its current capacity of 4.5-5 million tonnes per year," stated a recent article from Reuters Africa. Any production on these deposits in Gabon would surely feed Indian steel producers facilities in South Africa as well as for domestic consumption.
Other South African manganese miners could benefit from increased steel production due to the investments being made by India. Australian listed Jupiter Mines Limited (ASX:JMS) has a world class deposit in the Kalahari manganese fields. The manganese fields are said to hold 50 percent of the world's Mn resources. The Tshipi Project, according to the company, has a resource estimate of 163 Mt at a grade of 37.9% Mn. The project is a joint venture with Ntsimbintle Mining Limited. Ntsimbintle is a Black Economic Empowerment ("BEE") company, which is of special consideration with black empowerment laws in South Africa.
Om Holdings (ASX:OMH) the parent company of Jupiter Mines, recently announced that it had made a $21 million deal for the land to build a manganese processing plant in Malaysia to process the ore from the Tshipi Project. However, the company has "yet to reveal the likely development cost of the 66,000-tonne-a-year manganese alloy smelter," reported Peter Klinger, for The West Australian.
While steel demand may cool off slightly this year in Asia, growth is still expected. The aggressive actions taken by Indian companies to secure raw materials needed for steel production is an indicator that steel and manganese demand has a healthy long run prospective.