May. 18, 2016 03:23PM PST
CEO Interviews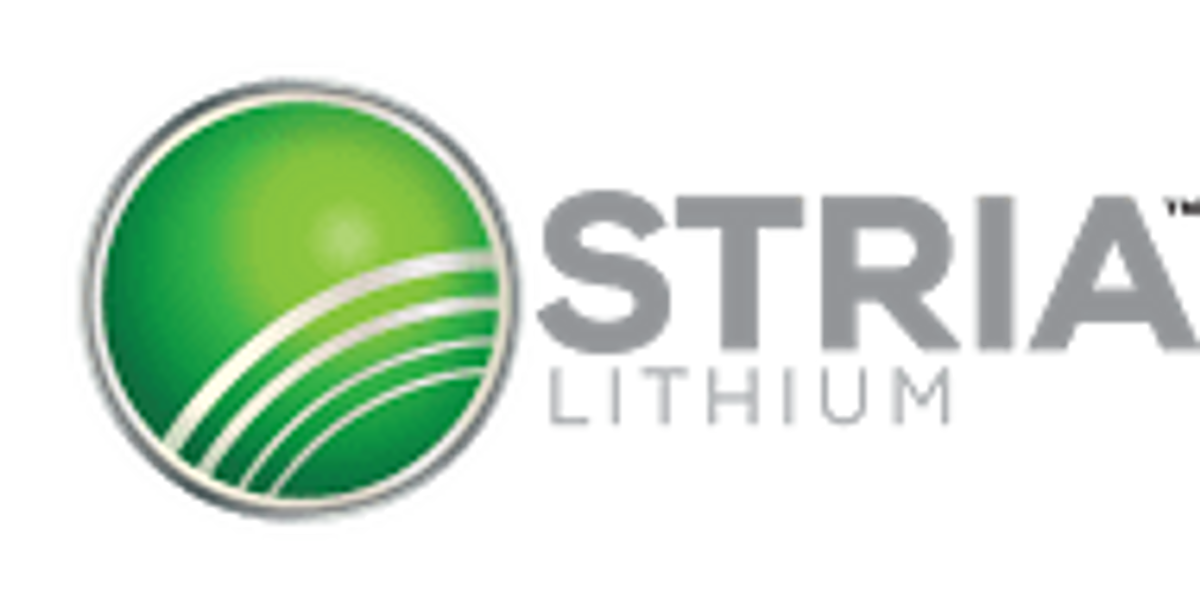 Stria Lithium Inc. (TXV:SRA) is a Canadian junior mining company and sole owner of the Pontax Lithium Project in Northern Quebec.
CEO interviews are part of investor education campaigns for clients advertising on the Investing News Network. Important news is contextualized by CEOs, and the resulting interviews are disseminated to the Investing News Network audience because they have value to market watchers.
The Investing News Network interviews a CEO for an understanding of their perspective on the company, the investment potential of the company and market news related to the company. The information contained here is for information purposes only and is not to be construed as an offer or solicitation for the sale or purchase of securities.
---
Stria Lithium Inc. (TXV:SRA) is a Canadian junior mining company and sole owner of the Pontax Lithium Project in Northern Quebec. Stria is unique among junior miners because of its twin-track operating agenda. The company is focused on the staged development of its lithium mining project, while it aims to generate early revenues from the manufacture of in-demand lithium products intended for next generation lithium-ion battery applications.
Trends in lithium markets are pointing to sustainable high growth over the next decade and beyond fueled in large part by demand from the electric vehicle and renewable energy storage sectors. Lithium has indeed become the darling of the commodities investment sector as production attempts to maintain pace with demand.
The Investing News Network recently spoke with Stria Lithium President and COO Iain Todd who explained why exploiting the company's in-house developed, proprietary processing technologies and manufacturing capabilities leave it well-positioned to succeed in a commodity sector now in the green energy investment spotlight.
Investing News Network: Dr. Todd, your appointment to lead Stria's operations comes at a time of burgeoning market interest in the lithium sector. You hold a PhD in Mineral Processing and a Master of Engineering Degree in Extractive Metallurgy. You also have an extensive management and consulting background in the material sciences and lithium project development, in particular.
Stria's Pontax Project is in the early stages of development and funding for junior miners remains a challenge in today's commodities markets. Against this backdrop, are you planning to break the mold on traditional mining, and if so, how do you propose to succeed and what do you see as the barriers to success?
Iain Todd: Thank you. Yes, my appointment comes at a very interesting time. The world is transitioning to a low carbon economy and lithium, of course, is the critical metal essential to current and next generation renewable energy production and storage.
My mandate, simply put, is to create operational solutions that provide Stria with a competitive market advantage from technology innovation in tandem with the development of our Pontax project. So, overcoming obstacles goes to the core of my management responsibilities.
Our immediate challenge, however, is to secure a level of investment that meets both our short and longer-term operating requirements. I truly believe we have the ability, and the capabilities to position ourselves in a way that sets us apart from any other junior mining developer.
INN: That's a very bold and ambitious statement. Would you care to elaborate?
IT: Of course. We're taking a twin track approach. As we continue the years-long development of the Pontax property, our intent is to build shareholder value sooner from the production and sale of lithium metal in parallel with our mining related operations.
As an emerging junior company, a key element to achieving success in both our mining and manufacturing enterprises is our partnership in a collaborative, technology innovation cluster.
On May 18, 2016, we announced our participation in a collaborative technology relationship with Grafoid Inc., Focus Graphite Inc., and Braille Battery Inc. to form "2GL Platform" — a relationship that gives Stria access to the knowledge and the technologies to make high purity lithium metal and products, including lithium foil, which are important components for the next generation of lithium batteries.
When you combine Stria's lithium technology experience with those of our 2GL partners, we have nearly 400 man-years of technology development experience in similar technologies to lithium metal production, including lithium mine development. I should add that David Johnson, our Chief Technology Officer has also developed a proprietary, environmentally sustainable and scalable chlorination process for treating lithium mineral concentrates that has been validated and is ready to move to pilot plant stage testing.
This technology consortium is a first in our industry, not only from a product innovation perspective, but as a tactical extension of our marketing and sales approach to global markets.
The singular thread that binds each 2GL partner is a common goal of creating a competitive advantage that meets customers' demands for high quality, low-cost materials and products. Each partner is an essential contributor to the sustainable, green energy technologies transition.
INN: That's a very high-sounding approach in theory, but how does it work in practice?
IT: We've gone well beyond the theoretical and we've positioned ourselves in fact to walk the talk. For example, Grafoid's next generation graphene battery applications are under development with various JV partners. Focus Graphite's high purity spherical and expanded graphite are demonstrating world leading conductive capabilities; and Braille Battery has established its sales leadership globally from its lightweight, high power lithium batteries. And, as I mentioned, Stria's proprietary chlorination process reduces operating costs from a compact design that requires fewer controls, consumes less energy and reduces overall capital costs.
Against that background, we see Stria's near-term lithium fabrication and production plans as a potentially viable business proposition. Our business plan anticipates revenues generated from the sale of lithium metal and metal products will support the further development of our proprietary lithium ore processing technologies and our Pontax mining development.
INN:That is a very ambitious agenda. Where do you see risk and how would you overcome investor objections?
IT: We feel the only serious obstacle in our path is financial. By refocusing our operations on a parallel mine and lithium production course that's weighted towards the last steps of our technology chain, we see the early stage generation of cash flow and market penetration versus the more costly early stage mine development. The revenue potential from manufactured lithium metal and low-cost, high-margin lithium foil for niche markets could well serve to mitigate much of the risk associated with our novel approach. The 2GL Platform enables us to draw down immediately our lithium manufacturing and production expertise and house it in Grafoid's world-class R&D facility in Kingston, Ontario.
A technical feasibility study is currently underway to be completed in the next three months. In parallel to this we're focused on doing the required process and development testing work, in Kingston, compiling the required engineering data that will permit the preliminary engineering of a full scale testing plant for potential feedstocks for our future lithium metal production facility. We expect this study to be completed within the next ten to twelve months.
INN: And on the mining exploration and development side?
IT: The Pontax Lithium Project is considered an early stage project. The property contains a hard-rock spodumene resource and our approach therefore is conventional in terms of defining the extent of our resource, exploration drilling, metallurgical testing through to a resource calculation, an eventual Preliminary Economic Assessment, environmental and social impact studies and then permitting and mine production.
2016 will see the continuation of development work at Pontax. Our initial 43-101 report published in May 2013 recommended a complete metallurgical study on bulk samples to establish whether the deposit was amenable to conventional ore beneficiation and to further define the ore body. A process flowsheet was developed and tested at the pilot plant level at SGS Minerals at the end of 2015 and a final report is pending, but preliminary results indicate that the ore body behaves positively to conventional up­grading and is not unsimilar to other lithium deposits in the area.
The next step would be to complete our drilling program. We intend a two-stage process scheduled for initiation by the end of this year. Stage 1 will make sure we understand the breadth of the deposit with an extended surface geophysical survey, and then in Stage 2 the following year, we will execute a drilling program to confirm the surface survey and/or get a reportable reserves estimate.
INN: Will the market see you as putting the cart before the horse, so-to-speak, and a renegade among junior miners?
IT: Extracting lithium from hard rock, clays or from brine is relatively well understood. Stria is focused on the most technologically demanding downstream component —producing high quality lithium products to gain a competitive edge in the global lithium market.
As I mentioned earlier, Stria has already developed a proprietary, environmentally sustainable and scalable process that cuts time and costs for producing high purity lithium metal from mined concentrate; and we're pioneering a fabrication unit to produce in-demand, niche components for next generation lithium batteries because of our partnership in 2GL.
From a business or investment perspective, our counter argument would be that holding stock in a start-up junior mining development company with the ability to move to profitability sooner than later is an attractive incentive for a long-term investment. You might say we're a renegade, but one supported by innovative production technologies and focused commercial aspirations.
INN:Would you describe your company as a lithium mining development company or a manufacturer of technology lithium products?
IT: Both, actually. We're simply planning to build our manufacturing facilities in advance of Pontax production so we'll be ready to receive its output. Our client base, presumably, will have been established long before the demand curve puts upward pressure on supply.
INN: You appear to have strong, compelling arguments and a novel rationale for investing in Stria. Are there any other factors that support your enterprise ambitions?
IT: Yes, the key factor is timing. Economies are focusing now on developing clean energy technologies for a sustainable future driven in part by the need to abate global warming. With implementation of the UN sponsored agreement on Climate Change in 2020, Canada becoming a signatory on April 22, 2016, it gives us a short time to bring our mine into production as global demand peaks for highly purified, technology grade lithium.
Given the realities of the mining sector, a lithium company already in production of fabricated, in demand battery components built from any base lithium feedstock would be on the leading edge of market penetration. I believe we are the company to watch and follow over the coming months and years.
Investing News Network websites or approved third-party tools use cookies. Please refer to the  cookie policy for collected data, privacy and GDPR compliance. By continuing to browse the site, you agree to our use of cookies.