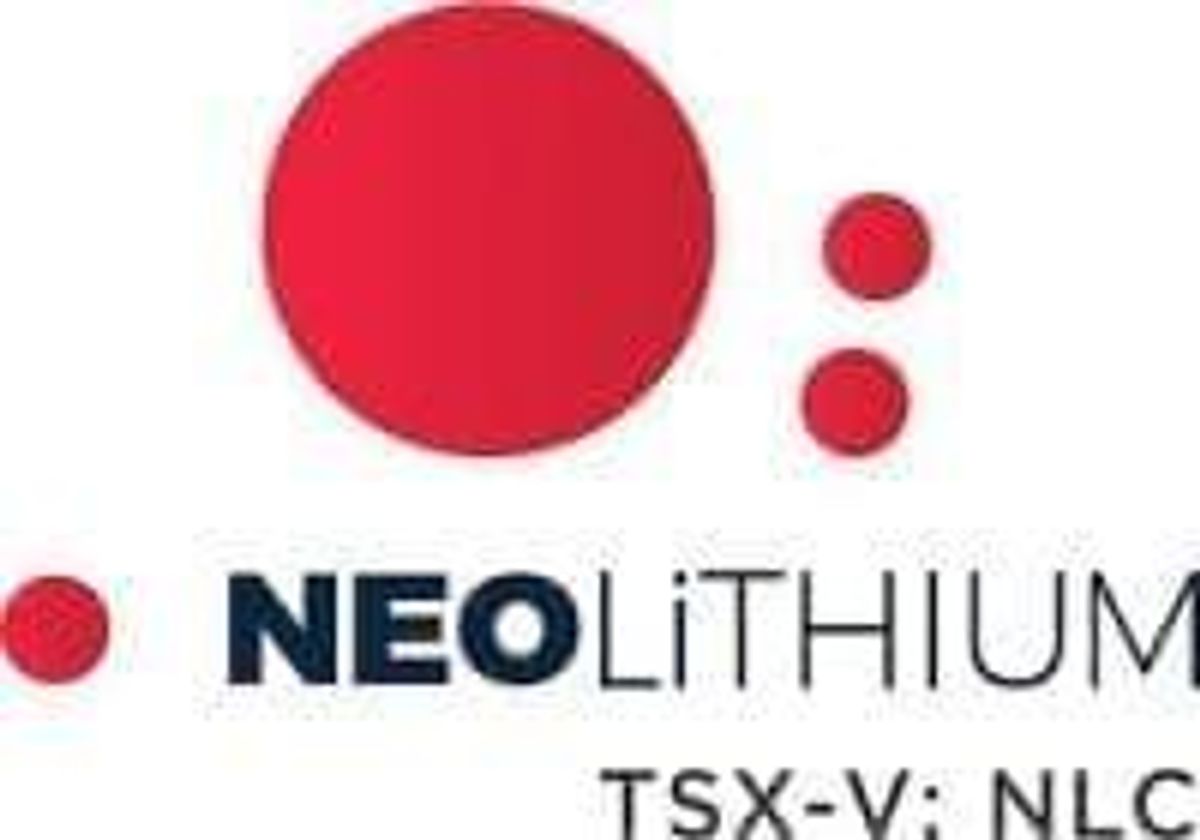 Neo Lithium Corp. (TSXV:NLC, OTCQX:NTTHF) is pleased to announce an updated resource estimate for its 100% owned Tres Quebradas lithium brine project ("3Q Project") in Catamarca Province, Argentina.
Resource upgrade confirms the 3Q Project as one of the largest and highest-grade lithium brine deposits in the world
Significant high-grade resource estimate at 400 mg/L Lithium cut-off:•   Measured and indicated (M&I) resource estimate of 4,005,000 tonnes of lithium carbonate equivalent at an average grade of 614 mg/L Lithium

•   High grade zone in the northern portion of the project with a M&I resource estimate of 1.106 million tonnes of lithium carbonate equivalent at an average grade of 1,106 mg/L Lithium

•   Inferred resource estimate of 2,917,000 tonnes of lithium carbonate equivalent at an average grade of 584 mg/L Lithium

Average combined impurities for Magnesium/Lithium and Sulphate/Lithium continue to be very low
Potential for resource expansion still exists at depth
Neo Lithium Corp. (TSXV:NLC, OTCQX:NTTHF) is pleased to announce an updated resource estimate for its 100% owned Tres Quebradas lithium brine project ("3Q Project") in Catamarca Province, Argentina. This updated resource estimate has been completed under the supervision of Canadian-based Groundwater Insight, Inc., which is independent of the Company, and will be included in a technical report to be filed within 45 days in accordance with the requirements of National Instrument 43-101 ("NI 43-101"). On the basis of this updated resource estimate, the 3Q Project deposit represents one of the largest and highest grade undeveloped lithium brine deposits in the world.
The in-situ resource estimate encompasses the entire salars and brine lakes of the 3Q Project, an area of approximately 8,183 hectares. Lithium resource estimates are summarized in Table 1 and Potassium resource estimates are summarized in Table 2, below.
Table 1 – in situ Lithium Resource at 400 mg/L Lithium cut-off
Average
Concentration
Mass Cumulated
Brine Volume
Li (mg/L)
Li (tonne)
Li2CO3 (tonne)
(millions m³)
Measured
701
107,000
569,000
152.31
Indicated
602
646,000
3,436,000
1,072.12
Total M & I
614
753,000
4,005,000
1,224.43
Inferred
584
548,000
2,917,000
938.72
Table 2 – in situ Potassium Resource at 400 mg/L Lithium cut-off
Average
Concentration
Mass Cumulated
Brine Volume
K (mg/L)
K (tonne)
KCl (tonne)
(millions m³)
Measured
6,479
987,000
1,882,000
152.31
Indicated
5,793
6,211,000
11,843,000
1,072.12
Total M & I
5,878
7,198,000
13,725,000
1,224.43
Inferred
5,650
5,304,000
10,114,000
938.72
Note: The values in the above two tables are expressed as total contained metals and have been rounded to the nearest thousand.
Average density for the brine is 1.214. The low magnesium and sulfate content of the resource is consistent with the previous resource estimate released on May 23, 2017.  Table 3, below, summarizes the main impurities ratios for magnesium and sulfate.
Table 3 – 3Q Project Impurity Ratios at 400 mg/L Lithium Cut-off
Impurity Ratio
Magnesium/Lithium
Sulfate/Lithium
Measured
2.70
0.49
Indicated
3.38
0.51
Total M & I
3.28
0.51
Inferred
4.52
0.57
Of note is that there is a high-grade zone in the northern part of the project with a Measured and Indicated resource estimate of 1.106 million tonnes of lithium carbonate equivalent with an average grade of 1,106 mg/L Lithium (using a 800 mg/L cut-off).
"With our second highly successful drilling campaign now completed, we have demonstrated that the 3Q Project is one of the largest lithium brine discoveries of recent times," said Dr. Perez, President and CEO of Neo Lithium. "The Measured and Indicated Resource estimate increased 227% from the maiden resource, confirming even more clearly the significant potential that we envisioned for this project."
Most of the measured and indicated resource is located above 200m of depth and in the northern and central parts of the salar complex, while most of the inferred resource is located in the southern end of the salar complex and at a depth below 400m. There is an opportunity to further expand the exploration program at depth (below 400 m) and within the boundaries of the salar complex, where the brine wedge expands into the surrounding alluvial cones.
"This expanded resource has a very strong positive impact on the current engineering program we are developing at the project," said Gabriel Pindar, COO of Neo Lithium. "We will evaluate the potential for production expansion, since the mine plan defined in the preliminary economic assessment on the project (the "PEA"), announced on October 31, 2017, at 35,000 tonnes per year represents only 17% of the total measured and indicated resource."
The Company has not yet completed an economic study of the 3Q Project taking the new larger mineral resource estimate into account. Given that the Company does not expect mineral extraction methods to change as a result of the increased mineral resource estimates and the grade and location of the resource remains substantially the same, the Company believes that the PEA is still relevant as a preliminary indication of the economic potential of the 3Q Project.
The Company continues to advance the project in terms of process refinement, weather data collection and hydrogeological model completion. New information from this ongoing work, combined with the increase in the mineral resource estimate and developments in the lithium market from the effective date of the Company's previously filed Technical Report to the date hereof, may result in the re-evaluation of certain economic and other parameters that apply to the PEA.
Therefore, the Company considers the PEA only as a relevant preliminary indicator of the economic potential of, and not a current preliminary economic assessment of, the 3Q Project, subject to the assumptions and parameters of the PEA. Investors should do likewise.
Following the issuance of the revised technical report to be filed within 45 days, the Company will continue to progress the project towards full feasibility and to evaluate a range of available development and financing options.  The Company remains well funded to pursue all of its near term objectives.  Further guidance on these steps will be provided to the market in due course.
Resource Estimation Methodology
The resource estimate was prepared in accordance with best practice estimation methods specific to brine resources, including a reliance on drilling and sampling methods that yield depth-specific chemistry and drainable porosity measurements of the brine host rock.
The resource calculation is based on two seasons of drilling completing 9,334m (6,208m of diamond drill and 3,126m of rotary holes) divided in 48 drill holes. The deepest hole was 647m. The diamond drill holes had core recovered in HQ triple tube. Of the 48 holes used for the resource analysis, only nine reached the basement at depths ranging from 50m (in the boundary of the salar) to 647m. All others were terminated after reaching target depth or due to drill limitations. The total thickness of the basin exceeds 650m on the eastern side, and brine saturated sediments are found along the whole sequence.
A total of 253 brine samples including 58 QA/QC samples were collected in drill holes. Brine samples were collected in diamond drill holes using standard packer technique (both single and double packer) to obtain samples from discrete levels of the formation. Fluorescein dye was used to ensure that the samples were representative of the collection interval. Sampling intervals range from 2m to 50m, depending on the hole.
A simplified geology model was assembled from surface mapping and diamond drilling core. Eight main geological units were identified:
Brine lakes: standing bodies of surface brine at the north and south ends of the salar complex
High Porosity Halite: karstic, near surface halite (typically less than 50m)
Upper Sediments: formed by sand, silt and conglomerates located at surface or near surface
Porous Halite: formed by halite that has some porosity easily identified visually
Massive Halite: halite that generally appears massive, but relative brine release capacity ("RBRC") tests show that it has measurable porosity of potential importance. It often contains interbedded layers of clay, volcaniclastics, and halite with greater visible porosity
Lower Sediments: well rounded sand, silt and minor conglomerates hosted below the massive halite (typically 300m to 500 m deep)
Fanglomerates: sedimentary polymictic angular breccia with sand matrix located below the lower sediments and above the basement, typically below 500 m deep
Hydrostratigraphic Basement: Permian andesites and dacites
Core samples packed in Lexan tubing were shipped to Daniel B. Stephens & Associates Inc. ("DBS"), Inc., a laboratory in the U.S., to measure Relative Brine Release Capacity ("RBRC"). This method of porosity determination is designed to estimate Specific Yield, which is the portion of the total porosity that can reasonably be expected to drain through pumping. General porosity trends were consistent with geology, with considerable variability also noted within geological units.
RBRC was measured in 307 core samples (includes both seasons of drilling), to estimate the Specific Yield of each geological unit. Pumps test were also completed in the high porosity halite, upper sediments and porous halite.
A summary of the RBRC measurements and the percentage of the resource in each unit is provided in Table 4, below.
Table 4 – RBRC Results and the Distribution of the Resource between the Primary Geological Units
Hydrostratigraphic
Units
# of
Samples
Average RBRC
values
% of the
Resource
Brine Lakes
1.29
High Porosity Halite*
66
14.74
11.74
Upper Sediments*
14
9.12
19.57
Porous Halite*
97
6.33
19.04
Massive Halite
84
3.85
15.21
Lower Sediments
12
5.18
10.21
Fanglomerate
33
11.23
22.95
Hydrological Basement
1
1.73
*Units with Pump Test
The High Porosity Halite hosts 11.74% of the resource. A pump test was completed in this unit which included the use of fluorescein dye, which enabled estimation of Effective Porosity, a parameter that is closely related to Specific Yield. The test provided an Effective Porosity value of 15%, which is consistent with the average RBRC value for the unit.
The deeper sediments and fanglomerates host a combined 33.16% of the total resource (almost entirely as inferred resource). However, only 13 boreholes penetrate this unit, and only 2 were able to completely penetrate both units. Further exploration is required at depth along the entire salar complex with the objective of converting these inferred resources into the measured and indicated categories.
Resources were estimated using a block model and inverse of distance weighting technique with 400x400x1 m (x,y,z) blocks. Measured, indicated and inferred resources were estimated by software using two conditions that have to be met: (1) Area of search:  600m search for measured, 1200m m search for indicated and 6000 m search for inferred resources (2) Number of holes: 3 holes for measured category, 2 holes for indicated category and one hole in the inferred category.
Maps, sections, and additional information about this resource estimate will be available on the Company's website in the following days.
Qualified Person
Neo Lithium requested Groundwater Insight, Inc. based in Nova Scotia, Canada to supervise the preparation of an independent lithium brine resource estimate for the Company's 3Q Project brine deposit in Argentina and to compile a Technical Report (including a resource estimate), in accordance with NI 43-101 and consistent with the standards and guidelines set out by the Canadian Institute of Mining, Metallurgy and Petroleum.
In preparing the Technical Report, Groundwater Insight, Inc. is taking into account and is applying processes which Groundwater Insight, Inc. determined to be appropriate for brine style deposits. The NI 43-101 Technical Report will be available on SEDAR within 45 days of this news release.
The mineral resource estimate was prepared by Geologist Daniel Quiroga using Vulcan 10.0.1 software under the supervision of Mark King, Ph.D., P. Geo., Geologist, of Groundwater Insight Inc. acting as a Qualified Person as defined by NI 43-101. Dr. King has read and approved the contents of this release, that are related to preparation of the resource estimate. Waldo Perez, PhD and P.Geo., is the internal Qualified Person for the 3Q Project in accordance with NI 43-101.
Sample Collection (QA/QC)
The brine samples collected in the field were delivered by the Company to Andesmar Transport Company ("Andesmar") in Catamarca city, in the province of Catamarca. Andesmar delivered the samples by truck to Alex Stewart Laboratories ("ASL"), an ISO 9001-2008-certified laboratory in Mendoza, Argentina.
ASL used the following analytical methodologies: ICP-OES (inductively-coupled plasma-optical (atomic) emission spectrometry) to quantify boron, barium, calcium, lithium, magnesium, manganese, and potassium; an argentometric method to assay for chloride; a gravimetric method to analyze for sulfate; a volumetric analysis (acid/base titration) for the evaluation of alkalinity (as CaCO3); a gravimetric method to determine density and total dissolved solids; and, a laboratory pH meter to determine pH.
All analytical work is subject to systematic and rigorous Quality Assurance-Quality Control procedures. A reference ("standard") sample was inserted into the sample stream at a frequency of approximately 1 in 15 samples; a field blank was inserted at a frequency of approximately 1 in 15 samples; and a field duplicate sample was inserted at a frequency of approximately 1 in 15 samples.
The porosity samples were collected from undisturbed core in Lexan tubing and delivered by company truck to Mendoza, and then by courier to the U.S. to DBS's laboratory in Albuquerque, New Mexico. The RBRC tests were done using brine from the 3Q Project.
About Neo Lithium Corp.
Neo Lithium Corp. has quickly become a prominent new name in lithium brine exploration by virtue of its high quality 3Q Project and experienced team. Already well capitalized, Neo Lithium is rapidly advancing its newly discovered 3Q Project – a unique high-grade lithium brine lake and salar complex in the Latin America's Lithium Triangle.
The 3Q Project is located in the Province of Catamarca, the largest lithium producing area in Argentina. The project covers approximately 35,000 ha and the salar complex within this area is approximately 160 km2. Surface exploration results indicate a high-grade lithium target in the northern portion of the salar complex extending for approximately 20 by 5 km with low magnesium and sulphate impurities. Low impurities are a key factor in traditional low-cost evaporation techniques for final lithium carbonate production. Hot springs on the property with elevated lithium content are part of the recharge system of the salar complex.
The technical team that discovered this unique salar complex is one of the most experienced in lithium salars, having discovered and led the technical work, including resource definition and full feasibility study, that established the Cauchari lithium salar as one of the largest lithium brine resources in the world.
Additional information regarding Neo Lithium Corp. is available on SEDAR at www.sedar.com under the Company's profile and at its website at www.neolithium.ca, including various pictures of ongoing work at the project.
For further information, please contact:
Neo Lithium Corp.
Carlos Vicens
cvicens@neolithium.ca
Neither TSX Venture Exchange nor its Regulation Services Provider (as that term is defined in the policies of the TSX Venture Exchange) accepts responsibility for the adequacy or accuracy of this release. The TSX Venture Exchange Inc. has in no way approved nor disapproved the contents of this press release.
Cautionary Note Regarding Forward Looking Statements – Certain information set forth in this news release may contain forward-looking statements. Such statements include but are not limited to, statements as to lithium brine grades at depth being consistent with surface results, the potential for resource expansion at depth, the potential of the northern salar sediments, and deeper sediments, for hosting brine, the timing of release of the NI 43-101 Technical Report, the ability to proceed to scoping studies quickly, the potential for production expansion in the Company's assessment of the economic potential of the 3Q Project, and that test results are indicative of future results . Generally, forward-looking statements can be identified by the use of words such as "plans", "expects" or "is expected", "scheduled", "estimates" "intends", "anticipates", "believes", or variations of such words and phrases, or statements that certain actions, events or results "can", "may", "could", "would", "should", "might" or "will", occur or be achieved, or the negative connotations thereof. These forward-looking statements are subject to numerous risks and uncertainties, certain of which are beyond the control of the Company, which could cause the actual results, performance or achievements of the Company to be materially different from the future results, performance or achievements expressed or implied by such statements. These risks include, without limitation, risks related to failure to obtain adequate financing on a timely basis and on acceptable terms, political and regulatory risks associated with mining and exploration activities, including environmental regulation, risks and uncertainties relating to the interpretation of drill and sample results, risks related to the uncertainty of cost and time estimation and the potential for unexpected delays, costs and expenses, risks related to metal price fluctuations, the market for lithium products, and other risks and uncertainties related to the Company's prospects, properties and business detailed elsewhere in the Company's disclosure record. Although the Company believes its expectations are based upon reasonable assumptions and has attempted to identify important factors that could cause actual actions, events or results to differ materially from those described in forward-looking statements, there may be other factors that cause actions, events or results not to be as anticipated, estimated or intended and undue reliance should not be placed on forward-looking statements.
Click here to connect with Neo Lithium Corp. (TSXV:NLC, OTCQX:NTTHF) for an Investor Presentation. 
Source: globenewswire.ca
Investing News Network websites or approved third-party tools use cookies. Please refer to the  cookie policy for collected data, privacy and GDPR compliance. By continuing to browse the site, you agree to our use of cookies.