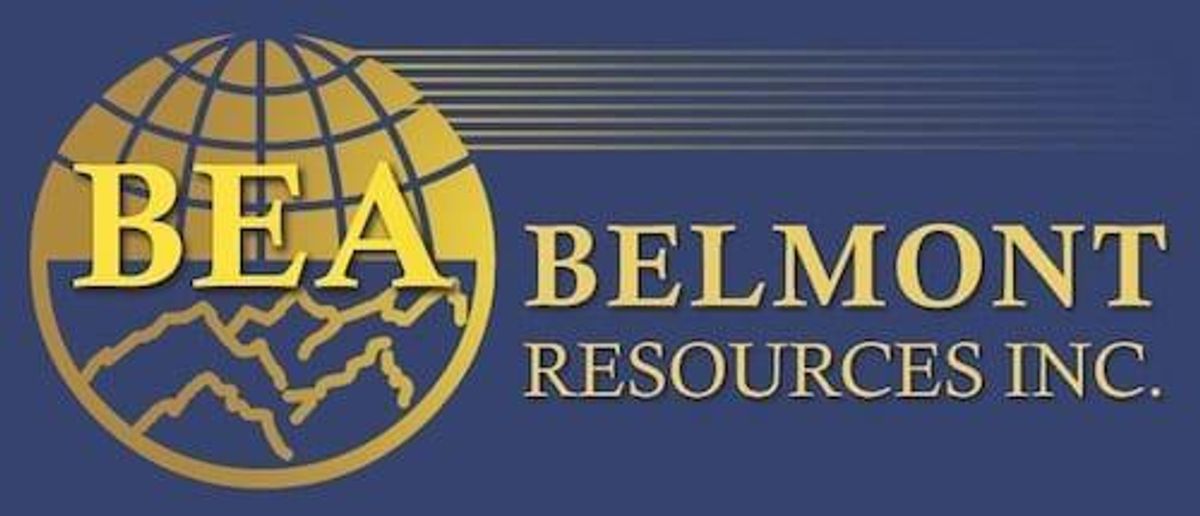 Belmont plans to conduct up to 4,800 feet of additional drilling across four diamond core drill holes, as permitted in the Kibby MT survey area.
Belmont Resources (TSXV:BEA) (FSE: L3L1; DTC Eligible – CUSIP 080499403) ("Belmont" or the "Company").
Kibby Basin Drilling to continue
Belmont plans to conduct up to 4,800 feet of additional drilling across four diamond core drill holes, as permitted in the Kibby MT survey area. Additionally, Belmont plans to conduct downhole geophysical surveys to test specific prospective layers for potential aquifers. Drilling is expected to commence shortly.
Belmont Resources Inc. is engaged in an option agreement with MGX Minerals Inc. (CSE:XMG) to carry out assessment and development of the Kibby Basin Property. MGX has until December 31, 2018 to earn another 25% (total 50%) interest with the goal of forming a 50/50 Joint Venture (the "Joint Venture") to utilize MGX's rapid lithium extraction technology.
Further to our news releases of September 12th and 28th, 2018 of encouraging Lithium values (up to 580 ppm in two separate depths). As previously reported September 12th a highlight of 100 feet between 1110 and 1210 feet averaging 415 ppm Li included a high of 580 ppm Li. On September 28th we reported; 20 of 25 samples below 1270 feet to 1798 feet exceeded 100 ppm Li with seven (7) samples containing greater than 375 ppm Li, including another high of 580 ppm Li at 1791 feet.
Belmont has delivered an additional 59 core samples on October 2nd from the lower section of drill hole KB-3 to ALS labs in Reno for assaying.
The Kibby Basin shares many characteristics with Clayton Valley, where lithium brines are being exploited, including: closed structural basin, large conductor at depth, lithium anomalies at surface and depth, evidence of a geothermal system, and potential aquifers in porous ash and gravel zones.
KB-3 water samples
KB-3 water samples were tested for various dissolved elements, however lithium concentrates were not anomalous, even though high concentrations were present in sediments (see above).Unexpected complications incurred in the geophysical logging and only a partial log was obtained due to collapse of the PVC casing at depth and inability to pull the upper steel casing. KB-4 methods will include down-hole geophysical surveying to improve the chances to accurately locate layers of high conductivity and porosity and allow high quality, representative samples to be taken where lithium concentrations are potentially higher.
NI 43-101 Disclosure
Robert ("Bob") G. Cuffney, Certified Professional Geologist, a Qualified Person as defined by National Instrument 43-101, has reviewed and approved the technical information in this news release.
About Belmont Resources Inc.
Belmont is an emerging resource company engaged in the acquisition, exploration and development of mineral properties in Canada and Nevada, U.S.A.
For further information see our Website at: www.BelmontResources.com
-Facebook https://www.facebook.com/Nevadalithium/
-Twitter https://twitter.com/Belmont_Res
On March 30, 2016; the Company acquired sixteen placer (16) mining claims, representing 1036 hectares (2,560 acres) in Esmeralda County, Nevada, U.S.A. The Kibby Basin property is located 65 km north of Clayton Valley, Nevada-U.S.A. The Company believes the property to be highly prospective to host lithium. Subsequent ground geophysics & gravity surveys, surface sampling and a two hole- 2046 ft. diamond drill program have confirmed the presence of lithium on Kibby.
In June 2018; the Company has updated its land position staking, and now holds 126 x 20 acre additional placer mineral claims totaling approx. 1,020 hectares ( 2,520 acres) , adjoining the Kibby 16, for a total Kibby Basin land position (the "Property") to 2,056 hectares (5,080 acres).
In 50/50 ownership with International Montoro Resources Inc., Belmont has acquired and is exploring joint venture opportunities for its two significant uranium properties (Crackingstone -982 ha & Orbit Lake – 11,109 ha) in the Uranium City District in Northern Saskatchewan, Canada
ON BEHALF OF THE BOARD OF DIRECTORS
"James H. Place"
James H. Place
CEO/President
This Press Release may contain forward-looking statements that may involve a number of risks and uncertainties, based on assumptions and judgments of management regarding future events or results that may prove to be inaccurate as a result of exploration and other risk factors beyond its control. Forward looking statements in this news release include statements about the possible raising of capital and exploration of our properties. Actual events or results could differ materially from the Companies forward-looking statements and expectations. These risks and uncertainties include, among other things, that we may not be able to obtain regulatory approval; that we may not be able to raise funds required, that conditions to closing may not be fulfilled and we may not be able to organize and carry out an exploration program in 2016; and other risks associated with being a mineral exploration and development company. These forward-looking statements are made as of the date of this news release and, except as required by applicable laws, the Company assumes no obligation to update these forward-looking statements, or to update the reasons why actual results differed from those projected in the forward-looking statements.
Neither the TSX Venture Exchange nor its Regulation Services Provider (as the term is defined in the policies of the TSX Venture Exchange) accepts responsibility for the adequacy or accuracy of this news release.
Click here to connect with Belmont Resources (TSXV:BEA) for an Investor Presentation.
Source: www.accesswire.com
Investing News Network websites or approved third-party tools use cookies. Please refer to the  cookie policy for collected data, privacy and GDPR compliance. By continuing to browse the site, you agree to our use of cookies.