Advantage Lithium announces positive pumping test results.
Advantage Lithium Corp. (TSXV:AAL, OTCQX: AVLIF) is pleased to provide this update on the pumping test conducted on well CAU07 in the NW of the Cauchari JV property located in Jujuy Province, Argentina.
Highlights:
Positive results from CAU07 four-step pumping test suggest rates as high as 36 l/s are achievable
CAU07 constant rate pumping test conducted at 17 l/s over 48 hours with flow limited by the pump capacity
Good brine chemistry with 19 samples taken over the pumping test averaging 601 mg/l Lithium and 4,853 mg/l Potassium with a Mg/Li ratio of 2.6:1
Hole CAU13 in the SE Sector successfully intersected a sequence of sandy sediments below 400 m; brine sample analyses are pending from the laboratory
Core drilling is underway at CAU18 in the NW Sector
CAU12 is being deepened to explore for the deeper sand unit in the SE Sector
NW Sector – CAU07 pumping test results
CAU07 was drilled to a depth of 343 m in the north of the NW Sector of the property. This drill hole intersected some clay units and material thicknesses of sand and gravel dominated units with favourable porosity and permeability characteristics. The hole has screened intervals between 135 m and 325 m depth.
A variable flow rate pumping test (step test) was conducted on the well at flow rates from 3.5 to 17 l/s, limited by the capacity of the pump used in the pumping test (Figure 1). The well has a high specific capacity and the test suggests that a flow rate of approximately 36 l/s may be feasible.  The pumping test results confirm the excellent hydraulic characteristics in the NW Sector (as shown in Figure 2) which are favorable for future brine extraction. The constant rate pumping test was conducted at a flow rate of 17 l/s -20 l/s over a period of 48 hours. 19 brine samples were taken during the pumping test with the average concentration of 601 mg/l Lithium and 4,853 mg/l Potassium and a low Mg/Li ratio of 2.6:1. The Mg/Li ratio is very similar to that in the producing Olaroz lithium project.
All brine analyses were completed in a commercially accredited laboratory in Argentina, accompanied by QA/QC samples, comprising brine standards and duplicates1. This information confirms the importance of the sand dominated units that Advantage has been exploring for.
President & CEO Mr. David Sidoo commented: "This outstanding result confirms we are starting to unlock the potential of the NW Sector, where no pumping tests had been conducted prior to the installation of hole CAU07. The high flow rate complements that which we recently announced from the deep sand unit in the SE Sector, flowing at 19 l/s. Drilling continues in both the NW and SE Sectors and we look forward to producing an upgraded resource for the NW and SE Sectors, once the drilling is completed."
SE Sector – CAU013 drilling
CAU13 was drilled to a depth of 449 m in the west of the SE Sector of the project (refer to map Figure 2). CAU13 intersected a sequence of clay, silt and some sand and halite to 400 m depth and a more sandy interval from 400 m to the end of the hole. It is not clear to what depth the deeper sand unit extends at this drilling location. The drill rig has now moved to deepen hole CAU12, which is located 2 km to the SW. Brine analyses are awaited from drilling of CAU13 and will be released when they become available.
Additional drilling
Upon completion of diamond hole CAU18 in the NW Sector the rig will drill hole CAU17 2.5 km further to the west. In the SE Sector the second diamond drill rig will deepen CAU12 to explore for the deep sand and gravel unit and then commence drilling CAU14 located some 5 km further to the northeast.
Senior corporate appointment
The company has appointed Sam Pigott as VP Corporate Development. Sam was previously an Associate Portfolio Manager with a Toronto-based fund covering raw materials, with a focus on lithium. Sam has more than 8 years' experience in capital markets as an Investment Banker covering the mining sector and as an analyst for a Chinese merchant bank. Sam holds an MBA from Oxford University.
The technical information in this news release has been reviewed and approved on behalf of the company by Mr. Frits Reidel, a "Qualified Person" as defined in NI 43-101.
About Advantage Lithium Corp.
Advantage Lithium Corp. is a resource company specializing in the strategic acquisition, exploration and development of lithium properties and is headquartered in Vancouver, British Columbia. The common shares of the company are listed on the TSX Venture Exchange (TSX-V: AAL), and the company is also traded on the OTCQX Best Market in the U.S. (OTCQX: AVLIF). The company holds a 75% interest in Cauchari and a 100% interest in five other projects in Argentina. Cauchari is located just 20 km south of Orocobre's flagship Olaroz Lithium Facility.
Further information about the Company can be found at www.advantagelithium.com.
ADVANTAGE LITHIUM CORP.
Per:   "David Sidoo"
David Sidoo, President
Tel:  604.343.3760 | Fax: 604.683.1585
Email: info@advantagelithium.com
Cautionary Statement:
Certain information contained in this press release constitutes "forward-looking information", within the meaning of Canadian legislation. Generally, these forward-looking statements can be identified by the use of forward-looking terminology such as "is expected", "intends", or "has the potential to".  Forward looking statements contained in this press release may include statements regarding the future operating or financial performance of Advantage that involve known and unknown risks and uncertainties which may not prove to be accurate. Actual results and outcomes may differ materially from what is expressed or forecasted in these forward-looking statements. Such statements are qualified in their entirety by the inherent risks and uncertainties surrounding future expectations. The forward-looking statements included in this press release are made as of the date of this press release and the Company disclaims any intention or obligation to update or revise any forward-looking statements, whether as a result of new information, future events or otherwise, except as expressly required by applicable securities legislation.
Neither TSX Venture Exchange nor its Regulation Services Provider (as that term is defined in the policies of the TSX Venture Exchange) accepts responsibility for the adequacy or accuracy of this release.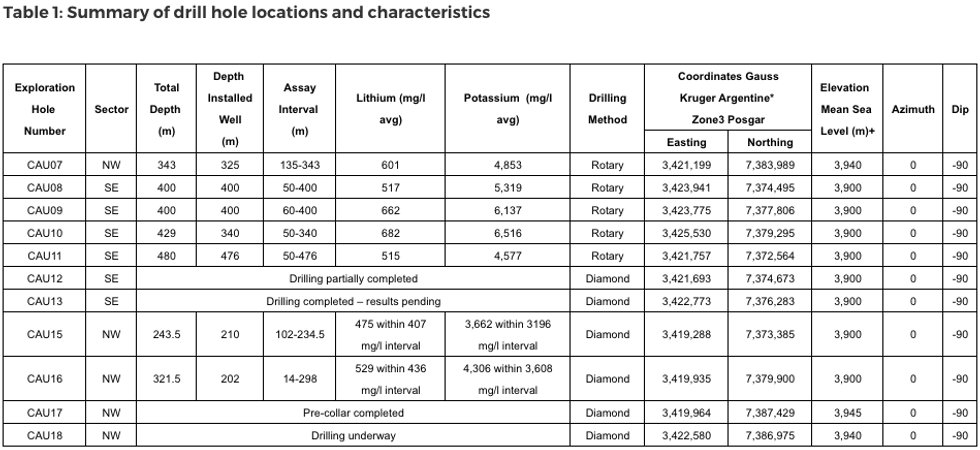 Click here to connect with Advantage Lithium Corp. (TSXV:AAL, OTCQX: AVLIF) for an Investor Presentation
Source: www.newswire.ca
Investing News Network websites or approved third-party tools use cookies. Please refer to the  cookie policy for collected data, privacy and GDPR compliance. By continuing to browse the site, you agree to our use of cookies.