Benz Mining Corp. drills High-Grade Zinc in Mel Main Zone including 27.78% Zinc over 2.38m true-width, 11.5% Zinc over 3.53m true-width, and 10.93% Zinc over 4.94m true-width
Nov. 20, 2017 08:11AM PST
Base Metals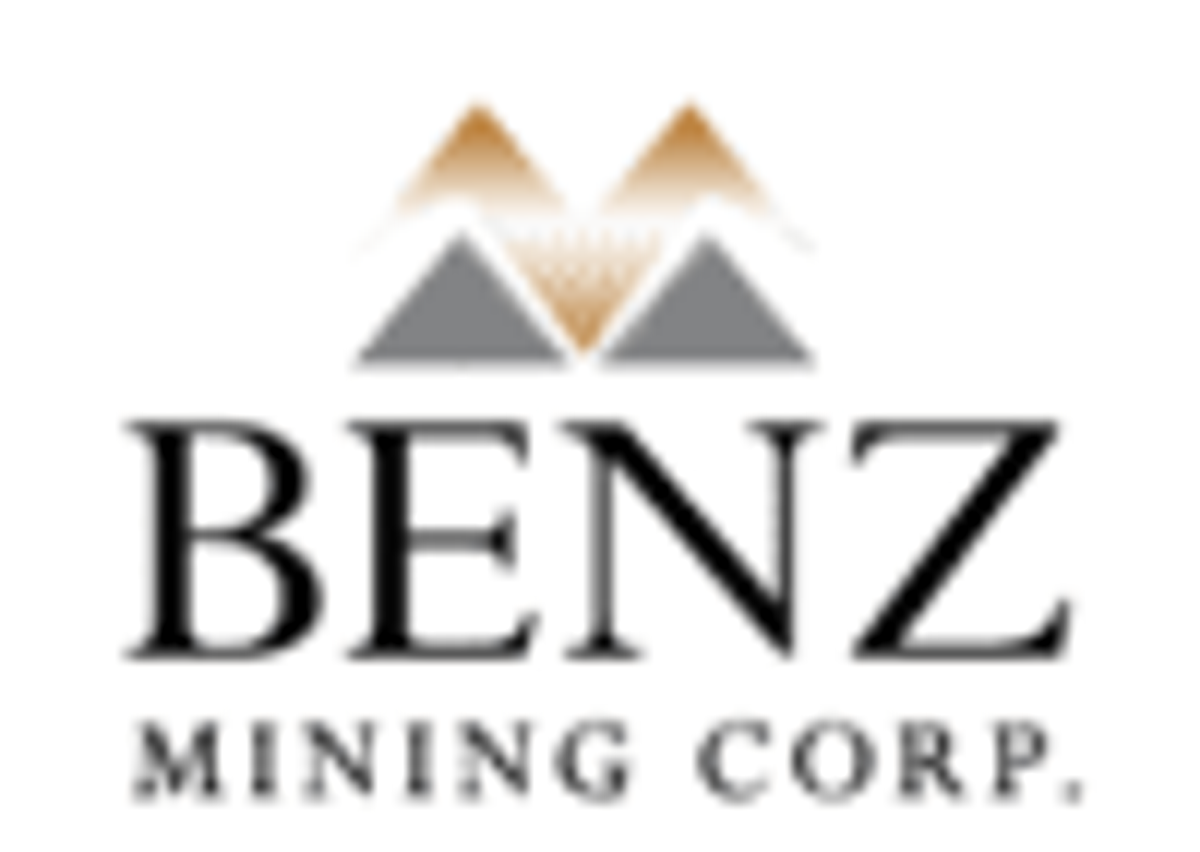 Benz Mining Corp. (the "Company" or "Benz") (TSXV:BZ) (FSE:1VU), is pleased to announce that it successfully intersected additional high-grade zinc mineralization at the Mel Main Zone.
Benz Mining Corp. (the "Company" or "Benz") (TSXV:BZ) (FSE:1VU), is pleased to announce that it successfully intersected additional high-grade zinc mineralization at the Mel Main Zone. All nine 2017 drill holes encountered base metal mineralization where predicted by the resource model. This provides a high degree of confidence in both the model and continuity of the Mel deposit mineralization.
A photo accompanying this announcement is available at http://www.globenewswire.com/NewsRoom/AttachmentNg/7850db49-2c65-42a9-a077-2d9bfce4d81c
Highlights include high-grade zinc intercepts and wide zones of mineralization:
11.15% zinc with 0.33% lead over 3.53m true-width in hole #053
27.78% zinc with 0.65% lead over 2.38m true-width in hole #056
10.93% zinc over 4.94m and 16.65% zinc over 0.78m, both true-widths, in hole #058
13.35m true-width total intercept averaging 6.41% zinc with 0.97% lead in hole #053
12.90m true-width total intercept averaging 8.45% zinc with 0.26% lead in hole #058
The new base metal results from the Mel Main Zone are summarized in the following table. Calculation of the barite content of mineralized intercepts from all nine 2017 drill holes is pending completion of analysis using a method suitable for analyzing high barium values.
MEL MAIN ZONE DRILL RESULTS
Hole No.
From
To
Interval
Estimated True
Width
Zinc
Lead
Silver
(metres)
(metres)
(metres)
(metres)
(%)
(%)
(ppm)
MEL-17-053
66.64
72.00
5.36
4.39
5.10
2.14
1.91
239.52
256.95
17.43
13.35
6.41
0.97
1.33
includes
245.97
250.58
4.61
3.53
11.15
0.33
0.98
MEL-17-054
250.63
257.59
6.96
4.47
2.44
1.10
0.58
MEL-17-055
214.71
225.00
10.29
6.61
4.50
1.73
0.60
MEL-17-056
224.38
229.00
4.62
4.00
16.65
0.66
1.10
includes
226.25
229.00
2.75
2.38
27.78
0.65
1.46
MEL-17-057
141.72
146.45
4.73
4.44
5.11
0.35
1.88
MEL-17-058
119.63
142.12
22.49
12.9
8.45
0.26
0.42
includes
128.44
137.06
8.62
4.94
10.93
<0.010
0.48
includes
140.76
142.12
1.36
0.78
16.65
<0.01
0.76
The 2017 in-fill drill program was successful in confirming the interpreted projection of the base metal mineralization in the resource model. Grades and widths of zinc and lead intercepts are consistent with historical drill results. Results also confirmed the different distribution patterns for zinc and lead mineralization which reflect the observed presence of two mineralizing events. All nine 2017 drill holes fill information gaps in the existing model. The 2017 drilling combined with additional drilling planned for 2018 are expected to provide the database required to upgrade the Current Inferred Resource to the Measured and Indicated categories. Analytical results are also providing information on the tenor and distribution of silver in the Mel deposit.
FOR THE 2017 EXPLORATION DRILL HOLE LOCATION PLAN & SECTIONS CLICK HERE
Assays and Quality Assurance/Quality Control (QA/QC)
To ensure reliable sample results, the Company and its contractor, Archer, Cathro & Associates (1981) Limited, had an industry standard QA/QC program in place for its 2017 drill campaign that included insertion of blanks, duplicates and certified reference standards at statistically appropriate intervals within each batch of samples. Core was photographed, logged and sawn in half for sampling with one-half retained for verification purposes. Core recovery was excellent for all holes providing high quality samples. Chain-of-custody control of the samples was retained from the field camp until delivered to the laboratory.
Sample preparation (crushing and pulverizing) was performed by ALS Minerals Laboratories in Whitehorse, YT, with prepared pulps then forwarded to their analytical laboratory in North Vancouver, BC, Canada. ALS Laboratories completed an ICP-MS analysis following a 4-acid digestion for 48 elements including lead (Pb), zinc (Zn) and barium (Ba). All samples where Pb and Zn exceeded 10,000 ppm, the upper limit of detection, were re-run using a 4-acid digestion with an ICP-AES finish for Pb and Zn with results reported in percentage (%). The Company has determined that to obtain accurate barite content in the core samples all samples must be analyzed for barium using a Fusion digestion and XRF finish. Calculation and disclosure of barite content are pending final analysis for Ba.
Michael Gareau, P.Geo., Vice President of Geology for Benz and a qualified person for the purposes of National Instrument 43-101, has reviewed the results of the 2017 Mel Main Zone drilling; and approved the technical information contained in this release. Mr. Gareau visited the Mel project in late October to review the 2017 drill core.
About Benz Mining and the Mel Deposit: Benz Mining is focused on acquiring and developing mineral base metal assets in safe jurisdictions and is led by a team of experienced mine developers. In March 2017, the Company entered into a purchase agreement to acquire the Mel zinc-lead-barite project located in southeast Yukon (Company news release dated March 13, 2017).
On behalf of the Board of Directors of Benz Mining Corp.
Miloje Vicentijevic, President and Chief Executive Officer
For more information please contact
Benz Mining Corp.
Telephone: 604.617.1239
Email: info@benzmining.com
CAUTIONARY NOTES
Certain statements in this press release may be considered forward-looking information. These statements can be identified by use of forward terminology (e.g. "expect","estimates", "intends", "anticipates", believes", "plans"). Such information involves known and unknown risks – including the availability of funds, the results of financing and exploration activities, the interpretation of exploration results and other geological data, or unanticipated costs and expenses and other risks identified by Benz in its public securities filings that may cause actual events to differ materially from current expectations. Readers are cautioned not to place undue reliance on these forward-looking statements, which speak only as of the date of this press release.
Neither the TSX Venture Exchange nor its Regulation Services Provider (as that term is defined in the policies of the TSX Venture Exchange) accepts responsibility for the accuracy or adequacy of this release.
Click here to connect with Benz Mining Corp. (TSXV:BZ) (FSE:1VU) for an Investor Presentation.
Source: globenewswire.com
Investing News Network websites or approved third-party tools use cookies. Please refer to the cookie policy for collected data, privacy and GDPR compliance. By continuing to browse the site, you agree to our use of cookies.