The Little Swedish Iron Mine That Could Restart Soon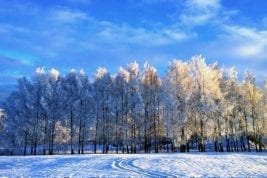 The Kaunisvaara mine in Sweden is due to restart operations after a four-year hiatus. The mine was originally built by a now bankrupt company with a Canadian past, but fell on hard times with a falling iron value in 2014.
The Kaunisvaara iron mine in the Pajala municipality in far north Sweden is due to begin operations in the middle of July, after its previous owner went bankrupt in 2014.
The mine will have a new lease on life after being built by a publicly-listed former Canadian company in the 00s.
New owners, private company Kaunis Iron, are currently in a recruitment drive for 300 workers at the mine, which according to the company, will produce two million tonnes of iron ore a year.
The restart process is mostly going to be blowing cobwebs off existing infrastructure at the idled mine and re-establishing transport connections to ship the 68.5 percent grade iron ore to market.
According to S&P Platts, the company expects productivity to point towards two million tonnes per annum by the first quarter of next year.
"Although we already have a functioning production and logistics chain in place, it's about having realistic goals," said Per-Erik Lindvall, CEO of Kaunis Iron.
"We want to feel confident that we can run the business profitable quite promptly."
In its previous life, the Kaunisvaara mine produced double what Kaunis Iron is aiming for, at four million tonnes per annum.
The mine has been resurrected by 80 Swedish entrepreneurs, who according to the chairman of Kaunis, Anders Sundström, are solidly behind the project.
"We have been met with strong investor optimism. The response has been fantastic. In a short while, we have received more than half a billion kronor (~C$75 million) for Kaunis Iron. It gives us a safe base to start from," said Sundström.
"Even though we know exactly what product we have and how much we can produce, we can not control the world market price of iron ore. It is the only uncertainty factor in all this. But we are very optimistic."
According to Kaunis, iron ore concentrate from Kaunisvaara will be transported by rail to the Norwegian port of Narvik.
Canadian Connection
The Kaunisvaara iron mine has a long and storied history, with its previous owners and builders of the mine, Northland Resources starting out in mining on the Toronto Venture Exchange as Consolidated Newen Enterprises in the late 90s.
The company eventually became North American Gold, and had interests in Nevada, before first gaining interests in Sweden in 2003, when it entered into option agreements gain interests in gold properties there.
The company soon spread to base metals and then iron in late 2004, when it entered into an option agreement with Anglo American (LSE:AAL) to aquire iron oxide exploration properties in north Sweden – then called the Pajala properties, from which Kaunisvaara was eventually born.
The region is well-known for mining, with the nearby Kiruna mine operated by Swedish state-owned LKAB. According to the company, the mine, which is underground and also the reason why the city of the same name is being relocated, produces 75,000 tonnes of iron ore a day.
North American Gold pulled the trigger less than a year after it signed on with Anglo American and acquired the properties in 2005, the same year it became known as Northland Resources.
By the time production at Kaunisvaara began in 2012 the company had moved to Luxembourg, and was listed on the Oslo and Frankfurt stock exchanges.
When Northland declared bankruptcy by the end of 2014 it identified solely as an iron ore concentrate producing company – a specialisation that was its downfall, with the company blaming a dramatic decline in iron ore prices for its difficulties in financing, and the eventual shuttering of the Kaunisvaara mine and its Hannukainen iron oxide copper gold project in neighbouring Finland.
Don't forget to follow us @INN_Resource for real-time updates!

Securities Disclosure: I, Scott Tibballs, hold no direct investment interest in any company mentioned in this article.