North American Suppliers Not Fazed by Potash Price War
The potash industry could be facing a global price war as Belarus looks to strengthen its share of the $20-billion market. However, at least a couple major North American producers seem unfazed thus far.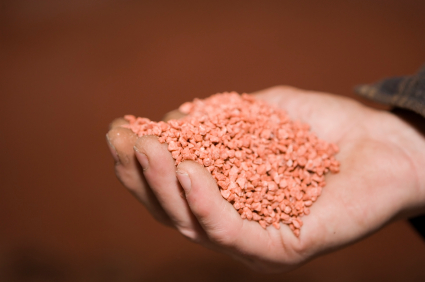 The potash industry could be facing a global price war as Belarus looks to strengthen its share of the $20-billion market. The country is reportedly running mines at full capacity in order to establish itself in the US and in China.
This bold move comes a year and a half after Russia's Uralkali (MCX:URKA,LSE:URALL) cut ties with state-owned producer Belaruskali, ending a partnership that used to control 40 percent of exports and maintain price stability. Since that happened, exports from Belarus have risen 66 percent.
Belarus moves into new territory
While it might seem like Belarusian Potash Company, which handles Belarus' exports, is looking to undercut competitors and take control of the market, a company spokeswoman told Bloomberg last week that it is actually seeking to stabilize and improve prices in all regions.
"We are led by a flexible sales strategy, based on an adequate market situation, common sense and strict compliance with contract obligations and business ethics, respect toward clients and peers," spokesperson Irina Savchenko said to the news outlet.
Belarus has just recently been able to infiltrate the US market after sanctions were imposed on the country following a 2006 election. The sanctions no longer apply as they were against Belneftekhim, a state holding company that ran the country's potash industry up until last year. Now that direct sales to the US are possible, the companies already selling there must compete with Belarus.
North American contenders optimistic
Even though Belarus is trying to get a foot in the door in the US, North American potash companies have been announcing good things, with Mosaic (NYSE:MOS) reporting a strong fourth quarter and announcing on January 19 that its 2015 margins will exceed previous guidelines.
"Demand for potash and phosphates exceeded our expectations during the fourth quarter," President and CEO Jim Prokopanko said in a press release. "We were cautiously optimistic going into the fall application season with good crop nutrient affordability and an empty supply chain, but customers came to the market in force, as they sought to position inventory in anticipation of a strong spring season and increasing crop nutrient prices."
Potash Corporation of Saskatchewan (TSX:POT,NYSE:POT) echoed that sentiment, with Q4 results showing that both its revenue and profit exceeded analyst expectations. The company reported 2014 Q4 earnings of $0.49 per share, compared to $0.26 on year, and according to its CEO, the company is prepared for a stronger demand if need be. PotashCorp projects its 2015 full-year earnings per share will be between $1.90 and $2.20, including first-quarter earnings of $0.45 to $0.55 per share.
It remains to be seen how much of a dent — if any — Belarus' actions may make in their sales in the future. Those interested in the potash market will certainly be keeping an eye out to see.
Securities Disclosure: I, Kristen Moran, hold no direct investment interest in any company mentioned in this article.