PotashCorp Recalls Workers; CFO Sees Market Improvements on Horizon
The Canadian potash giant is recalling some of the workers it laid off at the end of last year on the expectation that the market will improve in 2015.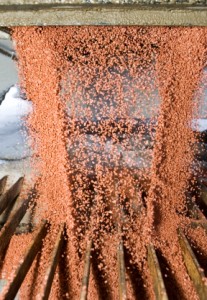 Immediately following last year's shake up in the potash market, which saw Russian potash giant Uralkali (MCX:URKA) bid farewell to Belarusian Potash Company (BPC), a European potash sales partnership, the share prices of potash companies both big and small plummeted and an unfavorable cloud was cast over the potash sector.
Since then, however, share prices have been improving. While much of that improvement has fallen on major producers in North America, Germany and Israel — largely based on speculation that a reconciliation could be made between Uralkali and BPC — after last week's announcement from Russia, that doesn't seem to be in the cards.
That said, North America's top potash producer, Potash Corporation of Saskatchewan (TSX:POT), saw some gains last week that can be attributed to the company's recent announcement that it will be recalling some of the laid off workers at its Canadian operations. The company is currently gearing up for an anticipated rise in demand in the coming year. The potash giant is looking to boost its annual operational capacity from 9.2 million metric tons (MT) to as much as 11 million MT next year.
"What we're looking at for 2015 is making sure we have enough to respond to better demand than we thought. It's a low-cost option and so we're in the process of bringing some additional people back at some of our mines and make sure we've got the capability," the company's chief financial officer, Wayne Brownlee, said at a conference in New York.
Brownlee's optimism for the coming year stems from his belief that "there's probably a little bit of growth room in the offshore market," namely China. Brownlee estimates that China's potash consumption will be a record of 12 million MT this year, which is more than the 11 to 11.5 million MT previously estimated.
Furthermore, Agrimoney states that the CFO pointed to particularly robust demand seen in the first half of 2014 and said he expects that the second half of the year to be equally strong. That being said, Brownlee noted, "[g]iven some of the supply constraints we've seen in some of our competitors, there may be room for us to have increased volume."
Securities Disclosure: I, Vivien Diniz, hold no direct investment interest in any company mentioned in this article.