Should You be Worried About Moly-99 Supply?
In short, yes. The supply situation for molybdenum-99 is precarious, and that could be a problem given that it's used to produce to technetium-99m, a key diagnostic tool used in nuclear medicine.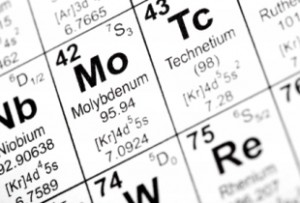 Molybdenum buffs are likely well aware of the metal's many uses. While it's mainly employed as a steel additive, it's also used as a lubricant and is finding increasing applications in the electronics space.
What gets less attention are the uses of molybdenum-99, one of molybdenum's 35 known isotopes. Its decay product is a radioactive isotope (radioisotope) called technetium-99m, which is a key component of nuclear medicine. That, the World Nuclear Association (WNA) explains, is a branch of medicine that uses radiation to glean information about a person's organs, generally to diagnose illness.
The process
It might seem strange that radiation, which has negative connotations, is used as a diagnostic tool, but the WNA provides a good outline of how that's possible.
The organization states that from a chemical point of view, "[e]very organ in our bodies acts differently." For instance, the thyroid "takes up iodine" and the brain consumes glucose. Thus, by attaching radioisotopes — like technetium-99m — to biologically active substances, it's possible to then use special cameras to do things like look at blood flow to the brain and see how the liver is functioning. Because the process is non-invasive, it is seen as one of the more desirable diagnosis tools.
Due in part to the fact that it can be used to examine a wide variety of organs and tissues, technetium-99m is the most common radioisotope used in diagnosis, accounting for about 40 million procedures per year and 80 percent of all nuclear medicine procedures worldwide.
Supply situation precarious
Given those statistics, it's clear technetium-99m — and by extension moly-99 — is an important product. Unfortunately, moly-99's delicate supply-demand balance has been thrown out of whack in recent years.
The reason for that is simple: not enough moly-99 is being produced. But why not?
Part of the reason supply is faltering is that just five reactors feed the bulk of the world's moly-99 demand. That would be precarious under normal circumstances, but as Cardinal Health (NYSE:CAH) points out on its website, those reactors are ageing — they're all about 50 years old and were only supposed to last for 30 years. As a result, "maintenance issues are frequent and can be difficult to repair or prevent."
Past experience shows that such issues, while understandable, can have a dire impact on moly-99 supply. Cardinal Health notes that in May 2009, the NRU reactor in Chalk River, Ontario was forced to shut down "due to a heavy water leak," taking about 31 percent of supply off the market. When the Netherlands-based HFR reactor underwent a planned maintenance shutdown two months later, it took another 33 percent of supply with it, forcing the remaining three reactors to significantly step up production.
Chalk River has since been relicensed through to 2016, the WNA notes, and a new South Korean reactor is expected to start operating that same year. However, given that the Osiris reactor will stop operating in 2015, neither piece of news is particularly encouraging.
And age isn't the only problem plaguing moly-99 supply. As Nuclear Safety Associates explains, around the same time the NRU reactor was out of commission, the National Nuclear Security Administration became worried about the fact that most moly-99 is produced via processes that require highly enriched uranium (HEU), which is associated with nuclear weapons creation. Specifically, states Health Canada, the fission of uranium-235 produces moly-99, which is then put in a generator so technetium-99m can be derived.
The most common response to the problem has been to turn to moly-99 production using low-enriched uranium (LEU). However, while according to an International Atomic Energy Agency report, "[t]here are no scientific barriers to the production of [moly-99] using LEU," challenges have been encountered in moving toward "the commercial demonstration of a regular large scale production capability."
All that is to say that not only are moly-99 production facilities ageing out of usability, but the technology they use is no longer considered viable.
Investment opportunities
For investors, of course, the question is whether they can benefit from the precarious moly-99 supply situation.
Unfortunately, at the moment many companies developing ways to produce moly-99 without HEU are not publicly traded. Those include Northwest Medical Isotopes, Eden Radioisotopes, SHINE Medical Technologies and NorthStar Medical Technologies.
One publicly traded option is Mallinckrodt (NYSE:MNK). Formerly the pharmaceuticals business of Covidien (NYSE:COV), Mallinckrodt worked from 2009 to 2012 with Babcock & Wilcox Technical Services Group, an operating unit of The Babcock & Wilcox Company (NYSE:BWC), on technology "intended to provided a U.S. source of [moly-99] supply that does not rely on highly enriched uranium."
That partnership ultimately fell through due to greater-than-expected "incremental costs and time required to complete the project," but Mallinckrodt notes on its website that it is "continuously making investments to increase worldwide stability of Mo-99 by constantly evaluating all potential long-term global supply opportunities and solutions."
Investors would do well to monitor Mallinckrodt's efforts and to keep an eye out for other publicly traded companies working on supplying moly-99. After all, a world without it would certainly cause problems in the medical space.
Securities Disclosure: I, Charlotte McLeod, hold no direct investment interest in any company mentioned in this article.
Related reading: