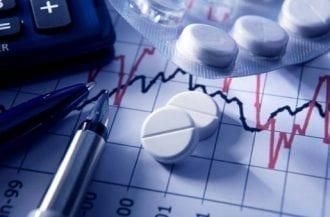 Investors and analysts are focusing on KemPharm and Achillion after both companies received recent positive regulatory news.
Investors and analysts are focusing on KemPharm (NASDAQ:KMPH) and Achillion (NASDAQ:ACHN) after both companies received recent positive regulatory news, sparking share price increases for the two pharma companies.
First Kempharm, a pharmaceutical company focused on the discovery and development of proprietary prodrugs, announced last Friday (February 23) that its most recent drug application (NDA) for Apadaz with the US Food and Drug Administration (FDA) was accepted.
Apadaz's NDA was accepted for the short-term management of acute pain severe enough to require an opioid analgesic and when alternative treatments are inadequate for patients. Prodrugs target certain metabolic processes for the parent drug to be released, which can potentially create safer, more effective and differentiated products.
Travis Mickle, president and CEO of Kempharm, said that in addition to the FDA's approval, the US Drug Enforcement Administration (DEA) has indicated its intent to schedule Apadaz as a C-II product and to provide an allocation of the Active Pharmaceutical Ingredient consistent with those scheduling provisions
"This prompt decision by the DEA essentially completes the regulatory process with both Agencies and allows us to shift our focus towards the product launch," Mickle added. What this means is the next step will be to organize the commercial release of Apadaz.
Promising regulatory news for the pharma sector didn't stop there.
To kick off the week, Achillion announced on Monday (February 26) that the European Medicines Agency (EMA) Committee for Orphan Medicinal Products (COMP) gave a positive opinion to Achillion's ACH-4471 for orphan status in the European Union for the treatment of C3 glomerulonephritis (C3G). C3G is a rare renal disease characterized by the presence of C3 protein fragments in the filtering units of the kidney, which has no treatment.
After receiving this orphan drug opinion status from the COMP, it will be submitted to the European Commission, which will decide to accept the opinion or not. If granted, Achillion may provide regulatory and financial incentives to develop and market therapies to treat C3G.
"In addition to a 10-year period of marketing exclusivity in the EU after product approval, orphan drug designation provides incentives for companies seeking protocol assistance from the EMA during the product development phase, and direct access to the centralized authorization procedure," the company's press release said.
Investor takeaway
With most positive regulatory approvals or feedback, company share prices rise more often than not — and KemPharm is no exception. As of market close February 26, KemPharm's share price increased by 12.12 percent to $5.90. Current analyst ratings over at TipRanks suggests the average price target for KemPharm is $11, a high of $13 and a low of $9.
Canaccord analyst Dewey Steadman reiterated his buy position and raised his price target from $7 to $11 because of the FDA approval of Apadaz. Derek Archila, an analyst with Oppenheimer who covers KemPharm, also reiterated his buy rating, setting his price target to $13. "We believe the risk/reward at current levels remains attractive as we think shares should appreciate based on positive results from KP415's pivotal study in ADHD and potential upside from an announced Apadaz partnership in the coming months," Archila said in his report.
With an even bigger increase thanks to the COMP opinion, Achillion rose by 15.4 percent Monday to $3.41. TipRanks suggests a high of $5 for the price target in the next 12 months.
The most recent analyst rating was a hold from Madhu Kumar from B.Riley FBR. Madhu reiterated his hold rating with a $3.50 price target after reading the company's fiscal year 2017 earnings.
"We continue to balance the opportunity for Achillion's lead asset, complement factor D (CFD) inhibitor ACH-4471, in C3 glomerulopathy (C3G), for which key Phase II data is expected in 3Q18, with our skepticism in competing with Alexion Pharmaceuticals in paroxysmal nocturnal hemoglobinuria (PNH)," Madhu said.
With all of this in mind, investors interested in pharmaceutical companies should always look out for regulatory news, positive or not, to determine how share prices will move.
Don't forget to follow @INN_LifeScience for real-time updates!
Securities Disclosure: I, Gabrielle Lakusta, hold no direct investment interest in any company mentioned in this article.