"China Will Become the Biggest Oncology Market in the World Over the Next 20 Years," Says Chi-Med CEO Christian Hogg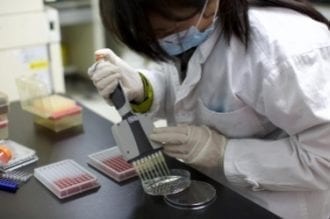 Chi-Med, a China-based biopharmaceutical company, is making a name for itself within the oncology field at a global scale.
Hutchison China Meditech (Chi-Med) (NASDAQ:HCM), a China-based biopharmaceutical company, may be the biggest of its kind in the country, but at a global scale the company is also making a name for itself within the oncology field.
In China, there is the biggest worldwide concentration of cancer patients, about 30 percent, and yet approximately only 4 percent of the global market for oncology drugs is available in the country.
Within that sector, one of the company's lead drug candidates is fruquintinib, which treats colorectal cancer. The company is also working on clinical trials to widen the range of indications to non-small cell lung cancer (NSCLC).
Lung cancer has the largest cancer death rate worldwide, and 85 percent of those cases are NSCLC, particularly when it reaches the metastatic stage. Christian Hogg, CEO of the company, explained in an interview with the Investing News Network (INN) that metastasis occurs when the cancer cells are very unstable and break off, circulate in the bloodstream, spreading to other parts of the body.
With a pipeline of eight drug candidates and over 30 clinical trials around the world, this year and the next will be pivotal for the company. Four phase 3 clinical trials are already in progress, while fruquintinib for colorectal cancer leads the way as Chi-Med's first drug to hit commercialization this year.
"It is quite competitive, there are quite a few companies that have looked at angiogenesis in lung cancer, many have failed and we believe that our main reason that we have a chance is because fruquintinib is a very clean drug," said Christian Hogg, CEO of Chi-Med.
INN had the opportunity to speak with with Hogg to learn more about how a company like Chi-Med competes against other names in the industry, what the company is working on this year, when the company hopes to begin commercialization for fruquintinib, and what investors should know about Chi-Med.
Below is a transcript of the interview. It has been edited for clarity and brevity.
INN: While other big pharma companies such as Pfizer (NYSE:PFE) and Merck (NYSE:MRK) are working on NSCLC oncology treatments, how does Chi-Med's fruquintinib differ from its competitors?
CH: The mid '90s had one type of NSCLC, and now you have 10 different molecular drivers of NSCLC that have been identified in therapies, or have been or are being developed against. [For example] ALK fusion and EGFR mutation, these are all genetic drivers
When a tumour grows to about five to 10 cm across, it starts to secrete a protein called vascular endothelial growth factor (VEGF). That protein attaches itself to local blood vessels and builds small tributary veins to essentially bring a blood supply to the tumour—it feeds it the oxygen, nutrition, and energy to proliferate.
It's called angiogenesis and it's the buildup of blood flow around tumours.
What fruquintinib does is it cuts down that build up of vascular activity around the tumour, and it cuts off the supply of energy to the tumour, therefore limits the ability of cancer cells to invade the rest of the body.
With targeted therapies [fruquintinib is] designed to hit one of those [VEGF] targets but they also hit a lot of those other targets. Proteins and enzymes have a lot of off-target toxicities that really limits a patient's ability to tolerate these drugs. Fruquintinib is a bit different; because it's so clean and so selective it doesn't have any of these unwanted side-effects.
INN: Following FDA approvals, when do you hope to begin commercialization for fruquintinib?
CH: For fruquintinib, lung cancer is the second indication, the first is colorectal cancer.We reported a positive phase 3 trial [in March of] last year and submitted our new drug application (NDA) China in June [2017]. We're hoping to launch in the market in 2018—so it's coming. In the context of lung cancer we'll report the results late this year. And, if that's positive, we'll submit immediately as a second indication so the approval process will turn out in 2019 and we'll be able to expand usage into 2019.
INN: What else is Chi-Med looking forward to in 2018?
CH: Probably the biggest one is going to be the move of savolitinib, which is a drug we have in partnership with AstraZeneca (NYSE:AZN) also in lung cancer [under] another subsector, which is c-MET-driven lung cancers. The biggest move there [for Chi-Med] will [probably] be for us to move into the last stage of development globally in that particular type of lung cancer so that savolitinib moves into the final stage of clinical development. We're doing that globally as well as a separate study in China.
The last drug we have is epitinib which is a EGFR inhibitor for lung cancer patients who have brain metastasis. [Because] lung cancer is an upper body cancer,around 50 percent of patients end up with metastasis.
Last year we reported results of a phase 1B study where 70 percent of patients with measurable brain metastasis—measurable lesions in the brain—saw partial response when using epitinib. That's never been seen before. It's a very high level of response because the brain is very difficult to treat because most targeted therapies, or the vast majority, are not designed to penetrate the blood brain barrier, which is a very thick liquid barrier that surrounds and protects the brain which epitinib is able to do, so that's a big deal for us.
INN: What do you think is most important for investors to know about Chi-Med?
CH: We [have] been operating for 18 years [and] have invested over $500 million in the discovery of these drug candidates. We've build up a team of people that is now 360 scientists in Shanghai. It's probably the biggest discovery organization in China of its type.
We have a large commercial operation in China with over 3,000 sales people generating a lot of sales profit—all of that profit is invested in innovations. We are sitting in China single-mindedly focused on discovering and developing novel therapies in oncology for the global market and that's never really been done before.
About 30 percent of the worlds cancer patients are in China, so people don't understand that this is a very heavily weighted spot in relation to oncology and so the unmet medical need in China is enormous, the current market only represents about four percent of the global market for oncology drugs.
So there's a big disparity today among treatments that are available in China and the scale of the disease. There's relatively few treatments available, so our home market is a market that inevitably is going to expand rapidly over the next 15-20 years, so that's a good foundation for us to have.
We shouldn't lose sight of the fact that our drugs are all designed to be competitive on the global market. It's almost inevitable that China will become the biggest oncology market in the world over the next 20 years.
Don't forget to follow @INN_LifeScience for real-time updates!
Securities Disclosure: I, Gabrielle Lakusta, hold no direct investment interest in any company mentioned in this article.
Editorial Disclosure: The Investing News Network does not guarantee the accuracy or thoroughness of the information reported in the interviews it conducts. The opinions expressed in these interviews do not reflect the opinions of the Investing News Network and do not constitute investment advice. All readers are encouraged to perform their own due diligence.