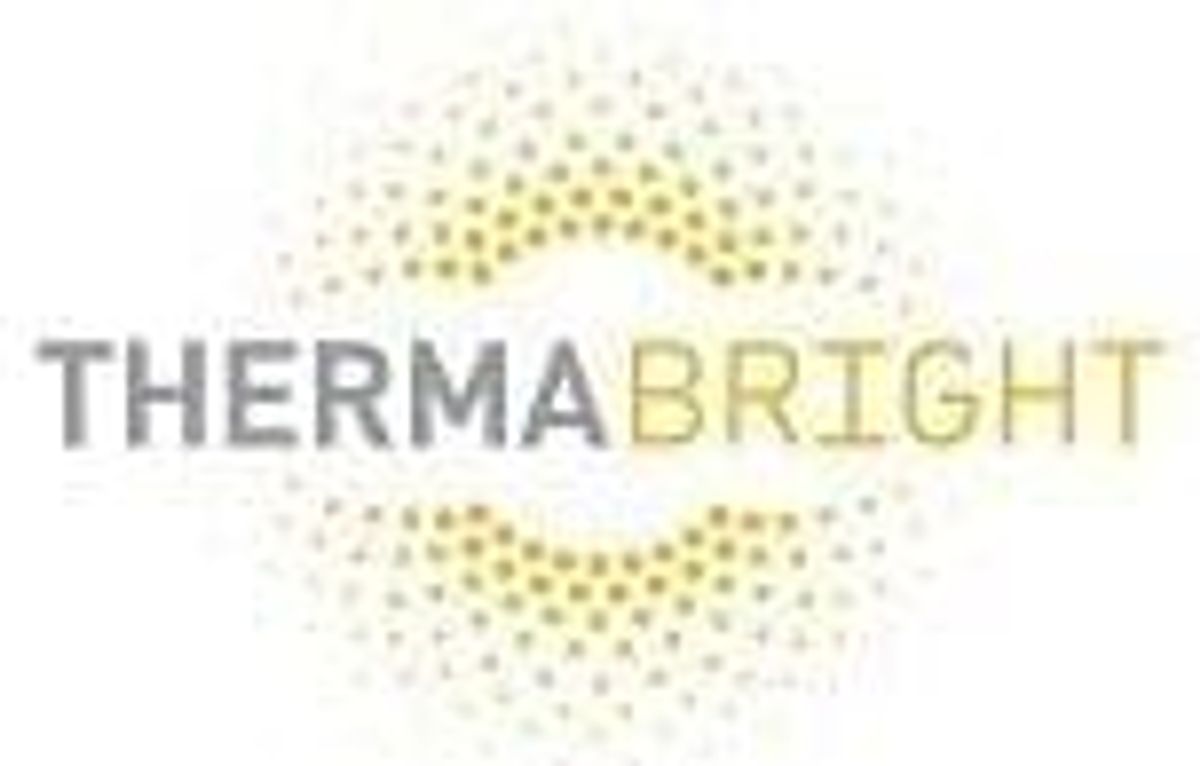 Therma Bright Inc. (TSXV:THRM) ("Therma Bright" or the "Company"), a progressive medical device technology company announces that it will incorporate a 100% wholly owned subsidiary (the "Subsidiary") to hold device related technology for the application or use of medicinal or recreational marijuana.
Therma Bright Inc. (TSXV:THRM) ("Therma Bright" or the "Company"), a progressive medical device technology company announces that it will incorporate a 100% wholly owned subsidiary (the "Subsidiary") to hold device related technology for the application or use of medicinal or recreational marijuana. The Company plans to hold the pain relief device, as described in a press release on October 1st, and all related intellectual property developed for the pain relief device, in the Subsidiary. The pain relief device will incorporate the Company's thermal therapy technology and use pain relief formulations with medicinal cannabis and non-medicinal formulations in the form of creams, gels or salves. All research and administration of any medicinal cannabis will be dealt with through authorized and licensed research facilities.
Over the last several weeks, Therma Bright has reviewed several device delivery systems for recreational or medicinal cannabis use such as advanced vaping pens for both the recreational and medicinal market, inhaler delivery systems for medicinal cannabis and other delivery system technology such as patches. In addition, the Company has reviewed personal home growing systems for the recreational market place. As a result of legalization of recreational cannabis in Canada on October 17, 2018, the Federal Government of Canada announced that households will be permitted to grow up to 4 plants for personal use. The target acquisitions see the advantage in working with Therma Bright as the Company has a strong understanding of public markets and regulatory requirements for device approvals with both Health Canada and the FDA, a wide breadth of expertise through management, the board of directors and the advisory team and an ISO 13485 quality management system in place. The products are either advanced and ready for sale or require additional development to complete development. The devices will either be sold through licensed producers, licensed recreational retail outlets or provincially managed sales entities across Canada or into International markets where medicinal or recreational cannabis is legal.
Therma Bright management expects to review these device related opportunities and will shortlist the top acquisition opportunities after completion of due diligence. Upon completion of due diligence Therma Bright will establish the optimal structure to complete such acquisitions (whether by option agreement, asset acquisition, joint venture, royalty/ licensing agreement or share exchange. Once the due diligence process is complete the Company will be in better a position to provide an estimate of the time and cost required for the cannabis device acquisition. The Company will prudently explore funding to secure the assets and will draw on internal and external talent to complement the cannabis device acquisitions for the Company.
The Company plans to hold the cannabis related device acquisitions in the Subsidiary and will provide shareholders with updates on these opportunities when material information becomes available.
Therma Bright is pleased to announce the launch of: www.coldsores.com.
Rob Fia, CEO commented:
"Therma Bright has reviewed some exciting technology over the last several weeks which we believe would be an excellent fit for our current product offerings. Both the medicinal, and specifically the recreational cannabis markets, are projected to be large markets in Canada and Worldwide. We felt this was an ideal time to explore cannabis device delivery systems and are pleased to have been approached by numerous companies to review what is in our opinion excellent technology. Therma Bright is pleased with the launch of coldsores.com and looks forward to updating shareholders on our marketing strategy for the e-commerce site prior to year end."
About Therma Bright Inc.:
Therma Bright is a progressive medical device technology company focused on providing consumers with quality medical devices that address their dermatological needs. Clear and healthy skin for all is at the core of the Company's philosophy as is the belief that such outcomes should not be a privilege for only those who can afford costly procedures and treatments. The Company's breakthrough proprietary technology delivers effective, non-invasive and pain free skin care.
Therma Bright received a Class II medical device status from the FDA for its platform technology that is indicated for the relief of the pain, itch, and inflammation from over 20,000 different insect stings and bites, (including bees, wasps, hornets, mosquitoes, black flies and jellyfish). The Company received approval for the above claims from FDA (United States) in 1997.
Therma Bright Inc. trades on the TSXV (TSXV: THRM).
For more information visit: www.thermabright.com and www.coldsores.com
For further information please contact:
Therma Bright Inc.
Rob Fia
CEO
rfia@thermabright.com
FORWARD LOOKING STATEMENTS
Certain statements in this news release constitute "forward-looking" statements. These statements relate to future events or the Company's future performance and include development of the Company's pain relief device, the acquisition of medicinal and recreational cannabis devices and funding thereof, all as described in the news release. All such statements involve substantial known and unknown risks, uncertainties and other factors which may cause the actual results to vary from those expressed or implied by such forward-looking statements. In addition to other risks, the Company may not complete all or any of the transactions as described in this news on the timelines described. Forward-looking statements involve significant risks and uncertainties, they should not be read as guarantees of future performance or results, and they will not necessarily be accurate indications of whether or not such results will be achieved. Actual results could differ materially from those anticipated due to a number of factors and risks. Although the forward-looking statements contained in this news release are based upon what management of the Company believes are reasonable assumptions on the date of this news release, the Company cannot assure investors that actual results will be consistent with these forward-looking statements. The forward-looking statements contained in this press release are made as of the date hereof and the Company disclaims any intention or obligation to update or revise any forward-looking statements whether as a result of new information, future events or otherwise, except as required under applicable securities regulations.
Neither the TSX Venture Exchange nor its Regulation Services Provider (as that term is defined in the policies of the TSX Venture Exchange) accepts responsibility for the adequacy or accuracy of this press release.
NOT FOR DISSEMINATION OR DISTRIBUTION IN THE UNITED STATES
Click here to connect with Therma Bright Inc. (TSXV:THRM) for an Investor Presentation.
Source: www.newsfilecorp.com
Investing News Network websites or approved third-party tools use cookies. Please refer to the  cookie policy for collected data, privacy and GDPR compliance. By continuing to browse the site, you agree to our use of cookies.