Animal Biotech Market Grows Through Genetics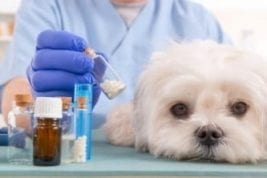 Thanks to new tools and discoveries in the biotech sector animal care treatments play a major role in the growth of the sector.
The development of novel treatments–thanks to new tools and discoveries in the biotech sector–may have a primary focus on human care, but animal care also plays a major role in the growth of biotech.
"Animal Biotechnology – Technologies, Markets and Companies," a report published in November of this year, points to the key factors for the rapid emergence of this sector, as well as the hurdles it still faces moving forward.
The growth and rapid development of genetics have impacted the types of products being developed for humans, according to this report "[g]enomics, proteomics and bioinformatics" are also shaping the future of animal biotech.
"Biotechnology has potential applications in the management of several animal diseases such as foot-and-mouth disease, classical swine fever, avian flu and bovine spongiform encephalopathy," the report summary indicated.

The role of pets and other animals in the biotech sector
The report also evaluated the role of animals relating to biotech development–not just products made for the exclusive use of pets or production animals.
Biotechnology is applied to facilitate xenotransplantation from animals to humans," the report's statement read. "Genetic engineering is done in farm animals and nuclear transfer technology has become an important and preferred method for cloning animals."
Some companies operating in the space
Kane Biotech (TSXV:KNE) offers three different types of products for animal care. These include an oral care offering in the form of oral care water additive or an oral spray. Kane Biotech's second animal care product is designed to combat dental disease-associated bacteria.
The company's most recent quarterly report indicated product revenue totaling $102,651. No breakdown of the different division of products the company offers and how much each one netted was provided in the report.
Year-to-date, shares of Kane Biotech have increased marginally by 8 percent to $0.13 as of Tuesday's (November 7) close.
Kindred Biosciences (NASDAQ:KIN) is a biopharmaceutical company operating to develop candidates for animal treatment entirely. Their pipeline has 14 candidates at various stages of development separated by small molecule products and biologic products.
The company is awaiting approval for the launch of two of its most developed candidates mirataz –cats weight loss management– and zimeta, a dipyrone injection mean to treat fevers in horses. During their second-quarter report, Dr. Richard Chin, president, and CEO of Kindred Biosciences said the preparation for the launch of both candidates is going smoothly.
Ona year-to-date basis, period Kindred Biosciences has seen a 78.8276.47 percent increase in its stock price, reaching $7.60 at the close on Tuesday value. The company saw a particular hike in June, after its addition to the US small-cap Russell 2000 Index and completing and the acquisition of a new manufacturing facility.
In June of 2017, a distributor of medical products for pets, PetIQ (NASDAQ:PETQ) launched an Initial Public Option (IPO), at a price of $16 per share. The stock officially launched on July 21 and closed $23.32 on its first day.
During their most recent quarterly report, PetIQ indicated that its net sales increased to 45.3 percent, totaling $60.6 million in its third quarter. "We believe we are well positioned for future growth and our mission to improve pet health," Cord Christensen, PetIQ's CEO said in a statement.
Since its inception, PetIQ's stock has seen a positive reception in the market with a 7.55 percent increase to reach $24.54 at market close on Tuesday.
Don't forget to follow us @INN_LifeScience for real-time news updates.
Securities Disclosure: I, Bryan Mc Govern, hold no investment interest in any of the companies mentioned.