Treatments Target Allergy Sufferers
As allergies become more common, Circassia and Stallergenes are making strides toward developing treatments.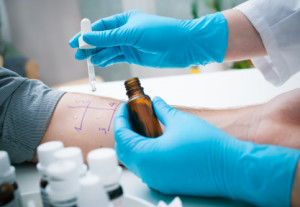 Allergies are on the rise and are more prevalent today than they were just a decade ago. Four out of 10 people are affected by allergic diseases at some time in their life, and the number of people with asthma and allergic rhinitis continues to increase, as do symptoms from food allergies and eczema.

In the United States alone, an estimated 40 to 60 million people are allergy sufferers.
The rise in people affected is severe enough that Erwin Gelfand, chair of the department of pediatrics at National Jewish Health, said at a conference earlier this year that there is an "allergy epidemic."
"Despite increasing knowledge of the underlying mechanisms, therapeutic inventions have been limited, with many failures in the use of biologics targeting cytokines and chemokines. Corticosteroids remain the leading therapy: inhaled corticosteroids in asthma, oral corticosteroids in food allergies, topical corticosteroids in atopic dermatitis and nasal steroids in allergic rhinitis," he said.
Life science companies, including UK-based Circassia, a specialty biopharmaceuticals company focused on allergies, and Stallergenes (EPA:GENP) of France, which is working on specific immunotherapy for allergies, are conducting targeted research into the field of allergies and asthma.
Stallergenes has applied for a review of its lead product, Oralair, to enter the US market. The tablet, which is made from five different grass extracts, is marketed in Europe for the treatment of grass pollen allergies and has been available since 2008. The product was launched in Canada last year, making it the first allergen immunotherapy tablet to be registered and marketed in North America. The attempt to crack the US market is a significant move for the company because grass pollen is the most common allergen, and the common standard of care in the US for immunotherapy is multiple injections of allergens performed in a supervised medical setting. The company states that there is no currently approved allergen immunotherapy for patient self administration.
Circassia, which is supported by a syndicate of institutional and venture capital investors, including Switzerland-based Bachem Holding (OTC Pink:BFEHF) and Bedford, Massachusetts-based Hologic (NASDAQ:HOLX), recently announced the results of a second-phase clinical study for its therapeutic ToleroMune cat allergy treatment.
Four doses of ToleroMune over a short course maintained improvements in patients' symptoms for two years after the start of the initial treatment. The results were presented at the 2013 Annual Meeting of the American Academy of Allergy, Asthma & Immunology in February in San Antonio, Texas.
The treatment was found to reduce symptoms by up to three times the level achieved by several other allergy therapies in similar studies, according to the researchers. One of Circassia's strategic partners is Adiga Life Sciences, which is based in Canada and is undertaking ongoing life science research at McMaster University and other Canadian research institutions. It is looking into the development of technologies for the control of immune function in allergic and autoimmune disease.
Allergies, both environmental and food related, are on the rise for a number of reasons. One of the most popular explanations, according to McMaster University's Dr. Susan Wasserman, who is president of the Canadian Society of Allergy and Clinical Immunology, is a theory called the Hygiene Hypothesis.
"We are living much more cleanly than we did years ago," said Dr. Wasserman on CBC last month. "Because of that, our immune systems, which used to be busy fighting infections, no longer have to do so."
Other reasons for the rise in allergy sufferers could be environmental. Dr. Wasserman said there is now new evidence that some of the advice given in the past to avoid allergy triggers may make sufferers more sensitive rather than more tolerant. "There is some evidence that in certain cultures that eat peanuts early, like Israel, there are far less allergies."
North America and Western Europe still have the highest number of allergy sufferers, Dr. Wasserman said, but other countries, like China and Africa, are also seeing an increase in people who have developed allergies.
Companies such as Geneva-based Ares Life Sciences, a healthcare-focused investment group, are beefing up their holdings in allergy-specific therapeutics. Earlier this month, Ares announced that it will acquire 100 percent of the share capital of Planet Biopharmaceuticals (OTC Pink:PBPH), including that of its subsidiary, Antigen Laboratories, a producer of allergen extracts that works closely with the ear, nose and throat specialist community in the United States. Closing of the transaction is subject to certain closing conditions.
Ares also recently signed an agreement to acquire Greer Laboratories, a leader in the US allergy immunotherapy (AIT) market. The acquisition of Antigen Laboratories is part of Ares' strategic focus on the US AIT market.
It is also the majority shareholder of Stallergenes, a pioneer and leader in immunotherapy treatments by sublingual administration.
Ares believes there is significant growth potential in the AIT business globally, particularly in the US, which currently only represents 10 percent of the European market and is expected to grow significantly over the next few years.
Jacques Theurillat, CEO of Ares, commented in a statement, "[a]s an FDA licensed manufacturer, Antigen has one of the most comprehensive offerings of allergenic extracts in the United States and has a long track record of serving the needs for the ENT specialists. We view the acquisition of Antigen as very complementary to our other investments in the allergy market."
Securities Disclosure: I, Andrew Topf, hold no direct investment interest in any company mentioned in this article.