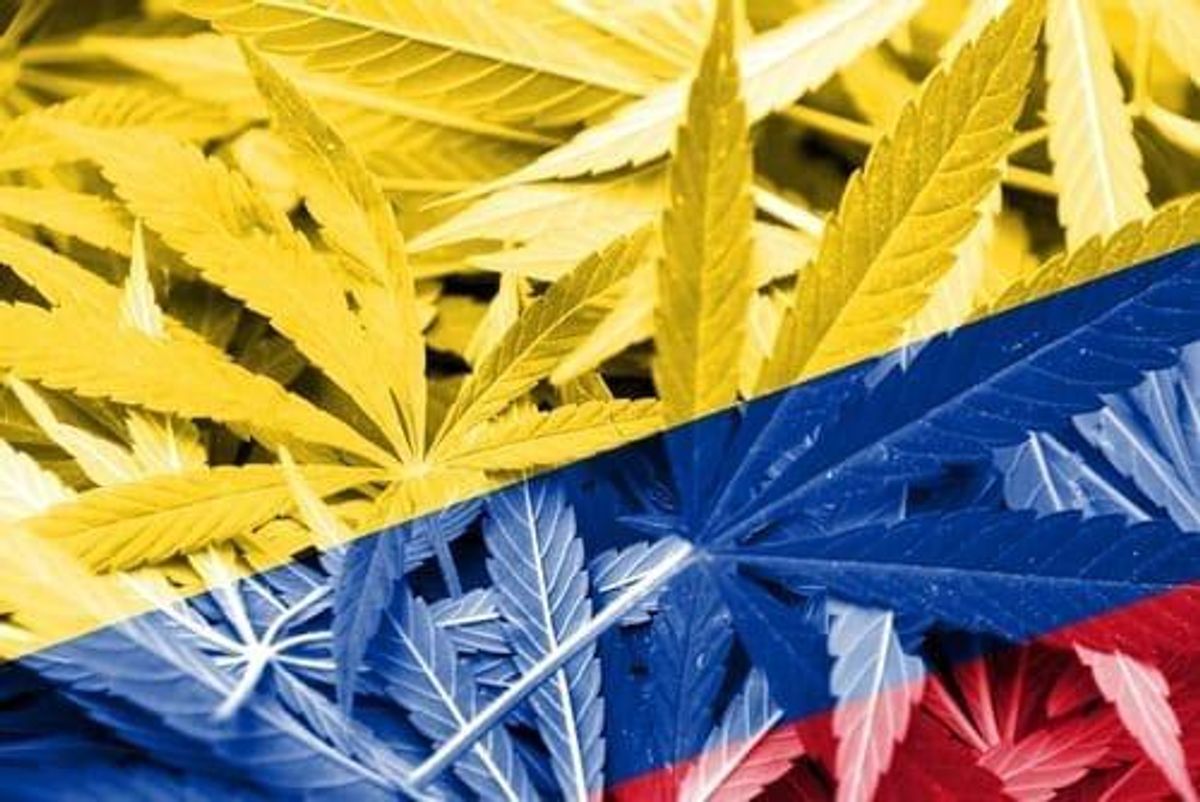 Colombia has completely revitalized its cannabis market by putting a target on international exports for local producers.
The cannabis industry has earned fast traction on a global scale thanks to a number of governments opening the doors to favorable policy with the drug in mind. One such country that's revamped its stance on marijuana is Colombia, who plans to become a national exporter of medical cannabis.
Those watching the marijuana sector closely have often remarked on the rapid expansion and the global potential for investors mostly in the Canadian market.
As Canada prepares to face the challenges from its legalization plans, other countries plan to keep a close eye on the development of this market for their own future operations.
Canada has taken a leading role on cannabis and will serve as one of the biggest tests for the public perception of the market as recreational cannabis will become legal this summer.
Experts have waited for the complete legalization to roll out in Canada as a way to examine the proposed cultural update for cannabis and its business.
Then there's Colombia, who as previously mentioned, has completely revitalized its cannabis market by targeting international exports for local producers.
"As more countries legalize cannabis for medicinal use, Colombia is positioned to become a dominant supplier to these new countries as they ramp up their own domestic production capacity," Ryan Douglas a cannabis growth consultant told Marijuana Business Daily.
Colombia's revamped licenses for cannabis production
Colombia formally legalized medical marijuana in 2015, after the nation's President Juan Manuel Santos signed a decree ending a legal void where citizens had been consuming these products.
The country has realigned its interests to the export market in its current policy operations. Colombia offers local producers four types of licenses for the cultivation of psychoactive and non-psychoactive plants and is preparing to produce 40.5 tons of cannabis per year, starting in 2019.
A report from local paper El Tiempo indicated the government had delivered 14 licenses for cannabis production. The paper also indicated that Andres Lopez, director of the government agency in charge of overseeing the medical cannabis program, said Canada is on Colombia's radar since the North American country is interested in exporting the product.
One of the companies that earned a license, PharmaCielo Colombia Holdings, began its production late last year. The company told shareholders it had started planting both its psychoactive and non-psychoactive medical cannabis strains in its facility and was planning to complete the first planting by December 31, 2017.
Why should investors keep an eye on the Colombian exports?
One such reason may have to do with Colombia's weather conditions. Due to its proximity to the Equator, Colombia's climate makes it a desirable place to plant cannabis because it's light out for 12 hours.
As part of a report on the country's marijuana scene, the High Times talked with local producers on the benefits of growing cannabis in Colombia.
"Colombia is an ideal place [to cultivate cannabis], first of all, because its photoperiod is 12/12 all year," said a city garden grower in Medellin, under the alias of Collie Dread. "So we are able to harvest all year long and can take advantage of the sun as much as possible."
Could Canadian companies be closer to the Colombian market than expected?
When it comes to international ventures Canadian companies have been fast to express interest and present the value to its shareholders. In February for example, Cronos Group (TSXV:MJN) announced the launch of a subsidiary in Australia, vying to get a share of the growing patient population in the country.
"We see a steady increase in interest from leading participants in today's rapidly developing global cannabis marketplace, seeking to develop strategic partnerships with PharmaCielo," Federico Cock-Correa, CEO, and director of PharmaCielo said after the company announced it began cultivation.
When asked on the potential for established Canadian companies seeking expansions or partnerships in Colombia, Alvaro Torres, president, and CEO of Khiron Life Sciences (TSXV:KHRN) told the Investing News Network (INN) the market is too attractive for these producers to pass it up.
"In the end, we have to look for bigger markets and all the LPs (licensed producer) are looking at the way that they can continue opening up their well-known strategies and well-known cultivation activities into a market that is just opening up, which is Colombia," Torres said.
Khiron is an integrated medical cannabis product development company based in Canada with their focus on the Colombian market. "In a way, we like to think ourselves as differentiated in the sense that we are not necessarily focused on exports in the international market but we see a very strong domestic market, with a population of 50 million people," Torres said.
As the race for exports heats up, Khiron plans, for the time being, to focus on the patient population in the country with a portfolio of medical products. In June, the company obtained an endorsement from the Colombian Association of Internal Medicine (ACMI) and the Colombian Association of Neurology (ACN).
In June, Scythian Biosciences (TSXV:SCYB), which is in the process to be renamed into SOL Global Investments, holds interest in ColCanna SAS, a Colombian cannabis venture. ColCanna has obtained a license for the cultivation and importation of non-psychoactive cannabis by the Ministry of Justice and Law of Colombia and signed a tentative international supply deal with Canadian licensed producer (LP) Aphria (TSX:APH).
In early 2018 MYM Nutraceuticals (CSE:MYM) announced a potential entry into Colombia thanks to a memorandum of understanding with NEWCANNA, a local medical cannabis company. "Under the MoU, NEWCANNA will supply the land, the workforce, and all the applicable licenses needed for the new company to move forward and operate legally under the newly established laws in Colombia," the company indicated.
Arrival of new public venture in Colombia
A new option appeared recently for investors evaluating options in the Colombian market. ICC Labs (TSXV:ICC) announced in January it had obtained two licenses from the Ministry of Justice and Law of the Republic of Colombia for its wholly-owned subsidiary.
"Our Company has substantial expertise navigating complex and evolving regulatory regimes, having successfully commenced operations in Uruguay… We will apply this experience and approach in our operations in Colombia," Alejandro Antalich, CEO of ICC Labs said as part of the company's announcement.
"One license permits ICC Labs to cultivate non-psychoactive cannabis plants to produce various medicinal cannabis-based products for domestic and international distribution. The second license permits ICC Labs to obtain cannabis seeds under the Colombian regulatory regime and use such seeds for its operations," the company explained.
ICC Labs said it plans to start their outdoor planting of non-psychoactive cannabis seeds on 250 acres of land. The company added it secured a production site where it plans to base its Colombian operations and the weather conditions made it "optimal" for the growth of cannabis on a year-round time frame.
Torres told INN, the arrival of ICC Labs into Colombia further raises the awareness for this growing market. "ICC is a well-positioned company and the fact that they are looking at Colombia also helps bring our case [to] investors that this is a market worth looking at," Torres said.
Most recently, on February 27, ICC provided shareholders with another license development on its business activities in the Colombian market. The Ministry of Justice and Law of the Republic of Colombia awarded the company with a license to cultivate psychoactive cannabis plants for medicinal purposes for domestic and international distribution.
In addition to that license, the Ministry of Health of the Republic of Colombia gave ICC license to manufacture cannabis derivatives for medicinal purposes. "We are extremely pleased that we have been successfully licensed in Colombia as our team has been working extremely hard to get through the rigorous regulatory process," Antalich said.
Canopy makes a move for the country
In July Canopy Growth (TSX:WEED,NYSE:CGN) announced the creation of an entire new division of the company focused on the Latin American market, dubbed the Canopy LATAM Corporation.
Mark Zekulin, president and co-CEO of Canopy Growth said in a statement this move was based on a "sustainable regional production" business formula alongside another step in the company's plans for a global growth strategy.
"Our region has incredible potential and a real need for controlled, high quality medical cannabis," Antonio Droghetti, regional managing director of Canopy LATAM said.
The first move from the new division was to acquire Spectrum Cannabis Colombia, a local producer of medical cannabis. According to Canopy, Spectrum owns a 126 hectare farm appropriate for future growing operations.
Spectrum will begin constructing "the necessary facilities" needed to offer products in Colombia and potentially across the region. The company announced a timeline of initial construction from the end of the summer this year, which will last twelve months.
Investor Takeaway
Investors in Canadian companies knew that the supply of cannabis has long been feared not to match the expected demand. The potential for companies to export product from different countries, like Colombia opens the opportunity for operators to expand their reach and look for partnerships in this country.
This is an updated version of an article originally published by the Investing News Network in 2018.
Don't forget to follow us @INN_Cannabis for real-time news updates!
Securities Disclosure: I, Bryan Mc Govern, hold no direct investment interest in any company mentioned in this article.
Editorial Disclosure: Khiron Life Sciences, MYM Nutraceuticals are clients of the Investing News Network. This article is not paid-for content.
Featured Cannabis Investing News Stocks
Investing News Network websites or approved third-party tools use cookies. Please refer to the cookie policy for collected data, privacy and GDPR compliance. By continuing to browse the site, you agree to our use of cookies.