---
Overview
Investors often talk about the Golden Triangle and the immensely attractive discovery upside contained in British Columbia. However, flocking to one region for precious and base metal mining overlooks some of the world's most up-and-coming districts across the Americas, which some argue have the potential to mimic the successes of these more prolific mining districts.
With the real possibility of a post-pandemic surge in world silver demand, investing in precious metals players with access to projects in mining-friendly jurisdictions like British Columbia, Chile, and various regions throughout the Americas is a sensible play. Early investment in these projects could mean exceptional investment upside and exposure across an array of the most profitable resources, including silver, gold, copper and more.
TDG Gold Corp. (TSXV:TDG) is an emerging player in the precious metals mining space and an emerging consolidator of permitted, silver-focused, precious metals projects in the Americas. With an impressive acquisition track record, including three past-producing gold-silver mines along the Toodoggone Production Corridor in British Columbia and plans to rapidly expand into Chile, the company presents investors with exceptional exposure to the growing silver mining market through deep-value silver project opportunities.
The company recently announced it has entered into a non-binding Letter Of Intent (LOI) with Kingsgate Consolidated Limited (ASX:KCN) to acquire the company's Nueva Esperanza advanced silver-gold exploration and development project in the Maricunga Belt, Chile. This LOI advances TDG Gold's plans to grow beyond its current portfolio with the constant evaluation of new potential acquisitions in silver and gold.
The deep-value Nueva Esperanza is a permitted, advanced exploration stage, silver-rich precious metals project. With a NI-43-101 mineral resource estimate already under its belt, the company is primed for outstanding development and silver-gold discovery across the area.
The company also has over 23,000 hectares of brownfield and greenfield exploration potential through strategic ownership and earn-in agreements. Its Shasta project sits in close proximity to TDG's other highly prospective high-grade gold-silver projects, including Baker, Mets, Bot and Oxide Peak properties — all located along the Toodoggone Production Corridor.
The Toodoggone Production Corridor possesses rolling hill structural characteristics, arguably making the region a much easier mining district than the more well-known Golden Triangle based on topography alone. TDG Gold currently has three past-producing mines in the Toodoggone–an area that is ripe for consolidation with numerous neighbouring resource companies hosting multi-million ounce deposits.
The Shasta project is a near-term production asset that hosts excellent infrastructure, bulk tonnage potential mineralization and road access. The company has already announced a target initial resource for the project of between 0.9 and 1.47 million ounces of gold equivalent for the first half of 2022.
Additionally, the adjacent Baker property boasts similar advantages but will require considerable exploration to gauge the true potential of such a large footprint.
TDG Gold is currently fully funded, with approximately $6.5 million in the treasury, for the current exploration plans, which include a 3,000 to 4,000-metre drill program at Shasta in 2021.  The company recently announced a further $4M private placement to expand the program at Shasta and the prospective Baker property.
The next steps for the company include rapidly advancing the permitted near-term production opportunities within the portfolio while continuing to evaluate additional acquisition targets that align with the company's focus on permitted silver dominant precious metals assets in the Americas. Nueva Esperanza presents TDG with especially advantageous possibilities for project optimization with a Feasibility study targeted for 2022 and production as early as 2024. In combination with TDG Gold's flagship projects in British Columbia, the company is well on its way to becoming a major consolidator of advanced stage silver-gold assets across the Americas.
TDG Gold's Company Highlights
TDG Gold is an emerging consolidator of permitted, silver-focused, precious metals projects in the Americas. The company currently operates in the highly prospectiveToodoggone Production Corridor in north-central British Columbia and the vibrant mining-friendly district of Maricunga, Chile.
The company continues to actively consolidate silver-focused, deep-value opportunities through exploration, development and acquisition of permitted advanced exploration-stage projects, such as their recent acquisition of the Nueva Esperanza project in Chile.
TDG has over 23,000 hectares of brownfield and greenfield exploration opportunities across its five mining projects: Shasta, Baker, Mets, Bot and Oxide Peak in the Toodoggone in North Central British Columbia.
The Shasta property has a resource target of 0.9 to 1.47 million ounce gold equivalent which it expects to publish in half one, 2022
The highly prospective Baker project sits adjacent to Shasta and boasts high-grade gold and silver mineralization potential and excellent road accessibility, valuation and exploration upside.
The Toodoggone is ripe for consolidation and TDG's Baker and Shasta projects represent significant strategic importance in any roll-up strategy, due to their critical infrastructure, including expandable 200 tonne per day mill, tailings facility and only road access through the district.
Next steps for the company include near-term project development and acquisition of silver-focused assets across the Americas and extensive exploration of the Shasta and Baker properties, plus the advancement of Shasta and Nueva Esperanza toward production as early as 2024
TDG Gold's Key Projects
Nueva Esperanza Project
Nueva Esperanza is located in the Maricunga Belt, Chile and is an advanced-stage silver-gold project that further bolsters TDG Gold's extensive portfolio of high-value projects.
The company recently announced an initial 43-101 mineral resource of 14.44 million tonnes containing 54.3 million ounces silver equivalent at an average grade of 117 grams per tonne Indicated and 17.06 Mt containing 52.7 million ounce silver equivalent at an average grade of 96 g/t Inferred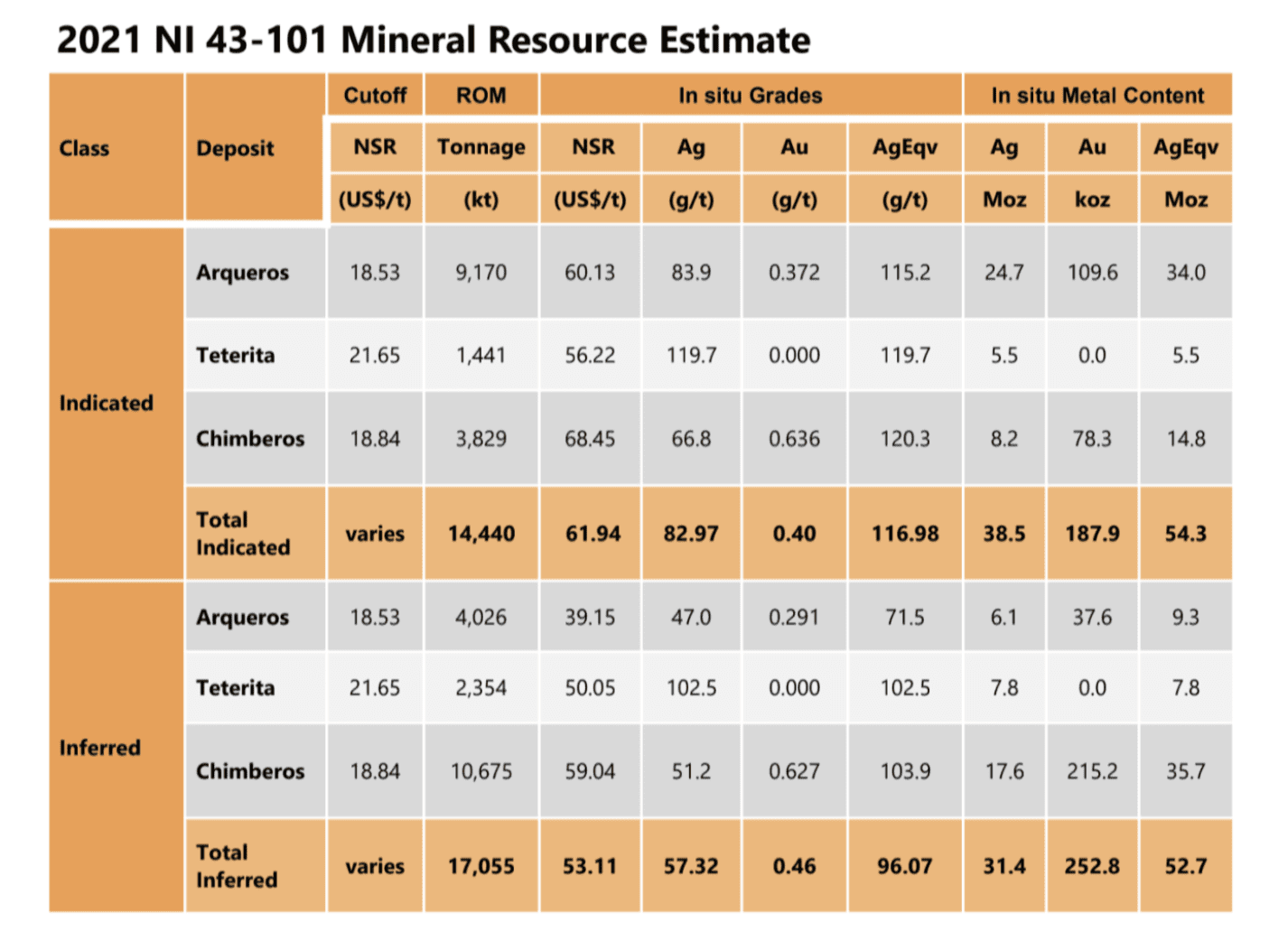 The project was granted an Environmental Impact Assessment approval in July 2020, paving the way for pre-development and construction. With a NI 43-101 mineral resource estimate already established, TDG remains excited to continue developing this highly prospective silver mining opportunity.
Shasta Project
The Baker-Shasta property covers just over 6,000 hectares and includes the past-producing high-grade gold-silver Baker mine and Shasta mine. The strategically positioned past-producing mines leverage excellent road accessibility, existing infrastructure and are located approximately  430 kilometers from Prince George, British Columbia. TDG completed the acquisition of this asset and inclusive Toodoggone project portfolio from Talisker Resources Ltd. (TSE:TSK) in December 2020.
The revitalized Shasta asset hosts incredible mineralization with a targeted 0.9 to 1.47 million ounce gold equivalent resource across valuable brownfield and greenfield exploration opportunities. A robust exploration program at Shasta is underway to confirm the resource target by the first half of 2022, while the highly prospective Baker project has further potential to see significant discoveries across its epithermal multiphase quartz-carbonate stockwork vein/breccia deposit structure.
The main Creek pit and JM zone remain the largest areas of interest for the company. Data currently points to expansive mineralization potential open to the south and north ends with bulk tonnage possibilities. TDG intends to explore Shasta in 2021 with a proposed 3,000 to 4,000-meter exploratory drilling campaign and resource estimation in 2022.
Baker Project
The Baker project sits adjacent to TDG's flagship Shasta property and presents excellent exploration upside with brownfield and greenfield exploration opportunities, existing infrastructure road accessibility and 25,000 meters of historic drilling under its belt.
Main targets on the property include the "A' and "B" Vein deposits and Black Gossan target, which have all seen considerable exploration between the early 1980s and late 1990s and production of 41,281 ounces of gold and 765,565 ounces of silver. The sporadic exploration history poses exciting discovery potential for widespread high-grade silver and gold mineralization across five main veins in six defined zones. Its unique milky quartz veins currently stand as the principal host to economic mineralization.
The quartz vein system has been traced for a strike length of 435 meters with attractive branching into individual veins for potential footprint expansion. As a highly prospective secondary project to Shasta, TDG remains excited to explore this asset and its tremendous exploration upside.
TDG Gold's Management Team
Dr. Fletcher Morgan — CEO & Director
Dr. Fletcher Morgan is the founder of Elemental Capital Partners LLP, a boutique exempt Market dealer and corporate advisory firm exclusively focused on mining and metals. Dr. Morgan is a qualified management consultant who has functioned in the capacity of interim CEO, EVP and advisor for several junior companies; including listing and capital raising.
Dan O'Brien — CPA, CA, CFO
Dan O'Brien is an experienced CFO of mineral exploration companies trading on the TSX and TSX Venture stock exchanges. He is a current member of the Chartered Professional Accountants of British Columbia having obtained his CA designation in 2006. O'Brien previously spent eight years with Davidson & Company LLP Chartered Professional Accountants where he specialized in the audit of public companies in the mining and resource sector.
Andy Randell — Interim VP Exploration (SGDS Hive)
Andy Randell has over 15 years of experience working across BC, Yukon and South America on a variety of precious and base metal deposits. He runs the geological consulting firm SGDS Hive, and has previously held the position of VPEx with Strikepoint Gold and chief geologist for Ryan Gold Corp. He also serves on several research and advocacy Boards including AME and taught Mining Law and Indigenous Relations courses at BCIT.
Christy Smith — VP Sustainability
Christy is a highly skilled and accomplished professional with 20+ years of proven expertise in initiating strategic discussions with communities of interest groups resulting in the reduction of risk to project timelines. She specializes in working within the consultation requirements for permitting and Environmental Assessment processes and is recognized for her professional and personal understanding of non-traditional/traditional Aboriginal culture.
Andrew G. French — Chair & Director
Andrew is a Geologist and Senior Mining Fund Analyst with 26 years of international mining resource fund experience, prior to which he was an exploration geologist for 10 years, having worked in Canada, UK and South Africa.
Terry Harbort — Director
CEO, President & Director of Talisker Resources Ltd. Terry has a PhD in Structural Geology and Tectonics. He is a recognised senior member of the discovery team of AngloGold Ashanti's La Colosa and Gramalote deposits and former Chief Geoscientist, Barkerville Gold Mines Ltd
Evandra Nakano — Director
Evandra is the founder, President, CEO and Director of Infield Minerals Corp., advancing its high-grade gold-silver exploration projects in Nevada. She was also co-founder and former CEO and CFO of Kismet Resources Corp., which amalgamated with TDG Gold in 2020. She has a strong background in geology and was a key member of B2Gold's technical team from 2010 to 2014.
Matt Filgate — Director
Matt is Regional Project Geologist for Talisker Resources Ltd. with a focus on business development, project evaluation and exploration execution across multiple projects in southern BC. He was instrumental in the redefinition of the Barkerville Gold Camp which resulted in the discovery of >4 million Au oz.
John-Paul Dau — Director
JP was a co-founder of Angkor Gold Corp. – a TSX.V listed Project Generator which acquired and developed numerous assets in Asia. He brings an extensive background in project management, business development, and fundraising
Stephen Quin — Transaction & Technical Advisor
Stephen is a graduate of the Royal School of Mines, London, with a B.Sc. in Mining Geology, a Professional Geoscientist in BC and has 40 years' experience in all facets of the mining industry from exploration to operations, as well as capital markets. He is the former CEO and President of Midas Gold, former President and COO of Capstone Mining, was President & CEO of Sherwood Copper and Executive Vice President of Miramar Mining Corp. and Northern Orion Explorations. He currently serves as a non-exec director of Chalice Mining Limited and Kutcho Copper Corp.
Jim Zadra — Financial Advisor
Jim served as CFO of Great Panther Mining Limited from 2012 to 2021 where he contributed to significant growth in production profile and geographic expansion through acquisitions and expansion of operations. He is a CPA CA, has an MBA from Queen's University and B. Comm from the University of British Columbia. He started his career with Deloitte, worked as an analyst with Canaccord and held other CFO and senior financial leadership roles with various technology companies.
Rodrigo Morel — Technical Advisor
Rodrigo is the former national director of exploration for Codelco – a Chilean state-owned copper mining company. He has over 40 years of experience both in exploration and mine geology, and has worked for different mining and exploration, international and national, senior and junior companies, both as staff or as a consultant including Codelco, BHP Billiton, Anglogold and Barrick.
Adrian King — Technical Advisor
Adrian was the head of Chilean & Argentinian exploration for Teck Resources Limited before becoming Teck's Head of Global Exploration in 2016. His roles have covered projects at all stages from generative through to evaluations, commercial and resource-reserve definitions. Adrian has authored and co-authored several scientific papers and has been a team member of multiple discoveries.
---
INN does not provide investment advice and the information on this profile should not be considered a recommendation to buy or sell any security. INN does not endorse or recommend the business, products, services or securities of any company profiled.
The information contained here is for information purposes only and is not to be construed as an offer or solicitation for the sale or purchase of securities. Readers should conduct their own research for all information publicly available concerning the company. Prior to making any investment decision, it is recommended that readers consult directly with TDG Gold Corp. and seek advice from a qualified investment advisor.
Request an Investor Kit
EXCITING upcoming projects!
IN-DEPTH reliable insights!
SUCCESSFUL growth strategies!
VALUE-BASED content!
TDG Gold