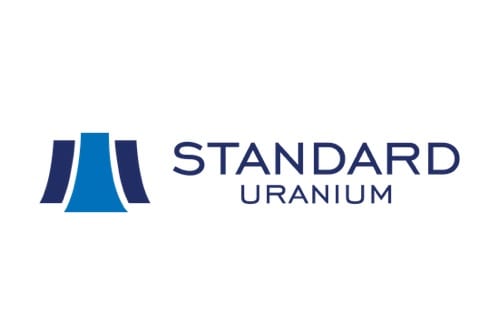 Standard Uranium
Finding the Fuel to Power a Clean Energy Future
Overview
Standard Uranium Ltd. (TSXV:STND, OTCQB:STTDF) is a uranium exploration company aiming to leverage its geological experience to make additional discoveries in Saskatchewan's renowned Athabasca Basin. The company is currently focused on the exploration of the Davidson River uranium project, which is located in the southwest portion of the Basin. In March 2020 Standard Uranium filed a NI-43 101 compliant technical report on the Davison River project, outlining the potential for a two-phase exploration program to expand the company's understanding of the property.
Standard Uranium believes it has assembled the team and land package necessary to make the next major uranium discovery in the Athabasca Basin. The company intends to leverage its experience in the area to advance potential future discoveries. Standard Uranium believes the Clearwater Domain Mirror Theory suggests the exploration corridors on the west of the Clearwater Domain could have similar uranium deposits as those on the east.
In July 2020 Standard Uranium announced it had expanded its land holdings in the Athabasca Basin by acquiring the Ascent and Canary projects through staking. The two projects, totaling 11,040 hectares, are both located in the eastern Athabasca Basin. Shortly after, Standard Uranium added three new mineral claims that are adjacent to the company's existing holdings at the Gunnar Project located in the Beaverlodge Uranium District. The 15,770-hectare Gunnar Project contains unconformity and basement-hosted uranium targets, including historically identified uranium mineralization in the Athabasca sandstone.
In an effort to strengthen its exploration team, Standard Uranium recently announced the addition of Galen McNamara and Sean Hillacre to its technical team. Mr. Sean Hillacre has been named the company's Project Manager for the upcoming Davidson Drill Program, while Mr. Galen McNamara has been named Technical Advisor. Hillacre has experience in the region after working with NexGen Energy as an exploration geologist as part of the technical team that developed the Arrow Deposit. McNamara also brings considerable exploration experience to the team after managing all field-based drilling and exploration activities for NexGen. McNamara earned the 2018 PDAC Bill Dennis "Prospector of the Year" Award and 2016 Mines and Money Exploration Award for his work on the Arrow Deposit.
Moving forward, Standard Uranium intends to continue to explore the Davidson River Project including an inaugural exploration drilling program expected to begin in Q3 2020. The company is optimistic that it has one of the most promising land packages in Saskatchewan's Southwest Athabasca Basin, which has attracted the attention of resource companies including Cameco (TSX:CCO, NYSE:CCJ), Orano, NexGen Energy (TSX:NXE, NYSE:NXE), Fission Uranium (TSX:FCU, OTCQX:FCUUF), Fission 3.0 (TSXV:FUU, OTCQB:FISOF) and Denison Mines (TSX:DML, NYSE:DNN).
Standard Uranium's Company Highlights
Davidson River uranium project comprises 25,886 hectares of the Patterson Lake Uranium District, located in the southwest Athabasca Basin
The Davidson River Project is highly prospective for basement hosted uranium deposits yet remains untested by drilling despite its location along trend from recent high-grade uranium discoveries. NI-43 101 Technical Report filed on the Davidson River project outline the potential for a two-phase exploration program
Ascent and Canary projects are located within the Eastern Athabasca Basin region, and compliment the existing Atlantic Project
Gunnar project, located south of the Beaverlodge Uranium district, and is targeting unconformity-style uranium mineralization
Geological team has proven experience in the Athabasca Basin
Director Garrett Ainsworth led the NexGen technical team, which discovered the Arrow deposit in the Athabasca Basin
Standard Uranium's Flagship Davidson River Project
Standard Uranium's Davidson River uranium project comprises 25,886 hectares including 21 mineral claims in the heart of the Patterson Lake uranium district. The district is within the southwest portion of Saskatchewan's Athabasca Basin. Staking on the property was not authorized until 2012 due to previous oil and gas reserves found in the area.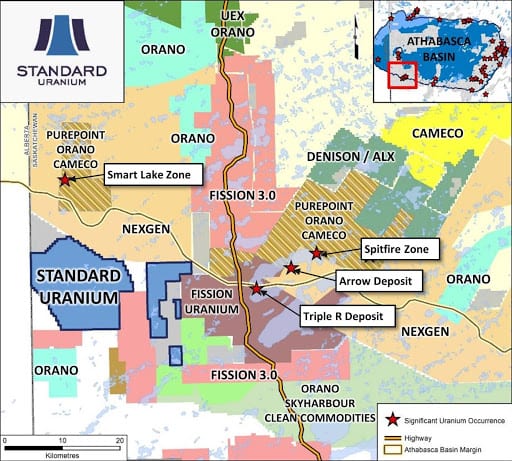 In 2018, Standard Uranium acquired the core claims at the Davidson River project from a property vendor. Standard Uranium conducted a geophysics program on the Davidson River Project in 2018, including a VTEM survey that confirmed the conductors within exploration corridors that were previously conceptualized by Standard Uranium's geological team.
Standard Uranium's Other Projects in the Athabasca Basin
In July 2020 Standard Uranium expanded its assets in the Athabasca Basin by acquiring two projects, Canary and Ascent, through staking. Both projects are located near Standard Uranium's Atlantic project, which is located approximately a dozen kilometers away from IsoEnergy's Hurricane Zone at its Larocque East project.
Also in July 2020, Standard Uranium expanded its land package in the Beaverlodge Uranium District by staking three new claims next to its existing ones at the Gunnar Project. These new claims contain unconformity-and basement-hosted ("unconformity-style") uranium targets.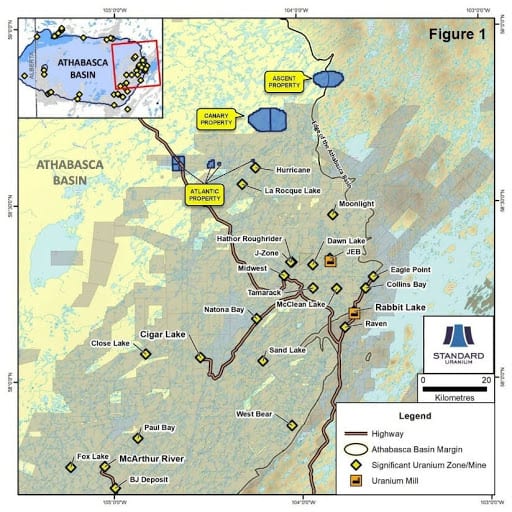 Canary
The Canary Project comprises two claims totaling 7,303 hectares with a depth that reaches the sub-Athabasca unconformity between 84 meters and 230 meters from the surface. Historical airborne EM work was conducted on the claims between 1993 and 2006 that identified three conductive corridors that are prospective for host rocks for uranium mineralization. Historical drill hole CRK-137 identified highly anomalous uranium enrichment near the unconformity with 10 ppm uranium over 7.4 meters in systematic composite sampling of the sandstone. Within this zone, a discrete 0.5m sub-interval returned 103.1 ppm uranium and a 1.0m interval in the graphitic meta-sediments immediately below the unconformity returned 200.0 ppm uranium.
Ascent
The Ascent Project comprises one claim totaling 3,737 hectares with depth to the sub-Athabasca unconformity that is known to be between 0 and 50 meters from the surface. Historical airborne EM work was conducted on the property between 1979 and 2006 that identified one large, six-kilometer long and three-kilometer wide conductive corridor with numerous target areas related to potential cross structures. Ground EM surveys were conducted in the early 1980s that confirmed the airborne targets.
In 1979 a lake sediment program conducted on the property identified a very high-priority polymetallic anomaly located immediately above the conductive target. The current exploration model for the Ascent project is analogous to that of the J-Zone and Roughrider deposits, which are interpreted by the company to be shallow-dipping conductive bodies.
Gunnar
The Gunnar Project comprises five claims totaling 15,770 hectares, and is located at the northern margin of the Athabasca Basin. The new claims of the Gunnar Project have many attributes that are favourable for high-grade unconformity-style uranium mineralization such as uranium-enriched bedrock, reactivated structures in the basement, Athabasca Sandstone cover and favourable basement lithologies. The Gunnar Project contains two main target areas that contain uranium mineralization and fit the model of an unconformity-style uranium deposit style.
Standard Uranium's Management Team
Jon Bey – President, Chief Executive Office, Director
Mr. Bey is a capital markets executive with over 13 years in the junior exploration industry with experience in uranium, gold, silver, lead, zinc, diamonds and oil and gas. He has public company experience across several sectors and with companies listed on the TSX, TSX-V, CSE, and LSE Exchanges. Mr. Bey is the founder and Managing Director of the Steel Rose Group of companies.
Neil McCallum – V.P. Exploration, Director
Mr. McCallum has over 15 years of experience primarily in North American mineral deposit exploration, with a focus on targeting and discovery of unconformity-related uranium deposits. He is currently a Senior Geologist at Edmonton based Dahrouge Geological Consulting Ltd. Mr. McCallum has managed and conducted uranium exploration in and around the Athabasca Basin and other jurisdictions for multiple companies.
Garrett Ainsworth – Independent Director
Mr. Ainsworth recently led the NexGen technical team from June 2014 to April 2018, and was co-recipient of the 2018 PDAC Bill Dennis Award for the Arrow Uranium Deposit in the southwest Athabasca Basin, Saskatchewan. Prior to NexGen, Mr. Ainsworth was co-recipient of the 2013 AME BC Colin Spence Award. This honour was in recognition of his efforts which led to the discovery of the high-grade uranium mineralized system on the Patterson Lake South Project in the southwest Athabasca Basin, Saskatchewan, which is presently owned by Fission Uranium Corp.
Blair Jordan – Independent Director
Mr. Jordan was most recently Managing Director of Investment Banking at Echelon Wealth Partners Inc., and before that, spent nearly 10 years with Credit Suisse in London, New York and Tokyo. Before joining Credit Suisse, he was a securities lawyer with Bennett Jones LLP in Calgary. He holds an MBA from the Booth School of Business at the University of Chicago, and an LLB from the University of British Columbia. As a former banker, Mr. Jordan has extensive experience working in public markets.
Ms. Laurie Thomas – Vice President of Investor Relations.
Ms. Thomas is a Chartered Professional Accountant and Certified Professional in Investor Relations with more than 15 years of professional experience. Most recently, she held the position of Vice President Corporate Relations at UEX Corporation, a junior uranium and cobalt exploration company. She was responsible for leading and developing a high performing team accountable for shaping, articulating, and managing the UEX story and its strategic relationship with key stakeholders. Prior to UEX Corporation, Ms. Thomas worked with Cameco Corporation for 10 years where she held the position of Manager, Investor Relations.
---
*Disclaimer: This profile is sponsored by Standard Uranium (TSXV:STND). This profile provides information which was sourced by the Investing News Network (INN) and approved by Standard Uranium, in order to help investors learn more about the company. Standard Uranium is a client of INN. The company's campaign fees pay for INN to create and update this profile.
INN does not provide investment advice and the information on this profile should not be considered a recommendation to buy or sell any security. INN does not endorse or recommend the business, products, services, or securities of any company profiled.
The information contained here is for information purposes only and is not to be construed as an offer or solicitation for the sale or purchase of securities. Readers should conduct their own research for all information publicly available concerning the company. Prior to making any investment decision, it is recommended that readers consult directly with Standard Uranium and seek advice from a qualified investment advisor.