Overview

Nunavut, Canada's easternmost territory, was a marvel of natural resources and investment opportunities long before its split from the Northwest Territories in 1999. Since then, the territory has seen a mining and economic boom that many new, modern states rarely see. Mineral exploration investment has increased five-fold and Nunavut is now the northern leader in exploration investment.
On the global stage, Nunavut ranks within the best 30 jurisdictions worldwide based on the geologic attractiveness and government policies in support of exploration. The territory hosts a perfect storm of investor interest and several highly prospective precious minerals projects, including an operational diamond mine and permitting-stage gold projects.
Blue Star Gold (TSXV: BAU, FSE: 5WP0, OTCQB: BAUFF) is an exploration and development company focused on high-grade gold and silver projects in Nunavut. The company delivers a significant opportunity for value creation based on its highly prospective precious metal assets and resource growth potential. Blue Star's experienced and skilled team primes the company for success in mining endeavors and strong relationship formation with regulatory bodies and local communities.
Nunavut boasts a politically stable and mining-friendly jurisdiction. Over several decades, the territory has built significant investor relations in the natural resource sector and hosts some of the lowest capital, small business and corporate taxes in the country. These conditions strategically position Blue Star Gold for fast-tracked development and provide the excellent potential for resource expansion and future advanced drilling campaigns.
The company currently has two contiguous gold projects in operation, its flagship Ulu gold project and Hood River property. The Ulu gold project hosts an extensive high-grade gold resource that Blue Star intends on expanding in the future. New discoveries on this core asset also demonstrate high-quality mine transformation potential.
Ulu's main deposit called Flood Zone has approximately 605,000 ounces of gold measured and indicated at grades of 7.5 g/t gold over 2.5 million tonnes. Further inferred resources show an additional 226,000 ounces of gold at 5.57 g/t over 1.26 million tonnes.
The Hood River property is relatively unexplored but poses an exciting opportunity for precious metal discovery. Historic work from neighboring projects forecast promising gold yield, which has since been supported by high-grade surface samples on numerous showings on the property. Blue Star currently has over 20 gold drill targets identified for future resource growth.
When asked about immediate plans for the next 12 months, Blue Star Gold CEO Grant Ewing discussed advanced technological data collection and analysis. "We've had several generations of work, but no one has really put the data altogether. So that's the first step we've undertaken with this Ulu project." This foundational step would create an in-depth geological scaling model of the property compiled in a state-of-the-art GIS database.
Much of Blue Star's success can be attributed to its very supportive shareholder base and strong management team. Combining expertise from geological, exploration and financial sectors, the management and technical team primes the company for significant growth.
With a core gold asset and another very high-quality exploration project, the company has a clean focus that prioritizes development and stakeholder interests.
Company Highlights
Blue star Gold is a Vancouver-based junior resource company focused on exploring and developing high-quality gold and silver projects in Nunavut, Canada.
The company is currently operating two gold exploration projects, its flagship Ulu gold project and its Hood River project.
The Ulu gold property hosts two primary deposits, the Flood Zone and Gnu Zone. The Flood Zone deposit contains over 600,000 ounces of gold indicated at grades around 7.5 g/t gold with additional inferred resources.
The Hood River project presents Blue Star with an exciting exploration opportunity of over 20 prospective gold targets on the property. The limited exploration history also offers an entry-level opportunity for investors.
The company is currently building the first fully compiled GIS database for its projects. This database allows Blue Star to analyze mineral reports for better geological modeling and resource expansion.
Blue Star Gold is well-positioned with a strong shareholder portfolio. Currently, management and insiders hold over a third of the company.
Blue Star Gold acquired Roma Mineral Exploration Agreement consolidating 40 Kilometres of the High Lake Greenstone Belt
Key Projects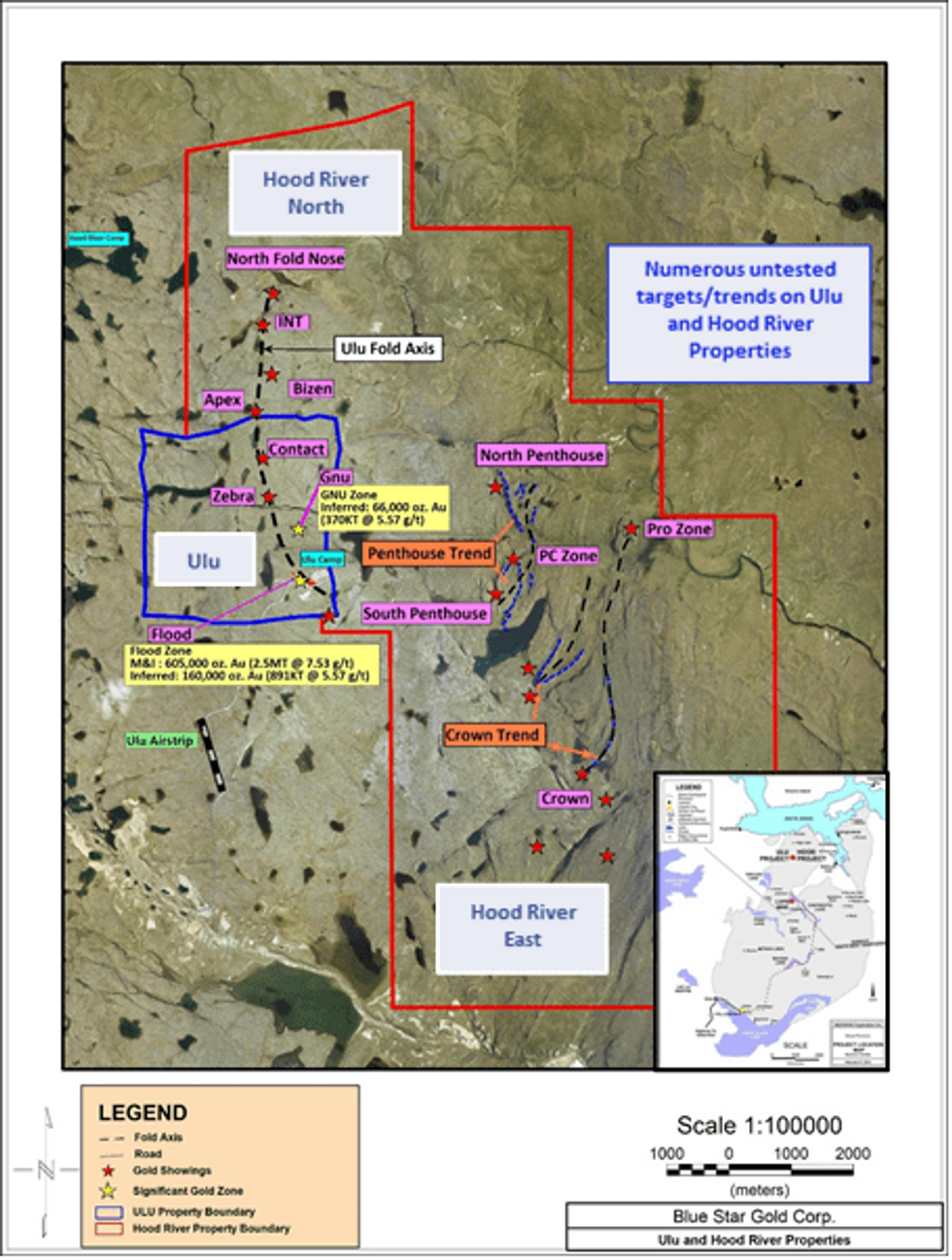 Ulu Gold Project
The Ulu property covers an area of 947 hectares approximately 523 kilometers north of Yellowknife, Northwest Territories, and within the Kitikmeot Settlement Area of Nunavut. The project site is accessible via fixed-wing aircraft or seasonal ice road and benefits from local infrastructure, including telecommunications, administrative and housing structures.
The property's main deposit, the Flood Zone, is a northwest-trending, shear hosted anastomosing vein/alteration system. A 2020 exploration program reported gold assay results that measured 14.95 g/t gold over 13.8 meters (upper zone) and 9.65 g/t gold over 6.0 meters (lower zone). Additionally, the secondary Gnu Zone deposit has seen partial drilling exposure of its inferred 66,000 ounce gold resource and it is open for expansion with numerous proximal targets.
In 2020, Blue Star conducted a significant diamond drilling program at its Ulu and Hood River properties. The operation included 7,624 meters of drilling over 38 diamond drilling holes.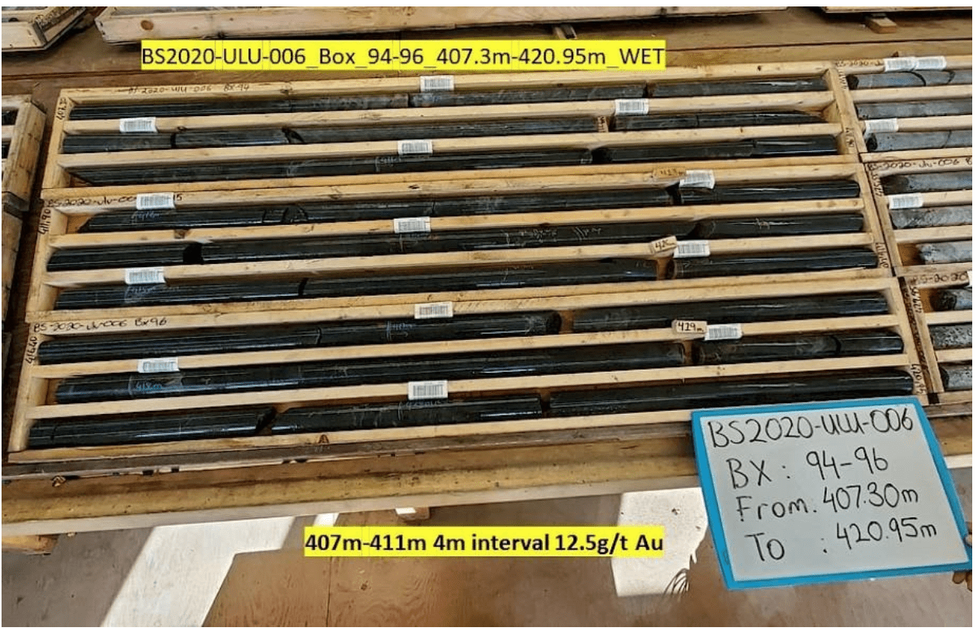 Future plans include an updated resource estimate, as well as exploration focused on expanding resources at the Flood and Gnu deposits. Past metallurgical tests indicate excellent gold recoveries, which poses exciting possible discoveries and economic prosperity in Blue Star Gold's future.
Hood River Project
The Hood River property spans an 8,015 hectare area in Nunavut, Canada, and has a 20 year renewable Mineral Exploration Agreement (MEA) issued by Nunavut Tunngavik in June 2013. The property covers the southern portion of the High Lake Greenstone Belt, known for rich gold resources and structural characteristics similar to the prolific Red Lake Belt in Ontario.
Exploration of the property identified 26 mineralized showings spread across five main zones: North Fold Nose, Crown, Penthouse South, Penthouse North and Blackridge. A 2019 drilling and prospecting program reported significant mineral samples graded between 3.9 g/t gold and 31 g/t gold, the highest of which was at North Fold Nose.
The project's underexplored history presents investors with an entry-level opportunity for this high-quality project. Blue Star Gold plans to conduct further prospecting and sampling to identify and prioritize prospective gold targets.
Management Team
Grant Ewing, P. Geo. - CEO
Grant Ewing is an accomplished mining executive with a strong technical foundation and solid business acumen. He is a professional geologist by background and has over 25 years of experience in the mineral industry and the last 10 years in senior executive roles.
Ewing's extensive knowledge base covers the entire mine development cycle, from early-stage exploration to production, in several different commodities. He has experience building value by managing the development of exploration assets from the discovery phase to economic evaluation. Strong corporate development and investor relations, merger and acquisitions and capital markets knowledge complement his mineral industry experience.
Ewing has experience with several successful mineral exploration and development companies at the executive level throughout his career, including Rockridge Resources, Kiska Metals/AuRico Metals and Acadian Mining, among others. Ewing is also a qualified person under National Instrument 43-101.
Robert Metcalfe - Chairman & Director
Robert James Metcalfe is a lawyer and was a senior partner with the law firm Lang Michener LLP for 20 years. He is the former President and CEO of Armadale Properties and Counsels to all of the Armadale Group of Companies, with significant holdings across numerous industries including finance, construction of office buildings, airport ownership, management and refurbishing, land development and automotive dealerships as well as newspaper publishing, radio and television stations. Metcalfe has served as president, CEO, lead director, chairman and committee member on numerous publicly listed natural resource and industry company corporate boards in Canada, the USA, England, South America and Africa.
As director and shareholder, Metcalfe has been engaged in numerous acquisitions, divestitures, corporate reorganizations, financings and corporate improvements, and served on multiple special committees across many sectors. He is a member of the Institute of Corporate Directors and a member in good standing of the Law Society of Upper Canada.
Andrea Yuan - CFO
Andrea Yuan is a Chartered Professional Accountant in British Columbia and a Certified Public Accountant in New Hampshire. Yuan obtained her Bachelor of Economics from Shanghai University of Finance and Economics in 1994 and started her career as an internal auditor and then as team head of the internal audit department at the Bank of China's Shanghai Pudong branch in China from 1994 to 1999. After arriving in Canada in 1999, she worked in various senior accounting positions. From 2004 to 2011, she worked at Davidson and Company LLP, Chartered Accountants, where she advanced to an audit principal. In November 2011, Yuan started her own financial and management consulting company, Black Dragon Financial Consulting Services Inc. She acted as CFO for several public companies listed on the TSX Venture Exchange.
Darren Lindsay, P. Geo. - Vice President Exploration
Darren Lindsay is a registered professional geoscientist in BC, NU and NT with over 25 years of mineral exploration experience across four continents, focusing on orogenic gold systems. In addition to more than 15 years working in the Slave Structural Province with BHP Minerals, Inmet Mining, Miramar Hope Bay, Newmont and NxGold, Lindsey has also worked on orogenic gold deposits in Ontario, Guyana, Ghana and Western Australia. He was directly involved with and led teams for belt-scale exploration, resource expansions, and feasibility level studies of gold deposits in the Hope Bay Belt, Nunavut. Also, Lindsey was a key member of the team that defined prospective stratigraphy hosting the northern deposits of the Hope Bay belt that led to the targeting and substantial expansion of the mineral resources leading to the purchase of Miramar Hope Bay by Newmont.
Lindsey holds a B.Sc. honors degree in geology from the University of British Columbia and a B.Sc. honors degree in biochemistry from Carleton University.
Peter M. Kuhn - Technical Advisor
Peter M. Kuhn is a proactive mining executive recognized for vision and creative problem solving with extensive experience in international projects. He has held senior positions with Thyssen Mining Construction, BLM Mining Services in Sudbury, Bullion River Gold and his own private company. In 2014, he joined WPC Resources and was General Manager of Blue Star Gold Corp. until he was appointed a Technical Advisor. Kuhn holds a Master of Engineering degree from the Technical University of Clausthal, Germany.
Eugene Flood - Technical Advisor
Eugene Flood is a professional geologist with more than 35 years of experience in Canada and internationally. Flood discovered the Flood Zone on the Ulu property in June 1989 for BHP Minerals and found several additional mineralized zones on this property, including the Central Zone, West Limb, East Limb, South Zone, Gnu Zone, Zebra, Apex, and the Northern Fold Nose Zone. Flood has also been involved in all aspects of the Ulu project, including mapping, drilling and calculating the first resource on the Flood Zone and identified the Doris Lake area in North Hope Bay, Nunavut.
As the owner of Flood Consulting, he has provided GIS-based spatial prospectively analysis for such clients as Goldfields, B2 Gold and Goldcorp. Currently, he acts as technical advisor to Aurion Resources in the Central Lapland Greenstone Belt in Finland. In addition to 10 years working in the Slave Structural Province, Eugene has also worked on orogenic gold deposits in Ontario, Sweden, Finland, French Guyana and Brazil.
Flood graduated from Lakehead University with a B.Sc. degree in geology in 1985.
Request an Investor Kit
EXCITING upcoming projects!
IN-DEPTH reliable insights!
SUCCESSFUL growth strategies!
VALUE-BASED content!
Blue Star Gold