Overview
The Pacific Ring of Fire is home to a 12,000 km trend that contains rich gold and copper deposits. And while various countries located along the Ring of Fire have established mining industries, Fiji remains a hidden gem for the mining industry — one that's ripe for exploration, development, and production.
Fiji is a country composed of over 300 islands and is best described as a hotbed for seismic activity. Fijian islands like Viti Levu, when combined with historical seismic activity, present favorable conditions for mining. In fact, Viti Levu contains an estimated 5.2 million ounces of gold and 4.9 million tonnes of copper. Plus, Fiji features an 80 year history of mining on the island, possesses an experienced mining workforce, robust infrastructure and a mining friendly government.
Thunderstruck Resources (TSXV:AWE,OTC:THURF) is a Canadian mineral exploration company with a promising portfolio of projects located on Fiji's main island of Viti Levu. Recent and historical exploration data of these projects has confirmed the presence of zinc, copper and precious metals mineralization. This diversified project portfolio allows investors exposure to each of these markets. Thunderstruck Resources is led by a strong, experienced management team with decades of applicable experience in geology, mining and international finance.
According to Bryce Bradley, Thunderstruck's CEO, Fiji presents the perfect opportunity for Thunderstruck Resources investors. In an interview with Adelaide Capital, she explains, "Fiji is really underexplored because of its remoteness. People were wondering, why invest in something so remote? Well, it's precisely because it's so remote that it has not been picked over and that it's ripe for exploration. The Vatukoula Gold mine, located near the Thunderstruck projects, has been in operation for over 80 years. This means that there is a skilled labor force, the island is mining-friendly and that there is a fully-developed infrastructure."
Thunderstruck Resources project portfolio covers approximately 3 percent of Fiji's main island of Viti Levu. The company's complete project portfolio consists of underexplored projects that have already indicated the presence of valuable minerals. Liwa Gold, the company's flagship project has had geochemical and geophysical programs conducted recently, indicating the potential to become a high-grade gold and silver-producing project. A maiden drilling program and further exploration commenced in the fall of 2021.
There have been four priority gold zones identified throughout the Liwa Gold project, over 3km, with each area having promising rock and soil sample results that indicate the presence of high-grade gold and silver. Multiple geochemical and geophysical survey campaigns have provided further evidence of high-grade precious minerals.
Company Highlights
Thunderstruck Resources has an impressive portfolio of projects located on Viti Levu, the main island of Fiji
Fiji is located on the Ring of Fire, which contains hundreds of volcanoes that have created mineral-rich areas
Due to its remoteness, Fiji has remained largely unexplored, which presents a valuable opportunity to Thunderstruck Resources and investors
Fiji does have a history of long-running mines, creating a strong infrastructure and trained workforce
The company's flagship project contains four priority gold zones, with multiple testing and sampling methodologies indicating the presence of high-grade gold and silver
The rest of the company's portfolio contains prospects with gold, silver, copper and zinc.
Thunderstruck Resources is led by a strong management team with decades of applicable experience
Key Projects
Liwa
This project is located on Fiji's largest island, Viti Levu. The Liwa project has four high-grade gold prospects within a 3-km structural corridor. Thunderstruck's recent geochemical and geophysical surveys returned the following:
Liwa Ridge saprolite trenching returned 0.61 g/t Au over 71 m including 1.2 g/t Au over 26m, and surface vein float up to 11 g/t Au
Lower Vatuvatulevu soils anomaly returned 8 soils over 160 m ridge line including 5 returning 707, 804, 894, 1050 and 2,480 ppb Au in soil. Follow‐up surface prospecting yielded a single float rock assaying 42 g/t Au and 1,205 g/t Ag
Jensen's prospect 55 g/t Au in outcrop of narrow base metal rich vein
Gun Showing rock float returned 0.44 g/t Au, including 25.5 g/t Ag
The project has a five year Special Prospecting License (SPL) and landowner agreements in place, the maximum allowed under Fijian law. The Liwa Gold exploration project is owned 100% by Thunderstruck Resources and is actively being explored.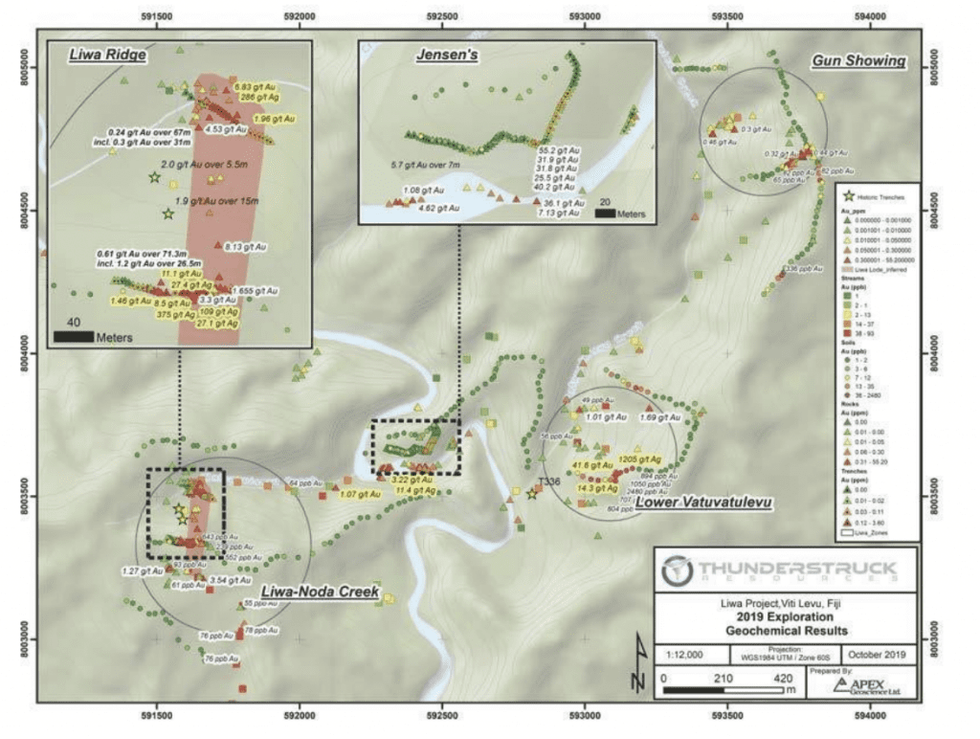 Korokayiu
This 136 square kilometer project contains a high-grade zinc-copper mineralization that was discovered and drilled by Anglo Pacific in 1977. The results indicated the presence of a mineralized zone that contained zinc, copper and silver.
A 2019 drill program comprised 7 drill holes, totaling 904 m, and verified the presence of historically reported zinc-copper massive mineralization, and in select holes more than doubled historically reported results.
Korokayiu Cu-Zn Deposit 2019 Significant Diamond Drill Intercepts

Rama
Historical drilling on this copper/gold porphyry was conducted by Anglo Pacific in 1975. Results returned 244m at 0.22 percent copper between six and 250 meters, along with 0.23g/t gold between 6 and 72 meters. Further soil sampling produced similar numbers, 240m average 0.27 percent copper and 0.15 g/t gold.
Thunderstruck Resources recently doubled the copper-gold target to 1.5 kilometers in length by using systematic soil sampling, which led to the discovery of the Senikura gold zone. This new gold zone trenched 0.55 g/t gold over 38m, including 0.96 g/t gold over 11m in a weathered outcrop. Thunderstruck Resources is currently conducting exploration operations into the newly discovered gold zone. This project is 100% owned by Thunderstruck Resources.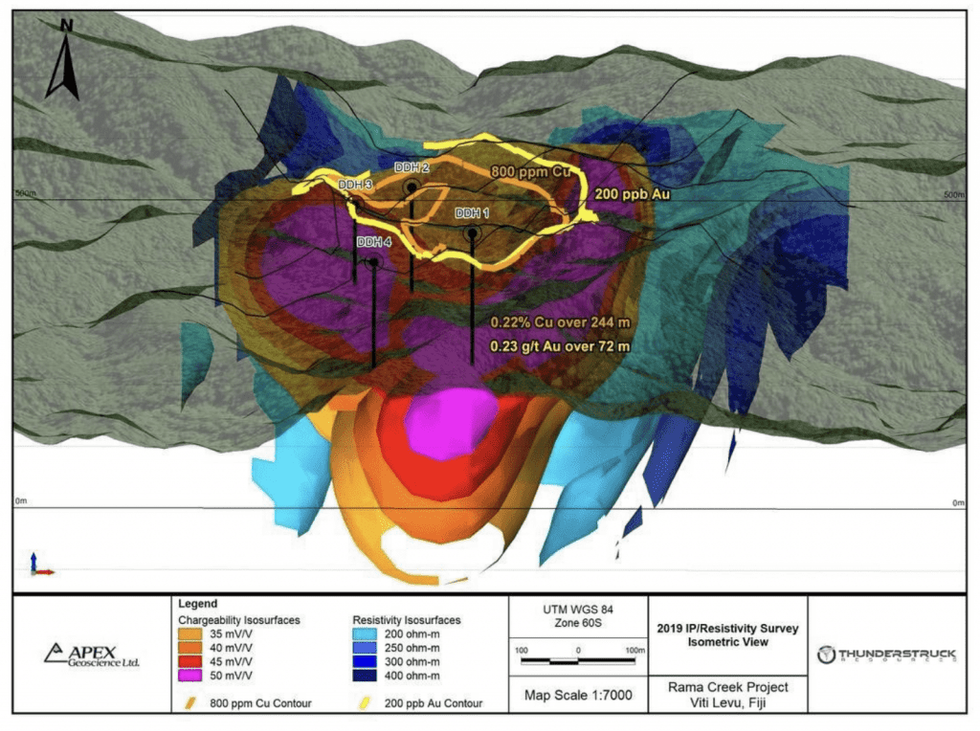 Nakoro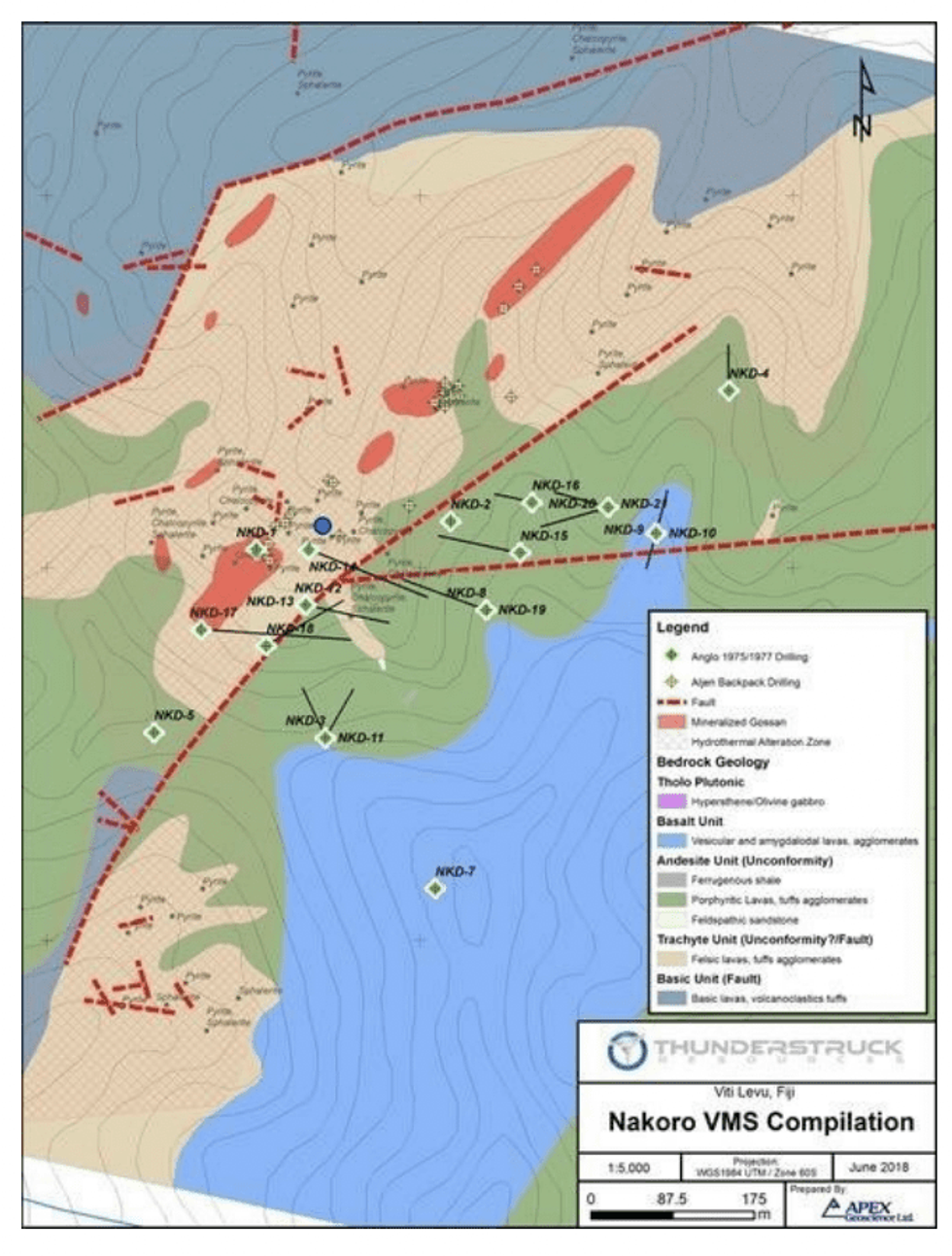 This project is characterized by the presence of a zinc-copper volcanogenic massive sulfide deposit. Anglo Pacific previously intersected this deposit and yielded high-grade values, including 12m at 12.7% zinc and 0.3% copper. This project is 100% owned by Thunderstruck Resources. Nakoro shares similar VMS mineralization to the Korokayiu prospect.
Management Team
Bryce Bradley – President & CEO, Co-Founding Director
Bryce Bradley (CEO/President) With a strong background in Capital Markets and Investment Banking, Ms. Bradley has facilitated the structuring and financing of dozens of private and publicly traded small and micro-cap companies. She founded and served as President of two Canadian merchant banks focused on capital raising and advisory services for mining exploration companies. Ms. Bradley co-founded and financed Thunderstruck Resources and has served as Director, President and CEO since securing its suite of Fijian assets and taking the company public on the Toronto Stock Exchange in 2013.
Wilson Michael – Chief Financial Officer
Wilson Michael is a Fijian national and has acted as CFO for other resource companies in Fiji. He is familiar with industry-specific accounting requirements and brings a sound knowledge of Fijian business practices and regulatory issues. He previously worked in various roles as an accountant, CFO and manager for a variety of companies in the Pacific Islands, including property developers, international shipping operators, mobile phone companies and local municipalities. He is an Associate of the Institute of Chartered Secretaries and Administrators.
Rob Christl – VP Business Development & IR
Mr. Christl is an early supporter and long-term shareholder of Thunderstruck. In 2015 he completed his Exempt Market Products Course (EMD), raising money for both public and private companies with Robson Capital, of Vancouver Canada. In 2018 Rob joined Thunderstruck as Investor Relations Manager, building the Company's shareholder base through direct communication and social media platforms. Rob brings a wealth of capital raising and marketing experience to his role at Thunderstruck, with a vested interest in the Company's success. During the last year, Rob has been steadily growing Thunderstruck's exposure in the market by engaging and building relationships with brokers, funds, investors and other industry groups. He will continue to do this in his new role, effective February 2021, as VP Business Development and Investor Relations.
Brien Lundin – Co-Founder and Chairman of the Board
Brien Lundin is a co-founder and Director of Thunderstruck Resources, Ltd. His decades-long career has included analyzing and speculating in the metals, mining and technology sectors. Lundin also serves as President and CEO of Jefferson Financial, Inc., a private company that hosts the annual New Orleans Investment Conference, which is now in its 47th year of educating investors. In addition, he edits and publishes Gold Newsletter, which stands as the oldest continuously published precious metals and mining advisory, having served as the cornerstone of the industry since 1971.
Lawrence Roulston – Director
Lawrence Roulston is a mining professional with over 35 years of diverse experience as a mining analyst and consultant. He is Managing Director of WestBay Capital Advisors, providing business advisory and capital markets expertise to the junior and mid-tier sectors of the mining industry. Previously, he was the editor of Resource Opportunities, an independent investment publication focused on the mining industry. Roulston holds a B.Sc. in geology. He is Chairman of Metalla Royalty and Streaming Ltd. and an advisor to Metallis Resources Inc.
Linnea von Hessert – Director
Linnea von Hessert is a geologist with over 20 years of experience in the mining industry, having worked for majors and juniors as well as the Bureau of Land Management in Nevada. She is an active investor with significant holdings in the mineral exploration industry. She graduated from the University of Montana with a B.S. in geology in 1999.
Tookie Angus – Advisor
Tookie Angus has spent the last 40 years focused on the structuring and financing of significant international exploration, development and mining ventures. Angus is the former chairman of the board of B.C. Sugar Refinery Ltd.; he was a director of First Quantum Minerals until June 2005, a director of Canico Resources Corp. until its takeover by CVRD in 2005, and a director of Bema Gold until its takeover by Kinross Gold in 2007. More recently, he was managing director of mergers and acquisitions for Endeavour Financial, a director of Ventana Gold until its takeover by AUX Canada Acquisition in 2011, and a director of Plutonic Power until its merger with Magma Energy in 2011. He was until recently Chairman of Nevsun Resources Ltd. He is currently Chairman of K92 Mining and Sun Summit Minerals.
Request an Investor Kit
EXCITING upcoming projects!
IN-DEPTH reliable insights!
SUCCESSFUL growth strategies!
VALUE-BASED content!
Thunderstruck Resources