Overview
The green energy industry is booming. Unprecedented positive trends seen year after year present junior mining companies with exceptional growth potential as vital minerals like graphite and lithium needed to power alternative energies surge in demand.
Market research estimates that worldwide graphite output needs to increase by nearly 500 percent by 2050 in order to meet growing demand for energy storage. If you are an investor looking for exposure in this market, there is not better time to invest
South Star Mining (TSXV:STS,OTCQB:STSBF) is set to contribute to filling this global graphite demand. It currently operates its flagship Santa Cruz graphite project in the mining-friendly jurisdiction of Brazil. The project is nearing construction and is slated for the first production in 2022.

"This is a production story, it's not something that's going to take years to come to life. We have 12 months of construction and commissioning already scheduled," stated South Star CEO Richard Pearce.
The company operates in what is arguably the best region worldwide to be developing a new graphite project. Brazil currently produces upwards of 90,000 tonnes of graphite on an annual basis and has a significant internal demand for the product, which advantageously positions South Star as a first mover in the South American graphite production space. More than that, once in production, South Star will become the first new graphite producer in the Americas in a decade.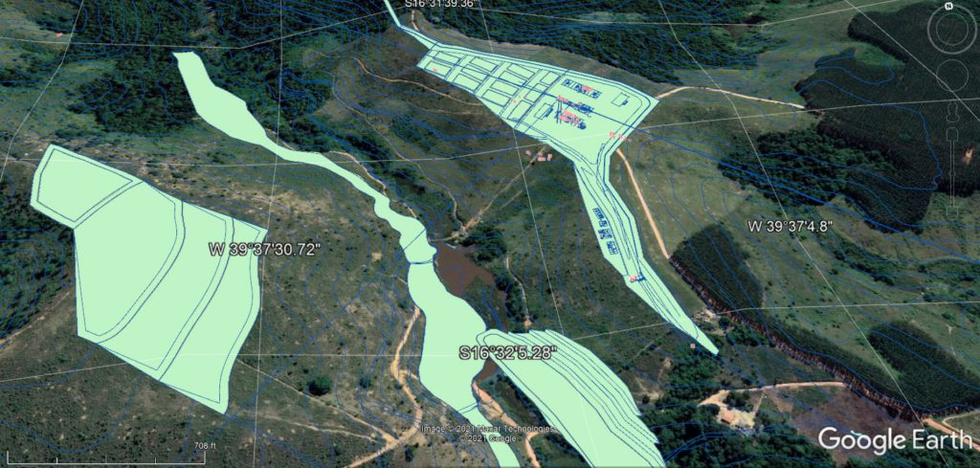 The flagship Santa Cruz graphite project sits in the second largest flake graphite producing district in the world. This robust project hosts the perfect storm of large flake ore mineralization and production quality concentrates of over 95 percent purity.
South Star has been quick to advance its flagship asset for production readiness. In October 2020, the Phase 1 environmental permit was approved, and in December 2020, South Star released exciting news that it received the mining permit for its 5,000 tonnes per year (tpy) Phase 1 pilot plant. Permitting and licensing for Phase 2 operations are already underway and documents will be submitted in December 2021.
Phase 1 development projections for Q4 2022 position the company for its larger-scale concentration plant. This should advance the Phase 2 schedule by approximately 12 months.
The company plans to continue its development plans towards Phase 1 production in Q4 2022. Leveraging the rapidly growing graphite demand and positive market outlook, South Star aims to become a significant producer in the battery metals space.
South Star projects it will be ready for commercial production in late 2022. Since its conception, South Star has been quick to begin constructing and commissioning the necessary infrastructure and parameters for production. The company intends to start small and scale up operations in a well-engineered multi-phase plan to control risks.
In recent news, South Star Mining is providing disclosure regarding the security package regarding the $US28 million streaming agreement with Sprott for the Santa Cruz Graphite Project in Brazil. South Star Graphite Canada, discloses that, per the promissory note, the company's obligations are guaranteed. This is limited to certain collateral subject to the initial share pledges. The funding agreement is further guaranteed by SSGCC, Brasil Graphite, and Brazil Grafite Mineração.
South Star Mining's management team includes experienced mining heavyweights, mine builders and operators. The unparalleled local expertise, proven track records of success and vested interest in company success prime South Star for exceptional growth and project achievements.
Company Highlights
South Star Mining is an emerging mining production company focused on acquiring and developing near-term production projects in Brazil.
The company's flagship Santa Cruz graphite project leverages mining-friendly conditions and strategic positioning in the second largest flake graphite producing district in the world.
Santa Cruz is an open-pit deposit with 15 drill-ready targets across a 13,000-hectare property. The entire land package hosts widespread mineralization, according to the Brazilian Mining Authority.
South Star's current market capitalization stands at only 2.5 percent of its project NPV (pre-financing).
The company operates a two-phased approach for project development to minimize risk and intelligently allocate capital for shareholder value. This low CAPEX approach includes a pilot plant and large plant phase following bench scale and plant testing programs.
South Star Mining recently received a streaming agreement through Sprott, worth up to $US28 million.
The company announced the start of its Phase 1 construction at the Santa Cruz Graphite mine in May, 2022.
South Star is committed to a corporate culture, project execution plan and safe operations that embrace the highest standards of ESG principles based on transparency, stakeholder engagement, ongoing education, and stewardship.
Key Project
Santa Cruz Graphite Project
The Santa Cruz graphite project consists of 13 approved exploration licenses covering approximately 13,000 hectares in the Bahia State of Brazil, the second largest flake graphite producing district in the world.
Extensive development has been completed to date on the property, including over 7,000 metres of drilling and a successful pilot plant test on over 30 tonnes of mineralized material. In 2017, the South Star completed a PEA technical report for the project that indicated resources of 14,990,400 tonnes at 2.70 percent graphite and inferred resources of 3,572,100 tonnes at 2.90 percent graphite. An NI 43-101 PFS and updated resource estimate have also been completed.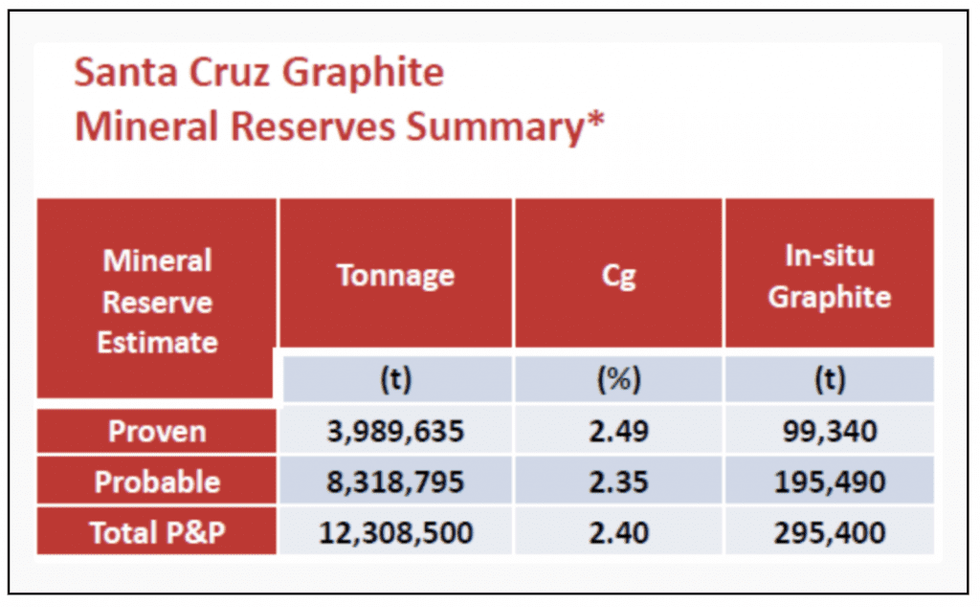 Phase 1 operations included a 5,000tpy fully licensed pilot plant. Phase 2 operations represent a larger scale concentration plant with 25,000 tonnes per year planned production scalability and environmental work program scheduled. The company plans to continue its development plans towards Phase 1 production in Q4 2022.
South Star Mining recently received a streaming agreement through Sprott, worth up to $US28 million to further pursue this project. On May 18, 2022, South Star commenced its groundbreaking start of Phase 1 construction.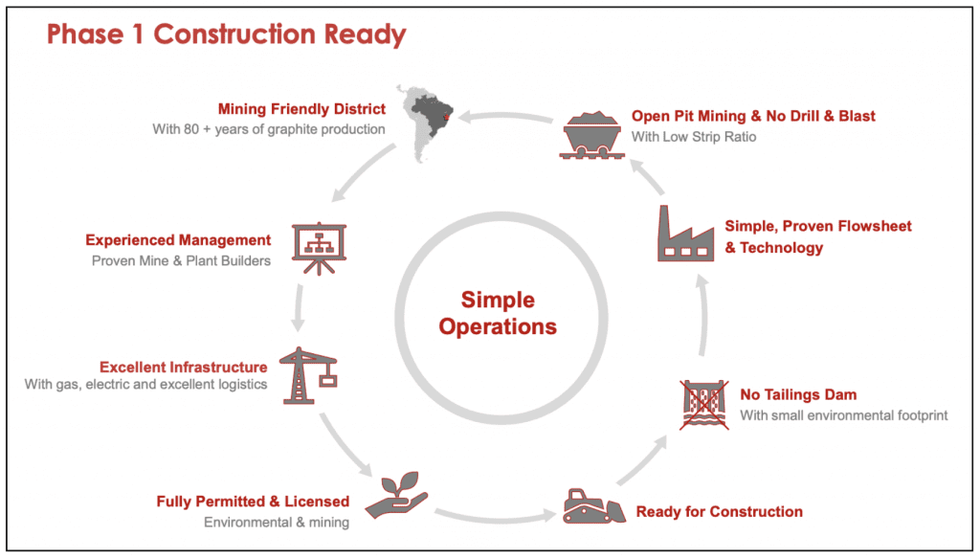 The property hosts sizable geologic upside, with 95 per cent of the project unexplored. After financing, South Star intends on developing the project's 10 to 15 drill targets and marketability of Santa Cruz's high purity flake production.
Alabama Graphite Project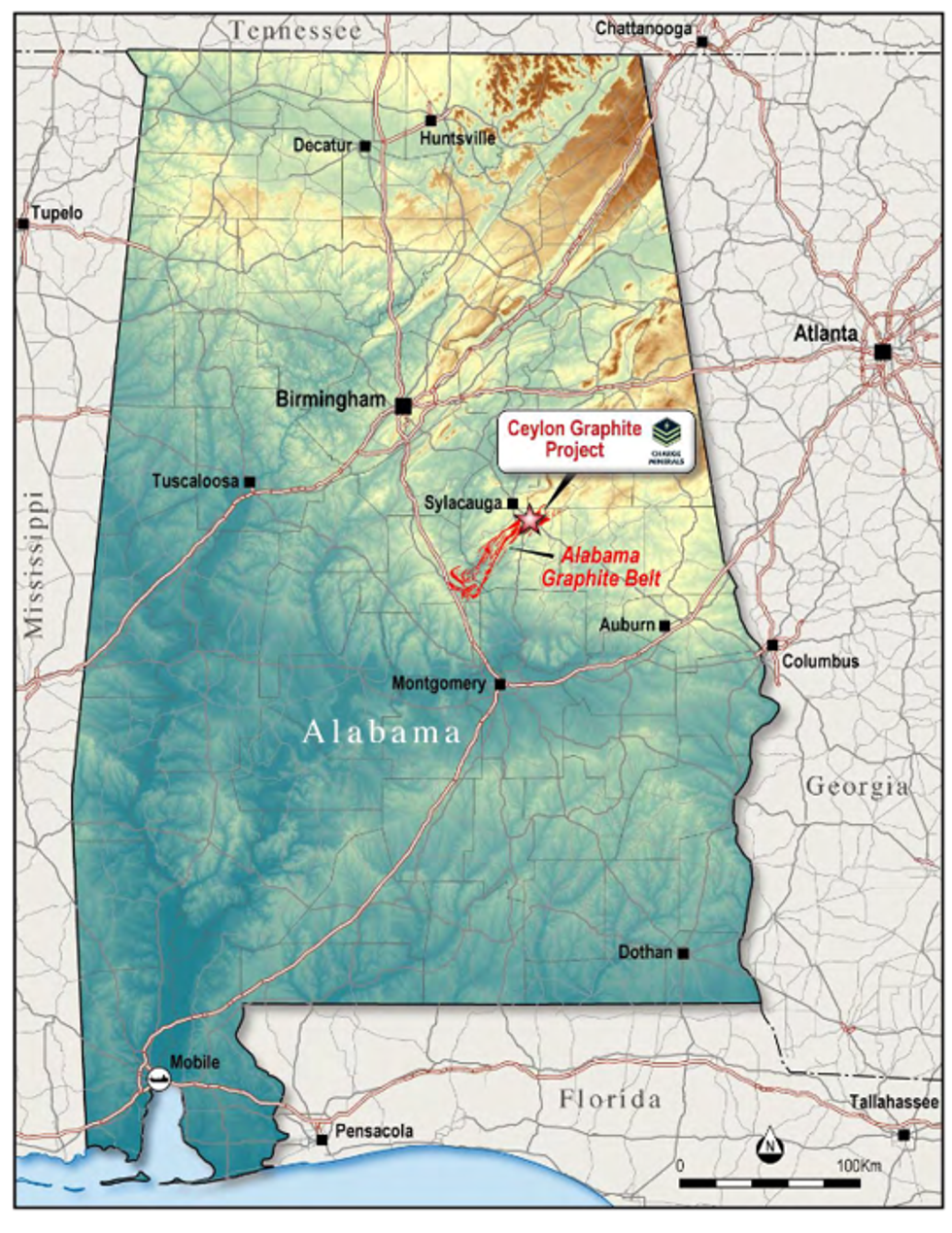 South Star Mining identified a project on the northeast end of the Alabama Graphite Belt. The property covers approximately 500 acres, positioned in Coosa County. It's a historic mine, active during both of the World Wars. Historically, the Ceylon Graphite mine targeted outcropping graphite mineralization, with an average between three and five percent carbon. The mineralization is at the surface, where the graphite host was originally mined with shovels and excavators. This shows potential upside for modern mining approaches.
South Star is preparing for its first phase exploration, with initial work including RC drilling to further define the extent and structure of the deposit. It will be combined with additional field mapping and surface sampling. This first phase is tentatively scheduled to begin early in 2022.
Subsequent phases will include diamond core drilling, bench and pilot scale metallurgy, preliminary resource estimation and engineering. South Star will also continue to expand and develop the excellent relationships with the community, as well as with local, state and federal agencies, originally established by the Charge Minerals' team.
The Alabama Graphite Project recently received results from a regional-scale and local geologic and structural mapping and sampling program. It showed over 29 trenches, totalling 2,769 linear meters, dug to a two-meter depth. The results resulted in upwards of 765 samples, plus standards and duplicates, being analyzed. The GIRCU Laboratory in Guangzhou, China tested 10 representative samples. It indicated a crush-grind-flotation concentration of 96 to 97 percent, with recoveries of approximately 86 percent. The study described the ore as well-liberated and easy to process.
Management Team
Richard Pearce - CEO & Director
Richard Pearce is an entrepreneur and founding partner with over 20 years of experience in planning and managing complex operations throughout the Americas. He has been based in Brazil since 2008 and worked throughout the country. He has a wide range of consulting and advisory experience including technical services, project & asset development, corporate advisory services, business administration and incorporation services, deal origination, mergers and acquisitions advisory, construction, and operations. He is based out of São Paulo, Brazil and is a native speaker of English, as well as fluent in Portuguese and Spanish. Country experience includes Canada, the US, and most countries throughout Latin America. He is passionate about supporting companies and helping them grow and explore the Brazilian markets. He is also a qualified person (QP) as defined by NI 43-101.
Marc Leduc - Chairman
Marc Leduc is a mining engineer and geologist with over 30 years of experience involving all aspects of the development, operations, planning, and evaluation of mining projects including over 20 years in Latin America. Leduc served as the President and CEO of Luna Gold, operator of the Aurizona mine in Brazil, from 2015 to 2016. He holds a bachelor's of science in mining engineering, with honours, from Queen's University and a bachelor's of science in Geology from the University of Ottawa.
Bennett Liu - CFO
Bennett Liu joins South Star from Red Fern Consulting, a full-service accounting group that provides financial and support services for public companies including accounting, regulatory compliance, audit management, and financial reporting. Liu has served as chief financial officer for multiple publicly traded companies, including TSXV- and CSE-listed enterprises, with a focus on the resource sector. He received his bachelor's of technology in accounting degree from the British Columbia Institute of Technology.
Eric Allison - Director
Eric Allison has over 36 years of experience in the natural resource industry, working in technical, business, project development, and management roles. He formerly served as CEO and COO of Brazahav Resources, a private entity developing a brownfield gold mine project in Brazil. Previously, he was the director of research and chief geologist at Casimir Capital, specializing in junior mining companies and served as the director of business development at Sempra Commodities. Over his career, Allison has also served in various roles for Cyprus Amax Minerals, Amax Energy, SPG Exploration, and Texaco. He has served on the boards of several private and public companies.
Felipe Holzhacker Alves - Director
Felipe Holzhacker Alves is a professional mining engineer with a master's degree in political economics of resources from the Colorado School of Mines. He is a Brazilian native who combines international capital markets experience with an extensive local network of governmental and regulatory agencies, resource financiers, and technical, legal, and tax consulting services. Alves is the founder and CEO of Frontera Minerals, a Brazil-focused exploration and project development company. He previously held various roles at Rand Merchant Bank, where he was mainly responsible for Latin American Investments. His technical experience includes roles at open pit and underground mines. He is currently a board member of Trek Mining and the president of Brazilian Commission for Resources and Reserves (CBR), Brazil´s equivalent to NI 43-101 in Canada.
Daniel Wilton - Independent Director
Daniel Wilton has 25 years of experience in mergers and acquisitions, corporate finance, and principal investing in the mining sector. He was most recently a partner at Pacific Road Capital Management, a mining-focused private equity investment firm with approximately C$800 million under management. At Pacific Road, Wilton reviewed a number of projects in Brazil, led the investment in Luna Gold, now Equinox Gold, and financed the development of the Aurizona gold project through critical pre-feasibility and permitting activities. Prior to joining Pacific Road, his roles included managing director and head of the Global Mining and Metals Group at National Bank Financial and other corporate finance and mergers and acquisitions roles at global institutions based in London, Toronto, and New York.
Key Team Members - Santa Cruz Graphite Mine Phase Construction and Operations
Julio Jose Da Silva - General Mine Manager
Julio Da Silva is a mechanical engineer and project manager with over 22 years of experience in the mining and mineral resource sector in Brazil. His expertise includes operations, maintenance, engineering, construction, open-pit mining, metallurgy, placing plants on care and maintenance, mine start-up, quality assurance and control, inventory controls, security, logistics, and the general operations of mine management. He has held various senior management positions at Mineração Morro Verde, Luna/Trek, Yamana, and Aura Minerals. He has degrees in mechanical engineering and project management and is a native Portuguese speaker with intermediate English.
Marcia Cota - Controller and Finance Manager
Marcia Cota is a finance professional with more than 20 years of experience in controls, treasury, finance, data analysis, ERP implementation, tax, audits, cash flow management, logistics, budgeting, and forecasting. She has held several senior management positions in Brazil and overseas with Net Brasil, W Torre, Genea Angola, Locar Guindastes e Transportes, and Mineração Morro Verde. She has a master's of business administration with a specialization in advanced finance analysis. She is a native speaker in Portuguese and fluent in English.
Antonio de Assis - Sales and Marketing Director
Antonio Assis has over 30 years of sales and marketing experience, with much of that time spent in the natural flake and synthetic graphite markets. He has a long, successful career and has held various senior sales, marketing, and business development positions with Syrah Resources, Nacional de Grafite, Technografit, and Grupo Unimetal. Throughout his career he has worked on overseeing sales teams, creating marketing plans to increase exposure and sales, and developing extensive commercial relationships in the industrial and value-add graphite markets in more than 50 countries around the world. His expertise includes prospecting, sales, marketing, customer relations, technical performance, customer support, contracts, and negotiations. He has degrees in business administration as well as marketing and sales, in addition to being fluent in Portuguese, English, and Spanish.
Marcelo Castro - Construction Project Manager
Castro is a mechanical engineer with over 25 years of engineering, design, construction, and project management experience, with most of that expertise focused in the mining and mineral resource space in Brazil. Castro has been involved with large construction projects with CAPEX of over US$100M, as well as overseeing large teams associated with EPCM projects. He has held various senior project management positions with Lyon Engineering, Beadell, Luna, and Ausenco. He has degrees in mechanical engineering, business administration for engineers, and workplace safety engineering. Castro is native Portuguese speaker and fluent in English.
Luciano Lazaro - Supply Chain and Procurement Manager
Luciano Lazaro is an experienced supply chain manager with more than 30 years of experience with supply chain, procurement, logistics, COMEX, contracts, and planning and controls. He has held several senior positions with Vale, Ericsson Telecommunications, Brazilian Pipeline Carriers, Anglo Ferrous, Aura Minerals, Ferrous Resources, Luna, and Mineração Morro Verde. He has degrees in economic sciences, urban and regional planning as well as project management. He is a native speaker of Portuguese and fluent in English.
Request an Investor Kit
EXCITING upcoming projects!
IN-DEPTH reliable insights!
SUCCESSFUL growth strategies!
VALUE-BASED content!
South Star Battery Metals