Overview
Pan Global Resources (TSXV:PGZ,OTC:PGNRF) is a junior resource company in pursuit of base and precious metals projects in Spain. The company's flagship Escacena project is located in southern Spain's Iberian Pyrite Belt, a world-class volcanogenic massive sulfide (VMS) district that hosts at least nine giant VMS ore deposits (>100 million tonnes) and several operating mines.
Pan Global's land package in the Iberian Pyrite Belt totals approximately 5,760 hectares and lies directly adjacent to the Aznalcollar (>70 million tonnes) and Los Frailes (>90 million tonnes) deposits. The Escacena project is also located only 12 kilometers from the active Cobre Las Cruces mine (42 million tonnes at 2.95% copper) which has been mining grades of more than 5% copper in the open pit. Pan Global is currently focusing on two targets at Escacena, the La Romana massive sulfide copper deposit and the Cañada Honda gravity anomaly. Recent drill results at the La Romana target have returned high multi-metal (copper, tin, silver, zinc) grades from near surface with every hole hitting mineralization indicating the potential for a large size deposit. Escacena's exceptional land position, great infrastructure and multiple large untested targets make it an exciting prospect for the company.
Pan Global Resources Project Location and Infrastructure Map – Southern Spain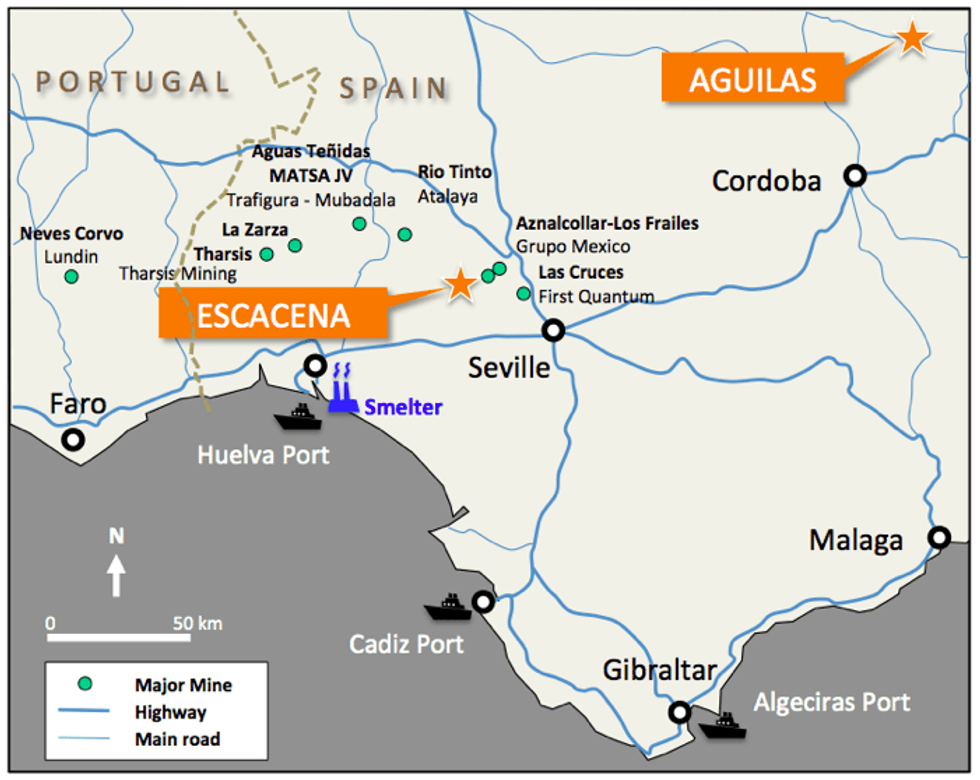 Pan Global has been exploring the Aguilas project since 2017 which comprises more than 16,000 hectares in northern Andalucia, Spain. The Aguilas project contains several major faults and breccia structures with indications of hematite-dominant iron oxide copper-gold (IOCG) and polymetalic lead-zinc-silver mineralization.
Company Highlights
Pan Global's exploration activities are focused in the mining friendly jurisdiction of Andalucia, Spain
Flagship Escacena project is located in Spain's Iberian Pyrite Belt, a world-class VMS district host to at least 9 ore deposits and several operating mines
Iberian Pyrite Belt hosts several exploration and mining companies, such as Lundin, Grupo Mexico, First Quantum, Trafigura, Mubadala, Atalaya and juniors including Avrupra Minerals, Ascendant Resources and Emerita Resources
Escacena project includes the recent La Romana copper-tin-silver discovery and several other large untested targets
Escacena project is located adjacent to the Aznalcollar-Los Frailes mines and only 12 kilometers from the active Cobre Las Cruces mine, one of the highest grade open pit copper mines in the world
Aguilas project has returned high-grade drill intervals up to 16.85 % lead, 1.9 % zinc and 85 g/t silver
Pan Global's strong management team has a track record of discoveries in Spain and brings decades of resource industry experience and expertise to the company
Key Projects
Pan Global Resources' Escacena Project
In June 2017, Pan Global Resources acquired the Escacena project. The project hosts two large gravity anomalies, La Romana and Cañada Honda. Historical wide-spaced drilling at the La Romana gravity anomaly confirmed massive sulfide and stockwork mineralization including a best drill interval of 4.68 meters at 2.94 percent copper.
Exploration
Pan Global Resources began its initial exploration of the Escacena project in early 2019, including gravity, induced polarity (IP) and geochemical surveys. The results of this initial exploration work confirmed the La Romana and Cañada Honda gravity targets, allowing the company to move forward with drilling.
Pan Global Resources commenced drilling in July 2019, testing shallow IP targets previously identified at the La Romana and Cañada Honda targets. This included two drill holes at La Romana and one drill hole at Cañada Honda, totaling 547 meters. Channel sampling of the Cañada Honda mine tunnel at the Escacena project returned 26 meters at 0.43 g/t gold and up to 2.91 g/t gold and 0.39 percent copper.
In October 2019, Pan Global announced the results of its first two drill holes at Escacena testing the La Romana target, including discovery drill hole LRD-02 at La Romana with 20.55m at 1.5% copper equivalent. Both drill holes LRD-01 and LRD-02 intersected shallow volcanic-associated copper stockwork, semi-massive and massive sulphides.
Pan Global Resources Escacena Project Area Map (~5760 ha)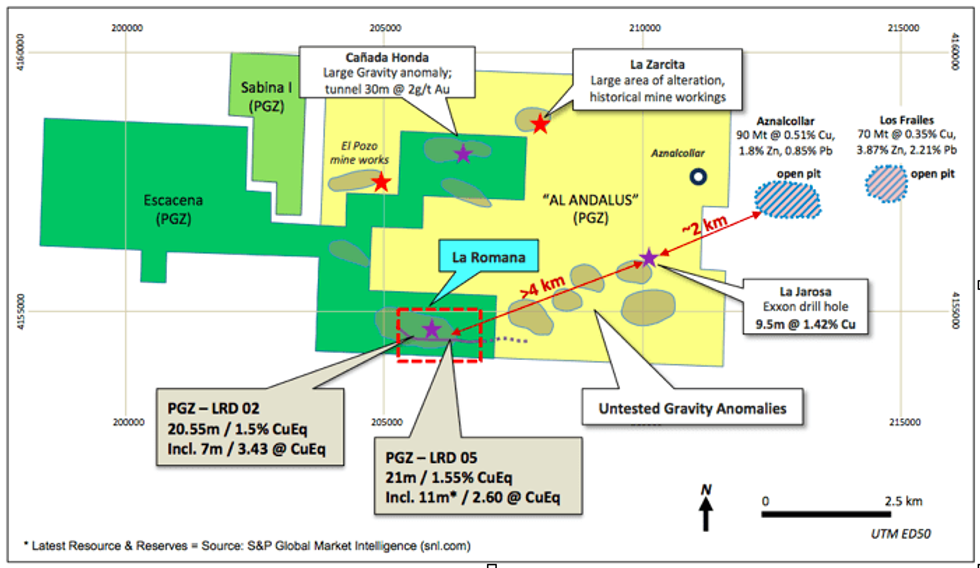 Pan Global continued its exploration of Escacena in 2020 including geochemistry and geophysics designed to identify new targets on the property. The second phase of drilling commenced in February and included the first step out drill holes at the La Romana copper target. The new drill holes intersected copper mineralization over wide intervals and showed the mineralization extends from near surface over several hundred meters of strike and shows copper in several layers open in most directions. Pan Global's own geophysics results and historical geophysics by Exxon indicate a potential for the copper mineralization to continue more than 2 kilometres along strike.
Selected drilling highlights include:
LRD-02: 20.55m at 1.5 percent copper equivalent (1.02 percent copper, 0.11 percent tin, 4.7 g/t silver) from 37.45m, including 7m at 3.43 percent copper equivalent (2.50 percent copper, 0.23 percent tin, 10.1 g/t silver, 0.014 g/t gold, 0.11 percent zinc, 133 ppm cobalt) from 48m.
LRD-03: 21.3m at 1.03 percent copper equivalent (0.73 percent copper, 0.055 percent tin, 4.1 g/t silver) from 47.3m, including 6.6m at 2.05 percent copper equivalent (>1 percent copper) combined thickness.
LRD-05: 21m at 1.55 percent copper equivalent (1.19 percent copper, 0.069 percent tin, 5.8g/t silver) from 16m, including 11m at 2.60 percent copper equivalent (>1 percent copper or 0.5 percent tin) combined thickness.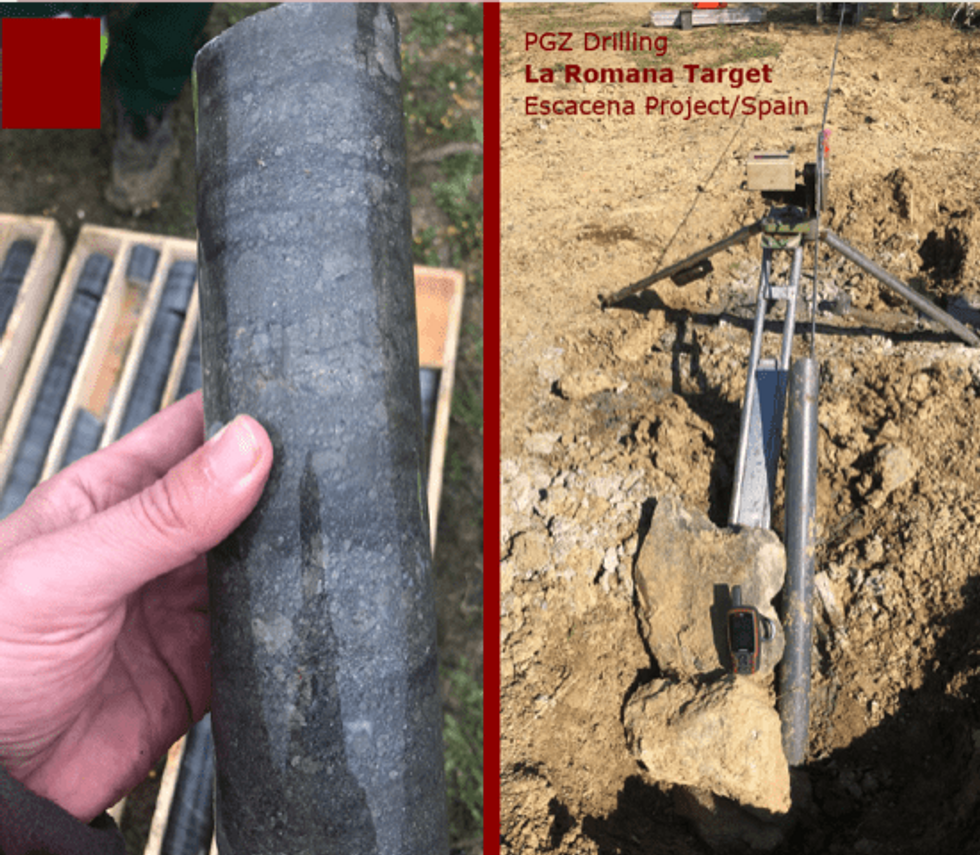 Drill core at Escacena Project
In August 2020, Pan Global Resources commenced phase three follow-up drill program at La Romana. The 25-hole drill program is designed to test the multi-layer copper potential and significantly expand the mineralization in the area. The program is also expected to test two large down-hole EM conductor plate anomalies and help define vectors to areas of stronger mineralization.
Pan Global Resources extended its holdings at the Escacena project through the acquisition of the rights to the "Al Andalus" property investigation permit and completed the acquisition of the property in early 2020. Al Andalus is located adjacent to the company's initial holdings at Escacena and includes potential eastern extensions to the company's La Romana prospect and several large untested gravity anomalies. The property comes to within 600 meters of the edge of the Aznalcollar open pit and also includes both the historical mining areas of the El Pozo and La Zarcita, and the La Jarosa target where a historical drill hole by Exxon in the mid-1980's returned 9.5 meters at 1.42 percent. Exploration will commence on the Al Andalus property as soon as permitted.
Pan Global Resources' Aguilas Project
The Aguilas project comprises nine investigation permits covering a total of 16,300 hectares in northern Andalucia, Spain. The main targets on the property are major cross-cutting fault zones in the Pedroches Batholith, including the Torrubia and Zumanjo trends. The project hosts IOCG-style copper mineralization along the Torrubia copper trend, which was drilled by the company in 2019 and confirmed wide zones of breccia over several kilometers of strike length. Drill holes on the Zumajo trend targeted high grade polymetallic (lead, zinc, silver and lesser copper and gold) vein or breccia mineralization. Several shallow historical mine shafts and ancient workings occur along both trends.
Pan Global first began drilling on the Aguilas project in April 2019, and so-far completed 27 wide-spaced drill holes totaling 3,908 meters. This includes thirteen of the holes along 4.1 kilometers of the more than 20 kilometer long Zumajo lead-zinc-silver trend and 14 drill holes along three sections of the more than 10 kilometer long Torrubia trend.
On the Zumajo trend, high-grade polymetallic mineralization was intersected with an 8 to 20- meter-wide, steeply-dipping zone of multi-stage breccia and veins. High-grade intervals included hole VAC-02 with 14.85% lead, 0.11% zinc, 67.1g/t silver (16.91% lead equivalent or 634g/t silver equivalent) over 1.3 meters and hole VAC-06 with up to 16.85 % lead, 1.9 % zinc and 85 g/t silver (22.15 % lead equivalent or 815 g/t silver equivalent) over 0.6 meters. The drill results show potential for a significant zone of high-grade lead, zinc and silver mineralization near the San Luis and San Cayetano mine workings over several kilometers of strike and open at depth. Several other targets along the Zumajo trend require testing.
Drilling conducted at the Torrubia trend included 40 to 90-meter-wide intervals of intense multi-stage breccia and hematite-quartz-carbonate alteration over several kilometers of strike. The best grades at Torrubia included 2.65% copper, 125ppm cobalt and 3 g/t silver (2.76% copper equivalent) over 0.8m and 1.65% copper, 240ppm cobalt and 2.1 g/t silver (2.05% copper equivalent) over 0.7m in drill hole TOR-001; and 3m at 1.16g/t gold from 74m, including 0.8m at 3.48g/t gold and 1.5g/t silver in drill hole TN-06. The breccia includes fragments or casts with high contents of chalcopyrite and hematite indicating an early copper mineralizing stage and further potential both along-strike and at depth.
Management Team
Patrick Evans—Chairman and Director
For over 30 years, Mr. Evans has enjoyed an exemplary career as a mining executive holding multiple senior management positions in the industry. Of note are CEO of Dominion Diamond Mines and Norsemont Mining and Vice President of Placer Dome Inc. He has extensive M&A experience and has helped a number of public mining companies discover and develop base metals, precious metals, and diamond mining projects on four continents. Mr. Evans is a graduate of the University of Cape Town and served as Consul-General of South Africa to Canada.
Tim Moody—Director
Mr. Moody has over 30 years of experience in the mining industry including mineral exploration, resource assessment, business development and strategy. He spent 24 of those years with Rio Tinto, where he held the posts of Exploration Director, Vice President and Director of Business Development. Mr. Moody has a Bachelor of Science in Geology and Geophysics (Honours) from the University of New England. He is a graduate of the Senior Leadership Program from the London Business School, a graduate of the Business Leadership Development Program from the Australian Graduate School of Management and a Fellow of the Society of Economic Geologists.
Directorships: Pan Global Resources, Prism Resources, Indico Resources and Xiana Mining.
Brian Kerzner—Director
Mr. Kerzner has over 25 years of experience as a successful entrepreneur in the retail and real estate industries. He is the founder and President of Rocky Mountain Chocolate Factory Canada Inc. and he established several private companies that have completed extensive residential and commercial developments throughout North America. Mr. Kerzner has been broadly involved in providing seed capital for many successful public and private companies in the resource, environmental, and technology sectors. Mr. Kerzner is a graduate of the University of Toronto Bachelor of Commerce (Honours) program. He is a member of the British Columbia's Children's Hospital Circle of Care and is actively involved in many other charitable organizations.
Directorships: Pan Global Resources, Prism Resources Inc and Indico Resources.
Patrick Downey—Director
Mr. Downey brings over 25 years of international experience in the resource industry and he is currently President and CEO of Orezone. His past senior positions include President and CEO of Aura Minerals Inc. and Viceroy Exploration Ltd. before its acquisition by Yamana Gold Inc. in 2006 for $600 million. He also negotiated the successful merger of Consolidated Trillion Resources Ltd and Oliver Gold Corporation that became Canico Resource Corp, which was purchased by CVRD in 2006 for over $800 million. Mr. Downey holds a BSc (Honours) degree in Engineering from Queens University in Belfast, Ireland.
Directorships: Orezone and Pan Global Resources
Bob Parsons—Director
As a Chartered Professional Accountant and partner at PricewaterhouseCoopers, Mr. Parsons spent 34 years heading up the firm's global mining practice. He has advised governments around the world on mineral policy matters and has served on the boards of the PDAC, Indonesian Mining Association, Canada Indonesia Chamber of Commerce, World Mines Ministries Forum, Canadian Minerals Industry Federation, Advisory Council of the Centre for Resource Studies at Queens University, and the Professional Advisory Board of the Government of Canada's Petroleum Monitoring Agency. In 2005, the PDAC presented Mr. Parsons with their Distinguished Services Award, and in 2013 the Government of Canada awarded him the Queen Elizabeth II Diamond Jubilee Medal for his contribution to Canada's mining industry. Mr. Parsons is a graduate of McGill University (B.Com).
Directorships: Pan Global Resources, Kennady Diamonds Inc, Indico Resources Ltd, Prism Resources Inc.
Request an Investor Kit
EXCITING upcoming projects!
IN-DEPTH reliable insights!
SUCCESSFUL growth strategies!
VALUE-BASED content!
Pan Global Resources