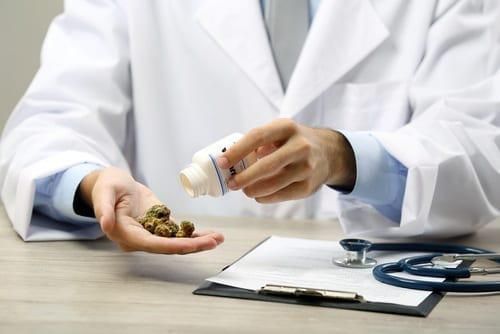 The emergence of the medical cannabis industry has created a need for accurate medical data to guide physicians and patients to make informed treatment decisions.
Medical cannabis is quickly gaining legitimacy, but healthcare providers and patients alike are having trouble accessing vital information on the subject.
Since California took the plunge by becoming the world's first medical cannabis jurisdiction in 1996, the efficacy of using cannabis for medical purposes has gone from a concept to a provable fact. There are now more US states that allow access to medical cannabis than states that do not. Medical cannabis is now in the hands of consumers across the continent, including more than three million medical cannabis patients in the US alone.
Despite this, medical cannabis stakeholders from patients to physicians do not have comprehensive and unified resources for education on the subject, and publicly available information can often be out of date or contradictory. With cannabis data and information being published on a constant basis, The medical community and consumers alike are now working to establish a baseline standard for cannabis treatments that can be applied to patients around the world.
Barriers come down for cannabis patients
As more jurisdictions open up to the medical cannabis market, they also create valuable opportunities for important medical cannabis research. Cannabis was near-universally illegal throughout most of the 20th century and these laws also prohibited researchers from attempting to expand medical cannabis understanding. The lack of sanctioned research allowed misinformation about cannabis and cannabinoids to flourish, and some of those myths persist to this day. It wasn't until 1992, when the human endocannabinoid system was discovered by Israeli scientists, that the medical community was able to get a clear idea of how cannabinoids affect the body.
As a result of the breakdown of medical cannabis barriers, the global medical cannabis market is expected to reach US$148.35 billion by 2026 at a compound annual growth rate of 26.4 percent, according to Reports and Data. The US medical cannabis market is projected to be worth US$19.48 billion by 2024, according to Hexa Research.
Cannabis containing THC remains federally illegal in the US, which places high barriers between the plant and medical researchers in the country. Fortunately, legal cannabis countries like Canada and countries with legal national medical markets like Germany are providing valuable havens for cannabis research. As a result, medical cannabis knowledge is now growing at a tremendous pace.
"When you have legal restrictions at the federal level, that certainly causes a hindrance to meaningful resources given to US-based research. We see Canada as well as international markets like the UK, Israel and Colombia starting to make strides that will certainly be leveraged within the US," Prad Sekar, CEO of cannabis data-solutions company CB2 Insights (CSE:CBII,OTCQB:CBIIF), told the Investing News Network (INN).
While cannabis remains federally illegal under schedule one status, the passing of the 2018 US farm bill created a legal distinction between THC-rich cannabis and hemp that contains less than 0.3 percent THC. This distinction is important because it effectively removes hemp from the list of schedule one banned substances and opens the door for hemp-derived medical CBD products to be produced and sold nationwide. This also removes barriers between US researchers and hemp-based CBD.
Despite the progress being made, gaps in medical knowledge and widespread misconceptions still exist. Part of the issue has to do with the fact that, as new knowledge comes to light, without unified educational resources much of that information can take a long time to reach stakeholders. Even among physicians, there is a lack of cannabis knowledge that stems from a lack of access to the evidence-based research required to make medical recommendations.
Enabling medical cannabis patients
Access to accurate and up-to-date info for medical professionals is perhaps the most important factor for the future of cannabis medicine. "Medical professionals are considered true gatekeepers to enabling access of medical cannabis to patients," said Sekar. "This is why it is critical to provide clinically driven data to both physicians and pharmacists in order for them to make more informed decisions when deciding whether to prescribe or dispense cannabis to patients who are in need of treatment."
In order to allow patients to make informed decisions, medical professionals require access to the most up-to-date and scientifically sound information available. Unfortunately, most medical professionals have not studied medical cannabis. Most medical universities do not require residents to learn about the endocannabinoid system or medical cannabis. Medical professionals currently have few resources to educate themselves on the medicinal benefits of cannabis, leaving many unable to prescribe such products or advise patients on how to use them. One survey, conducted by the Canadian Consortium for the Investigation of Cannabinoids, found a strong desire among medical professionals to learn more about medical cannabis.
Without medical professionals willing to guide medication, many consumers are taking matters into their own hands by self-medicating. Until physicians are able to bridge the cannabis information gap, patients could be left to independently research, acquire and implement their own self-medication programs. As additional cannabis-related data is released, physicians are in the optimal position to improve the treatments and approaches of cannabis patients. This information is expected to allow stakeholders to make optimal decisions regarding cannabis consumption and long-term health while avoiding any potential pitfalls.
The need for cannabis-based medical information has fueled the rise of cannabis data companies like CB2 Insights. CB2 has developed two cannabis education apps that provide valuable information to cannabis consumers and healthcare professionals while also collecting data that can be used to generate real-world evidence-driven insights. The company has opened over 35 medical cannabis evaluation and education clinics throughout the US that provide guidance from medical professionals to patients looking to integrate cannabis into their treatment plan. Other companies like Leafly and Cannvas MedTech (CSE:MTEC) have developed educational platforms that also generate valuable medical cannabis data. On the hardware side, companies like RYAH Medtech have developed smart vaporizers that guide patients by controlling the dosage based on strain information and doctor's instructions.
Takeaway
As researchers learn more and more about medical cannabis, it is of the utmost importance that patients and medical professionals have access to the latest and most evidence-driven information available. Platforms that both educate stakeholders while helping to advance medical cannabis knowledge could play a key role in enabling accurate and effective medical cannabis treatments in the future.
---
This INNSpired article was written according to INN editorial standards to educate investors.
INN does not provide investment advice and the information in this article should not be considered a recommendation to buy or sell any security. INN does not endorse or recommend the business, products, services or securities of any company profiled. The information contained here is for information purposes only and is not to be construed as an offer or solicitation for the sale or purchase of securities. Readers should conduct their own research for all information publicly available concerning the company.