The Role of CBD in an Active and Healthy Lifestyle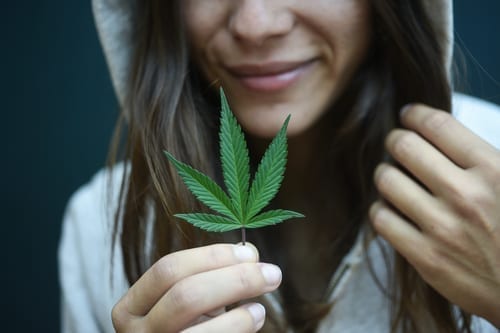 Portrayals of cannabis and its users in television and film has long been easy avenues for stereotyping cannabis users.
Portrayals of cannabis and its users in television and film has long been easy avenues for stereotyping cannabis users.
Whether depicted as lazy and untidy characters on Netflix's Disjointed or as inducing rampant criminality in the 1936 film Reefer Madness, cannabis users have often received a bad reputation in media—but the climate is changing.
High-profile celebrity endorsements from the likes of Whoopi Goldberg and Gene Simmons, combined with a burgeoning acceptance the medicinal applications proffered by cannabis' cannabidiol (CBD) molecule, have helped shift the public perception from the 'gateway drug' narrative to viewing cannabis as a long-untapped source for maintaining good health.
With well over 1,000 legal dispensaries open in the United States alone, increasing numbers of people are learning about the health benefits cannabis has to offer. Influenced by ongoing innovations in the space, cannabis users are also uncovering various methods for consumption that can help integrate it and its positive attributes into the daily routines of an active and healthy lifestyle.
Contributing to a successful lifestyle
In response to broadening legalization medicinal and recreational use, the image of cannabis users has changed. A BDS Analytics study published in June 2017 looked at a sample population of 2,000 people from California and Colorado and showed that cannabis consumers are in fact able to live a healthier and more successful lifestyle than their 'rejecter' counterparts, in direct opposition to the widespread view of cannabis effects. The study concluded that, overall, cannabis users had higher household incomes, were better educated and a higher full-time employment rate, suggesting balanced and successful lives.
Breaking down CBDs
A key component of cannabis' health-focused attributes, CBD has been attributed with reducing nausea and suppressing seizures and also has anti-psychotic, anti-oxidant, anti-cancer, anti-depressant and anti-inflammatory properties. "The World Health Organization recently reported that CBD should not be scheduled as a controlled substance as it does not appear to have abuse potential or the ability to cause harm," Phivida CEO John-David Belfontaine told INN.
As its applications continue to be uncovered, CBDs are expected to contribute to a growing global medicinal cannabis market that is anticipated to see a compound annual growth rate of 21 percent between 2018 and 2022, with Canada and the US playing significant roles in the space.
An evolving CBD marketplace
Cannabinoid-infused beverages, like those which are slated to be made available in Canada a year after the launch of the recreational market taking place in the summer of 2018, are just one of the innovations emerging in the cannabis space and reducing the need for smoking and its associated health risks. Phivida Holdings (CSE:VIDA), for instance, is involved in producing alternatives for CBD consumption, using hemp oil extracts as the foundation for their products. The company sells these hemp oil extracts by the bottle and is also developing ice teas and enhanced waters infused with CBD hemp oil. These are all products that can be easily incorporated into daily routines without any disruption, promoting a healthy and active lifestyle.
Alongside Phivida and its CBD hemp oil infused products, other players in the field include Isodiol International (CSE:ISOL,OTC:LAGBF, FSE:LBGA.F), which offers a range of hemp-derived products across a variety of brands including ISO Medical, ISO Sport and ISODIOL. As part of its portfolio, the company offers concentrates, tinctures, topical moisturizing creams and hemp-oil drinks to designed to improve sleep.
Naturally Splendid (TSXV:NSP), another entrant into the CBD market, sells CBD capsules and hemp oils along with hemp protein for the active consumer. The company boasts a trademarked breakthrough it calls HempOmega, a homogeneous powder sourced from microencapsulated Canadian hemp seed oil, which combine the both hemp and omega fatty acids in a single supplement. Naturally Splendid recently displayed these products as in a presentation at FOODEX Japan 2017, the largest annual food and beverage trade show in Asia, verifying international interest in the cannabis market.
Products derived from cannabis have a variety of applications for a diverse consumer base. For instance, for those who maintain an active lifestyle, CBD can play a role in optimizing the body's ability to perform physically by reducing stiffness after a workout. Drinks, tinctures, salves and sprays are all ways in which the cannabis industry is packaging their products to everyone from glaucoma patients to elite-tier athletes. CBD have evolved into a multi-faceted dietary and lifestyle product for the public at large.
The rise of CBD in athletics
In October 2017, the World Anti-Doping Authority (WADA) announced that it had removed CBDs from its prohibited substances list. This change in policy means that olympic athletes can now use CBD without fear of losing sponsorships or being disqualified from competitions. Although THC is still prohibited, athletes under the jurisdiction of the WADA are now able to incorporate CBD into their self-care regimen to improve their recovery rate and overall wellness. Opening the door to a brand new market segment, this decision provides an opportunity for CBD product developers to tackle the sports medicine space.
Seeing the opportunity in the shifting CBD space, Phivida recently signed a letter of intent with Athletes for Care Inc. to help provide cannabinoid education and research in both amateur and professional athletics.
Helping to pave the way for widespread acceptance of cannabis as a legitimate treatment for sports related injuries are athletes like UFC legend Nate Diaz. In a press conference after his pay-per-view bout with the Irish megastar, Conor Mcgregor, Diaz was seen using a CBD vape pen, speaking openly about the way it had helped mitigate the damage his body had accumulated form his years as a prizefighter. Following changes in CBD regulations, many fighters including former heavyweight champion Cain Velasquez and rising star Sean O'Malley are openly partnering with companies offering CBD and hemp-related products.
The Takeaway
Greater understanding of the medicinal properties of CBD has helped shift public perception of cannabis. No longer viewed as belonging to a niche subculture, cannabis use is becoming more prominent, moving beyond just recreational smoking and into teas and balms for a number of uses. A booming industry fueled by diverse application and innovation continues to open doors for CBD brands.
This INNspired article was written according to INN editorial standards to educate investors.