Cobalt and the Revival of Uganda's Mining Industry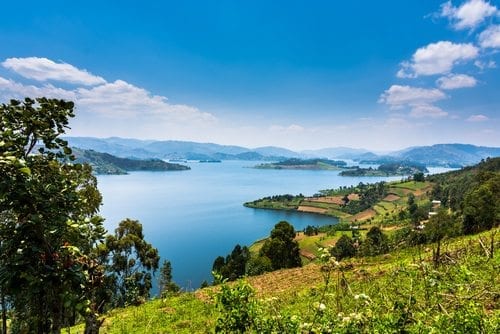 Reforms in the mining sector of Uganda could bring about a new source of cobalt for today's global energy market.
The Uganda's mining industry is important to the East African nation's economic growth.
With GDP steadily rising at 4.25 percent growth per year (compared to the continental average of 3.6 percent), Uganda's mining industry has the potential to bring further economic prosperity. Compared to its East African neighbors, Uganda attracts the most foreign direct investment (FDI), with the majority of that investment going to the coffee and mining sectors.
Mining companies are starting to be attracted to Uganda because along with significant mineral potential, the Ugandan government recognizes the importance of a strong and transparent legal framework for its mining sector.

This INNspired Article is brought to you by:
M2 Cobalt
(TSXV:
MC
, FSE:A0K, OTCQB:MCCBF) is a cobalt exploration company which has launched a major work program across all its highly prospective cobalt properties in Uganda with the goal of discovering world class assets which can help meet the ongoing growth in demand for cobalt globally.
Send me an Investor Kit
As part of Uganda's wide-ranging legislative reform, the government implemented a revised mining code in 2018 which will help attract further investment in its mining sector. And the majors are starting to wade into the water. Rio Tinto (NYSE:RIO,ASX:RIO,LSE:RIO) recently committed to investing up to $57million in a joint venture agreement on the Kitgum Pader base metal project in northern Uganda
Uganda's real potential for growth in its mining sector and its economy just may be in its geological association with one of the world's most prolific (and contentious) cobalt belts, the Katanga in the Democratic Republic of Congo (DRC). Canadian based M2 Cobalt (TSXV:MC) recently acquired a portfolio of highly prospective cobalt properties in Uganda. The company has discovered several styles of copper-cobalt and nickel-cobalt mineralization across its exploration licenses located in regions of Uganda assessed to be, according to the Geological Survey of Finland, amongst the nation's "highest exploration priorities" for cobalt.
Uganda's geology and mineral wealth
Located within the Great Rift Valley, Uganda has one of the richest and most diverse natural resource landscapes in Africa and is geographically similar to the neighboring DRC. Parts of Uganda share similar geology with the DRC's Katanga trend, where Katanga Mining (TSX:KAT) produced 525 tonnes of cobalt and 27,677 tonnes of copper in Q1 2018. The central region of the country has also been identified as a possible extension for Tanzania's Green Stone Gold Belt.
Though mining has been conducted in Uganda since the early 1920's, the region remains largely underexplored. A national mineral survey funded by the World Bank and the Nordic Bank and run by the Finnish Geological Survey found occurrences of uranium, tin, coltan, nickel, copper and gold across the country, providing strong evidence for the significant potential of Uganda's mineral sector.
The nation's largest historic producer, the Kilembe copper-cobalt mine, produced over 16 million tonnes of ore grading approximately 2.0 percent copper and 0.2 percent cobalt while it was in production. Kilembe sits on a VMS-sulfide style deposit and the areas surrounding the former mine are believed to contain significant additional deposits. While dominated by copper and zinc, these types of deposits can also host significant cobalt resources.
Other areas of the country have also been found to be highly prospective for cobalt, which could make Uganda vitally important to the global cobalt industry. Due to the role it plays in electronics and battery manufacturing for electric vehicles, cell phones and more, the value of cobalt has sky-rocketed in recent years.
The problem is, most of the world's known supply of cobalt is located in the highly volatile DRC. However, with a much more stable political environment and a government that is proactively developing its mining infrastructure, Uganda's mining industry could provide a solution to the cobalt shortage.
History of Uganda's mining industry
Uganda's mining production was at its peak in the 1950s and 1960s, when mining accounted for 30 percent of the country's exports and 7 percent of its GDP. The Kilembe mine employed a labor force of over 6,000 people at its height in the late 50s and was operated by Falconbridge Ltd. between 1962 and 1975, when the mine was sold back to the Ugandan government.
After a period of insecurity and civil war that curbed mining activity in Uganda, the country began to stabilize in the mid 1980s. Uganda's National Mining commission was formed in 1988 and mining revenues increased by 48 percent during a boom between 1995 and 1997. Uganda was one of Africa's fastest growing economies from 1989 to 2009.
Mining in Uganda has started to surge in recent years, with gold becoming the second largest export in the country, following coffee. The revitalized Ugandan mining industry is employing thousands of people and has given the country a much-needed opportunity to raise its economic output.
World Bank and mining reform
As a proactive measure for developing their mining industry, the Ugandan government began working extensively with the World Bank between 2003 and 2011 to reform the country's mining code and ensure greater transparency from artisanal and small-scale mining operations.
Directly involved in this process was Dr. Jennifer Hinton who moved to Uganda as part of the World Bank initiative to aid in the country's mining reform and revitalization efforts, and has now made Uganda her home for over 13 years.
"She is recognized for her extensive work in standing up for the rights of mining workers and she is a key part of the local mining community as well as a member of the Presidential Committee on Mining Policy. She has a vision of a vibrant, well-regulated mining sector in Uganda, with major benefits for all involved including the local communities and Uganda as a whole. As part of her two tours with the World Bank, Dr. Hinton played a key role in helping overhaul the mining code and train up the local mining workforce," Simon Clarke, CEO of M2 Cobalt, told INN.
Today, Dr. Hinton is Director East Africa Operations for M2 Cobalt, the first mover in cobalt exploration in the Ugandan mining industry. Following her work with the World Bank, Dr Hinton has been instrumental in building M2 Cobalt's large, highly prospective asset package in Uganda.
One of these is the Kilembe area project, on trend with the former Kilembe mine. The second project, Bujagali, in south-central Uganda, is the site of significant historical gold artisanal mining and sits where two of the key mineral trends coming out of the DRC meet, including one out of Katanga, the main global copper-cobalt belt.
Following a successful Phase 1 work program, M2 Cobalt has recently launched an initial drill program to test the different styles of mineralization across its properties and, in particular, the key cobalt, copper and nickel targets identified in the initial exploration work.
In addition to reforms for worker protection and transparency, the World Bank's project included measures to spur growth and investment in Uganda's mining sector. This included the disbursement of grants to encourage local economic development and an online geological database to encourage foreign investment. The result has been steady growth of the mining sector in Uganda alongside the country's steadily rising total GDP.
Increased FDI to Uganda's mining sector is behind the $620 million Sukulu phosphorite-iron-ore-rare earth project outside of Tororo, which is nearing production in 2018 and billed as the biggest mining venture in the country since the Kilembe copper and cobalt mines in Kasese — a sign of growing strength in the revival of Uganda's once-vibrant mining industry.
In May, the Ugandan Cabinet approved the Mining and Mineral Policy for Uganda 2018 which replaced the Mineral Policy for Uganda 2001. The country's Directorate of Geological Survey and Mines has generated new geological maps with mineral potential zones and put in place a Mining Cadastre and Registry System to encourage transparency in the mining sector.
Looking forward
Uganda's mineral sector has undergone major regulatory and legal reforms aimed at attracting foreign investment from companies like M2 Cobalt to spur further development of the country's economy and infrastructure.
It's clear that the national government understands that revitalizing the Uganda's mining industry is essential to improving the country's economic standing on the world stage. Uganda's pro-mining policies and its untapped potential for mineral resources like cobalt presents an excellent opportunity to find conflict-free materials sources for the new era in energy.
This INNspired article is sponsored by M2 Cobalt (TSXV:MC,FWB:A0K,OTCQB:MCCBF). This article was written according to INN editorial standards to educate investors.