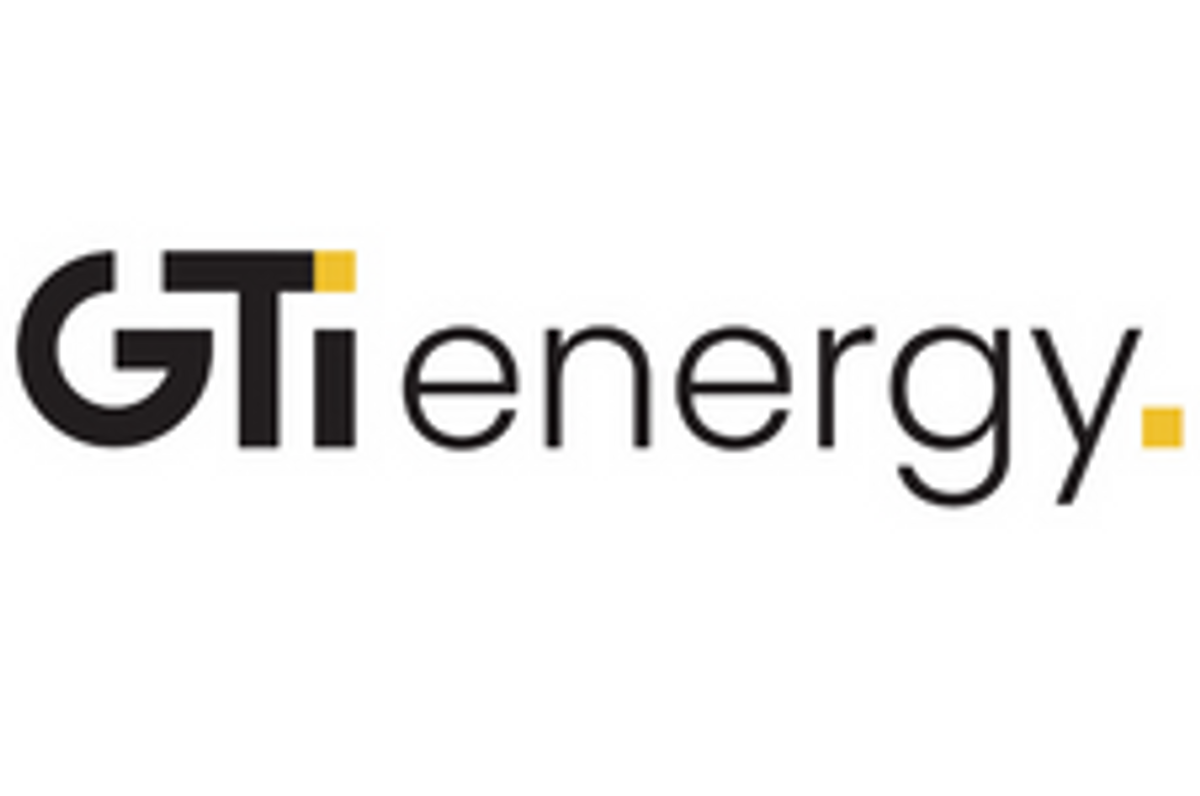 GTI Enters Into At-The-Market Finance Facility
GTI Energy Ltd (ASX: GTR) (GTI or Company) is pleased to advise finalisation and entry into an At- the-Market (ATM) Financing Deed with 8 Equity Pty Ltd (Financier). The ATM facility provides the Company with up to $2,000,000 of standby equity capital over the coming 3-year term (Term).
---
At-the-Market (ATM) Facility finalised providing GTI with standby equity capital of up to $2M over a 3-year term
GTI retains full control over all aspects whether and when it could utilise the facility
ATM facility provides flexibility for the Company to strengthen its balance sheet, as it continues its strategy to advance its ISR Uranium projects in Wyoming
GTI Director, Bruce Lane commented: "The ATM facility provides GTI with an additional flexible option to help finance exploration and development activities at our Wyoming ISR uranium projects."

THE KEY FEATURES OF THE FACILITY INCLUDE:
GTI retains control over all aspects of the facility having sole discretion over its use.
During the Term, GTI may issue one or more finance requests specifying:

the amount raised and/or the number of Shares it would like to transact;
the floor price (minimum price) it wishes to raise funds at; and
the period over which it wishes the request to be filled.

Once the Financier has received a finance request, the Financier will seek to transact the Shares on market in accordance with the finance request, but not more than 15% of the daily sales volume of Shares traded on ASX during any given day (without the prior consent of GTI).
The Financier will provide GTI with proceeds from the Share sale (less costs) post the sales period.
GTI has the ability to cancel a finance request at any time.
GTI plans to issue 97,192,933 Shares to the Financier at nil consideration (Advance Subscription Shares) as security for the obligations owed to the Financier under the Facility pursuant to ASX Listing Rule 7.1.
If any Advanced Subscription Shares remain on issue at the end of the Facility Term, they will either be cancelled for nil consideration (subject to shareholder approval) or sold for GTI's benefit on market (subject to a stipulated a floor price) or retained by the Financier at a price to be agreed by the parties.
Click here for the full ASX Release

This article includes content from GTI Energy, licensed for the purpose of publishing on Investing News Australia. This article does not constitute financial product advice. It is your responsibility to perform proper due diligence before acting upon any information provided here. Please refer to our full disclaimer here.
GTR:AU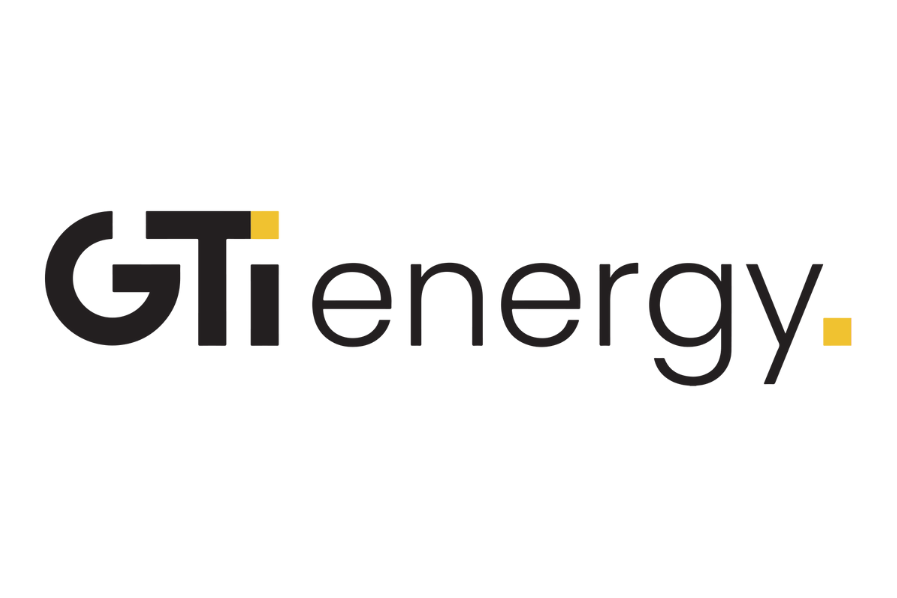 GTI Energy
Investor Kit
and hear about exciting investment opportunities.
Corporate info
Insights
Growth strategies
Upcoming projects
GET YOUR FREE INVESTOR KIT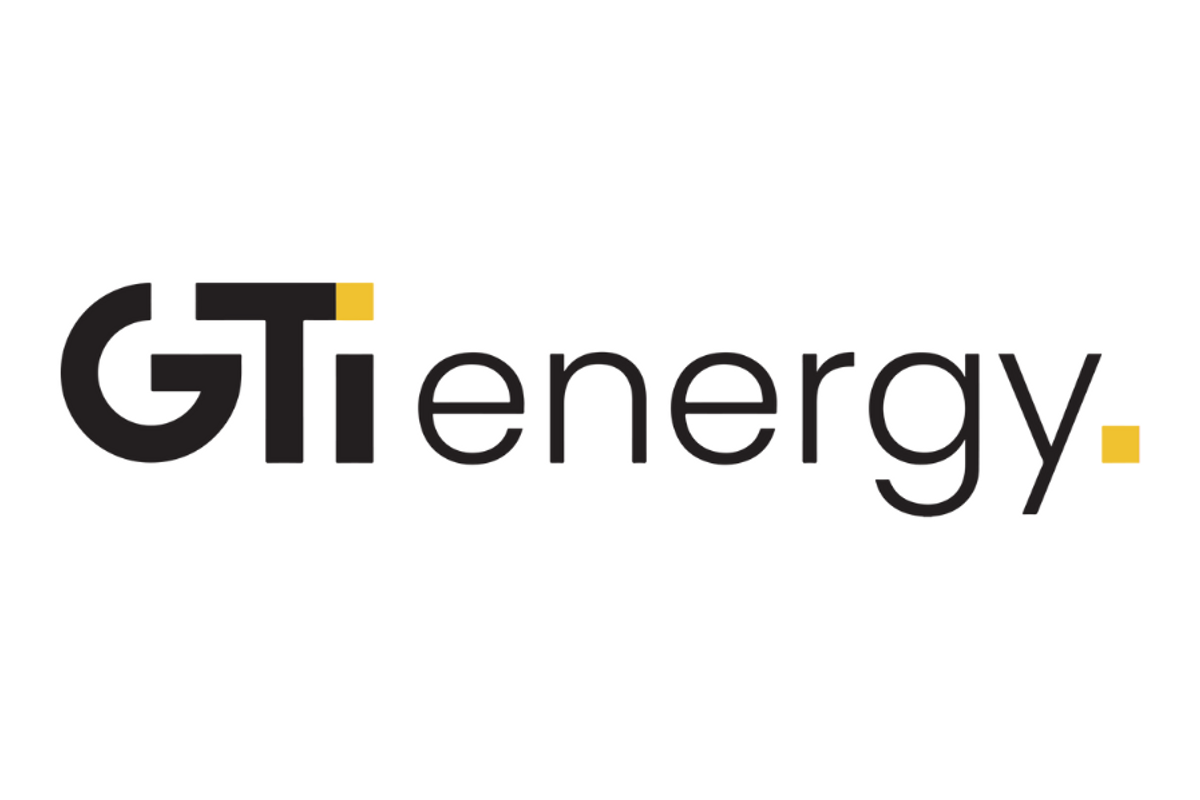 Overview
Uranium is the main fuel for nuclear reactors. Today, 21 of the 57 new nuclear reactors under construction globally are being built in China. In 2021, billionaires Warren Buffett and Bill Gates announced plans to build a US$4-billion, 345-megawatt nuclear power plant facility in Wyoming, USA. The plant called a Natrium reactor — which is an old term for sodium (salt) –– will use uranium to heat liquid sodium to around 900 degrees fahrenheit (molten salt) to create steam that powers the turbines to generate electricity. The planned plant is supported by Wyoming's Governor Mark Gordon, who believes nuclear plants could provide a market for large reserves of radioactive uranium ore in the state. TerraPower, co-founded by Bill Gates, has partnered with GE-Hitachi and Warren Buffet's Rocky Mountain Power to fully build the plant.
On March 21, 2023, the US Dept of Energy (DOE) published a "Liftoff Report" advocating a rapid nuclear power build-out plan, even more aggressive than China's plan to add 13GW annually. The DOE advocates deploying another 200GW of nuclear by 2050 which would drive a massive expansion in demand for Uranium.
Wyoming has the largest uranium reserves of all the US states and is the home of in-situ recovery (ISR) uranium mining, with experimental ISR mining during the early 1960s and commercial ISR mining starting in 1974. The state is an energy powerhouse in the US, second only to Texas in energy production and accounting for more than 80 percent of uranium production in the US. It has a production history that dates back to the late 1940s. With the price of uranium hitting a nine-year high in 2020, many analysts believe the price will remain on the higher end for years to come.
Given these developments, companies exploring for and developing uranium in Wyoming may present an exciting opportunity for investors.
GTI Energy (ASX:
GTR
, OTCQB:GTRIF) is a mineral exploration company focused on developing a portfolio of attractive uranium projects in the United States. The company now boasts approximately 42,000 acres in the prolific Great Divide and Powder River Basins, which are low-cost ISR uranium-producing districts within 100 miles of each other.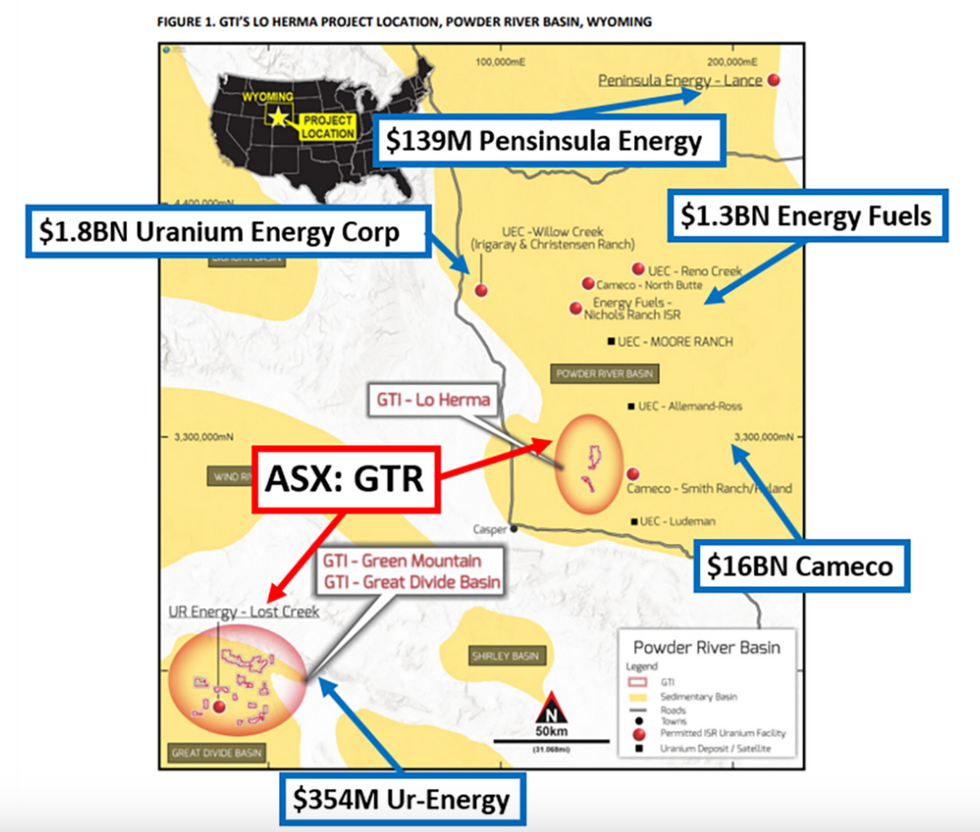 In 2022, the company completed an additional 103 mud rotary exploration drill holes to increase the total trend length for GTI's projects in the Great Divide Basin to 7.5 miles.
The company has also commenced work at its Green Mountain ISR uranium project next to Rio Tinto's (ASX:RIO) uranium deposits. GTI has historical drill data confirming the presence of uranium mineralised roll fronts on the properties. In July 2023, the company announced that its aerial geophysics survey data collection phase had been completed using a twin-engine aircraft.
The company is led by a highly experienced management and exploration team with an extensive track record in the mineral exploration industry. GTI's operational team has proven development and engineering expertise with a history of success in ISR uranium deposit discovery in Wyoming.
In November 2021, the company announced the strategic acquisition of Branka Minerals. The acquisition resulted in GTI controlling the largest non-US or Canadian-owned uranium exploration landholding in the Great Divide Basin, with approximately 21,000 acres. The landholding included underexplored and highly prospective sandstone-hosted uranium properties which are the company's Wyoming projects today. This holding then grew with the purchase of the 13,800-acre Green Mountain project in 2022.
The company further expanded its ISR uranium portfolio in 2023 by acquiring the Lo Herma Project in Wyoming's prolific Powder River Basin uranium district. The newly staked 8,000 acres of claims are located within 16 kilometers of Cameco's Smith Ranch-Highland ISR uranium production plant – the largest production site in Wyoming.
GTI Energy leverages the strategic positioning of its Wyoming projects, which are located near Ur Energy's (TSX:URE,NYSE:URG) Lost Creek ISR production plant and the now-rehabilitated historic Rio Tinto Kennecott Sweetwater Mill. The Lost Creek plant is claimed by Ur Energy to be the lowest-cost ISR uranium production plant outside of Kazakhstan.
GTI is committed to strong environmental, social and governance (ESG) initiatives to support the clean energy transition. In November 2021, the company adopted an internationally recognized Environmental, Social and Governance Stakeholder Capitalism Metrics framework, with 21 core metrics and disclosures.
In December 2021, GTI Energy announced it would be transitioning to carbon-neutral operations. The company has applied for a
Climate Active Certification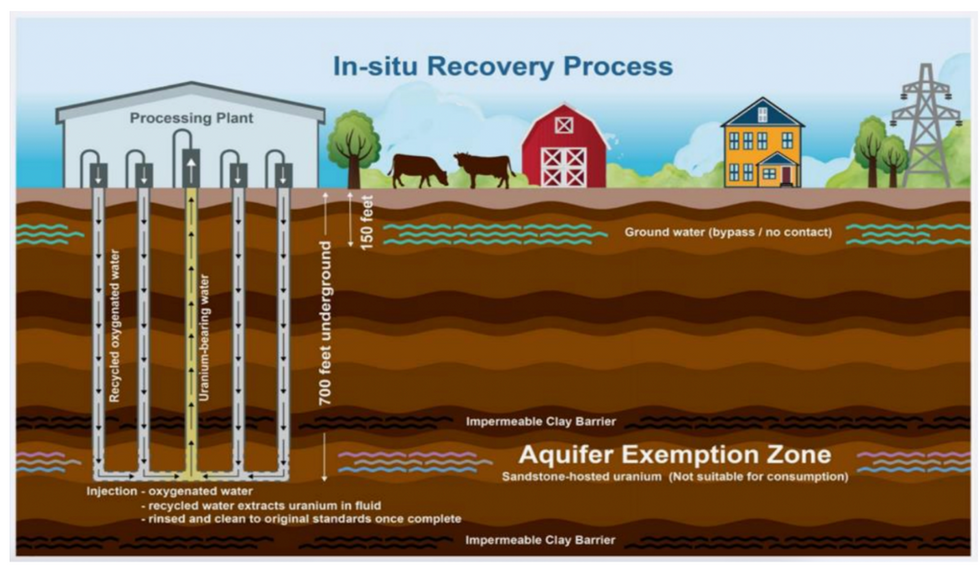 GTI Energy is positioned for growth with the pursuit of ISR mining on its Wyoming projects, presenting an opportunity for low operating expenses and capital expenditures with low environmental impact compared to conventional mining. ISR mining supports the company's goal of low-impact mining and carbon neutrality on its Wyoming projects.
In 2021, the company completed field exploration on its Henry Mountains project in Utah. In the same year, GTI Energy also began a 15,000-meter drill program on its Wyoming projects, concluding the program in early 2022. The drilling confirmed that the targeted ISR-amenable uranium mineralization was present at the Thor project. In 2022, the company completed an additional
103 mud rotary exploration drill holes
to increase the total trend length for GTI's projects in the Basin to 7.5 miles.
Company Highlights
GTI Energy owns multiple promising assets in Wyoming's prolific and in-situ recovery (ISR) uranium-producing Great Divide and Powder River Basins. Wyoming is the leading US uranium production state and is "uranium-friendly".
GTI's Great Divide Basin projects are strategically located near Ur Energy's (TSX:URE,NYSE:URG) Lost Creek ISR production plant which has re-commenced production.
In late February 2023, GTI staked 8,000 acres of ground (the Lo Herma project) in Wyoming within 16 kilometers of Cameco's $16-billion ISR uranium plant (the largest production site in Wyoming) and 80 kilometers of five permitted ISR uranium production facilities, including Peninsula Energy's (ASX:PEN) Lance Project – due to recommence production in late 2024.
Maiden uranium resource and updated exploration target at the Lo Herma ISR project delivered an inferred mineral resource estimate of 5.71 Mlbs uranium oxide at an average 630 ppm plus an exploration target of an additional 5.87 to 10.26 Mlbs potential at average grade of 500 to 700 ppm.
Updated total resources across its Wyoming projects of 7.37 Mlbs plus an exploration target of an additional 11.97 to 19.79 Mlbs potential at average grade of 500 – 700 ppm.
In early 2022, the company completed a further 103 mud rotary exploration drill holes to increase the total trend length for GTI's projects in the Great Divide Basin to 7.5 miles.
GTI acquired a 1,400 drill hole data set over Lo Herma with a replacement value of AU$15 million. The 161,000 meters of drilling represents about seven times as many holes that GTI has drilled in Wyoming to date.
GTI aims to utilize ISR mining at its Wyoming projects, which offers lower environmental impact, lower opex and capex than conventional mining.
GTI Energy has a highly experienced exploration team with a history of successful uranium discovery in Wyoming.