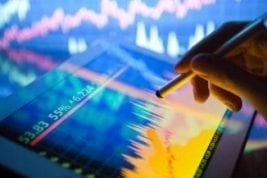 The data market is vast and can be somewhat complicated. In that regard, here is a brief overview of data investment facts for those looking to jump into the sector.
The data sector is one of the biggest markets in the technology space today and, in turn, one of the most complicated. In other words, as described by US News, big data encompasses such a large amount of information that it can be overwhelming.
In simple terms, companies have started leaning towards big data investing for processing high volumes of information that are passed digitally–or, the Internet of Things (IoT).
As the industry grows, so will the number of people that use it and those looking to invest. Here the Investing News Network (INN) breaks down data investment facts for those keen on stepping into the sector.
Data investment: what is big data?
As Rob Strechay, vice president of products at Zerto tells US News, big data investment is "a digital transformation."
Expanding on that, a Research and Markets' report titled, "The Big Data Market:2017-230–Opportunities, Challenges, Strategies, Industry Verticals and Forecasts" says that big dat entails a range of technologies that "capture, store, manage and analyze a large and variable collections of data." Mobile devices, the internet, social media, sensors, log files and transactional applications are just a few examples of what uses big data applications.
Furthermore, in a Goldman Sachs interview, Steve Waxman, portfolio manager in the global fixed income department at Goldman Sachs, said that big data can give companies a competitive edge, using airlines as an example.
Waxman said airline services were "early adapters" of using big data to improve revenues by targeted pricing.
Data investment: market outlook
In a 2015 Gartner survey shows that more than 75 percent of the 437 companies polled plan to invest in big data by 2017.
"As big data becomes the new normal, information and analytics leaders are shifting focus from hype to finding value," Lisa Kart, research director at Gartner said in the report.
The firm conducted the same survey in 2016, highlighting that while big data investment continues to grow, the number of organizations with plans to invest has gone down.
"The big issue is not so much big data itself, but rather how it is used," Nick Heudecker, research director at Gartner said. "While organizations have understood that big data is not just about a specific technology, they need to avoid thinking about big data as a separate effort."
Still, the big data market is poised for significant growth. Research and Markets, for example, estimated big data investments was wortyh approximately $57 billion in 2017 alone, with that number growing to $76 billion by the end of 2020. Research firm IDC projects the industry to grow from $130.1 billion in 2016 to over $203 billion by 2020, while a Data Economy outlook expects big data and business analytics revenues to grow from $122 billion in 2015 to over $187 billion by 2019.
Of course, as the technology sector changes and grows, big data will also evolve. In fact, artificial intelligence (AI) has come to the forefront as the "hottest tech trend," as Forbes describes it, with some big name companies, like Google (NASDAQ:GOOGL), Amazon (NASDAQ:AMZN) and IBM (NYSE:IBM) already investing in AI hardware and software.
Forbes goes on to say that continued interest in AI will pave the way for the creation of new tools to collect and analyze data.
Data investment: ways to invest
Much like other commodities, there are a number of ways to invest in the big data sector, including:
ETFs: ETFs are generally the easiest way to go for first time investors, especially those who are more interested in the market rather than investing in specific companies. That said, there is currently only one big data ETF—the PureFunds ISE Big Data ETF (NYSEARCA:BIGD). The ETF launched in July 2015, and tracks software companies, large-scale data management, and large-scale data curators and aggregators.
Stocks: of course, stocks are always a popular way to invest. While there's a large number of big data companies to choose from, some of the most well-known names include: Salesforce.com (NYSE:CRM), Hewlett Packard Enterprise (NYSE:HPE) and Microsoft (NASDAQ:MSFT), to name a few. Some smaller organizations to consider are CARL Data Solutions (TSXV:CRL) and Engagement Labs (TSXV:EL).
Don't forget to follow us @INN_Technology for real-time news updates.
This is an update to an article originally published in 2017.
Securities Disclosure: I, Jocelyn Aspa, hold no direct investment interest in any company mentioned in this article.