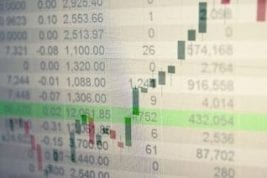 There are a number of ways to invest in data, but for those new to the space it might be overwhelming. Here's an overview of how to invest in data etfs.
For first time investors in the technology sector, data investing can be a little complicated, particularly because it's not an industry that can be easily categorized–which might make choosing a specific company challenging.
Indeed, the data sector is one of the most important of all in the technology space–and some might say even moreso in the health care industry–because it helps business make decisions and foresee daily operations. With that in mind, choosing data ETFs certainly eases the pressure of picking a data stock to invest in, making it a safe and easy way for investors to strengthen their portfolios.
Here, the Investing News Network (INN) breaks down everything you need to know about data ETFs.
What is an ETF?
You've likely heard of an ETF before, but what exactly is one? ETFs–otherwise known as exchange traded funds–compiles a list of companies in a specific sector into a singular index and are traded like stocks.
Although singular company stocks aren't invested in through ETFs, ETFs do have similar traits to common stocks: they are bought and sold on an index, and their price fluctuates throughout the day–much like a share price.
In other words, as described by NASDAQ, when you buy into an ETF share, essentially you are purchasing a variety of shares compiled into a portfolio and tracked on an index. An important distinction between an ETF and other indexes, NASDAQ suggests, is that ETFs "don't try to outperform their corresponding index, but simply replicate its performance."
Big data ETFs
Now that you know a little bit about ETFs, perhaps big data investing seems a little less intimidating.
At one point there was one dedicated big data ETF, the PureFunds ISE Big Data ETF (NYSEARCA:BIGD), which launched in 2015 and closed in July 2017.
That said, there are related ETFs that track tech companies, including those with a focus on data, such as:
Vanguard Information Technology ETF (NYSEARCA:VGT): The Vanguard Information Technology ETF was incepted on January 26, 2004 and currently tracks 355 holdings that fall into three categories: software, consulting and hardware. As ETFDB.com notes, the fund is primarily focused on US stocks. The ETFDB analyst report notes that the fund dedicates most of its asset to "giant and large cap funds," making it less volatile. Some of the index's top holdings include: Apple (NASDAQ:AAPL), Microsoft (NASDAQ:MSFT), Facebook (NASDAQ:FB), Cisco Systems (NASDAQ:CSCO), and Intel (NASDAQ:INTC).
Technology Select Sector SPDR Fund (NYSEARCA:XLK): For companies to be considered under this ETF, they must fall under one of the following categories: IT Services, wireless telecommunication services and semiconductors. The ETF was incepted on December 16, 1998 and tracks 70 holdings, some of which are similar to the Vanguard Information Technology ETF, including Apple, Microsoft, Facebook, Alphabet (NASDAQ:GOOGL), Intel (NASDAQ:INTC) and Cisco Systems (NASDAQ:CSCO) to name a few.
That said, Global X Funds filed for an exchange-traded fund that invests in AI developers and big data analytics. According to ETF.com, companies must be classified as AI developers that use AI technology in their products and services, or apply it to large data sets "with the intention of extracting value, or as AI and big data analytics companies that provide AI software and services, hardware or quantum computing technology."
While there has been no additional news regarding the potential ETF, investors can take comfort knowing there is work being done to reinstate a big data ETF while existing ETFs that track big data companies are also in the mix.
Don't forget to follow us @INN_Technology for real-time news updates!
This is an update to an article originally published in 2017.
Securities Disclosure: I, Jocelyn Aspa, hold no direct investment interest in any company mentioned in this article.