3 Canadian Tech Analysts Share Top Stock Picks for 2019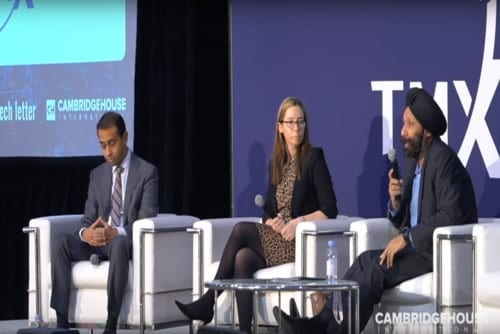 Tech analysts from Paradigm Capital, CIBC and Haywood Securities gave their top picks in the sector at the Cantech Investment Conference.
At this year's Cantech Investment Conference, held in Toronto, investors had the chance to discover Canada's leading tech companies through various panels and presentations.
One of the panels that kickstarted the event on Tuesday (January 29) featured a trio of Canadian tech analysts who each gave their three top picks for 2019. Kevin Krishnaratne of Paradigm Capital, Stephanie Price of CIBC (TSX:CM) and Pardeep S. Sangha of Haywood Securities were part of the panel, which was moderated by Nick Waddell of Cantech Letter.
Waddell said that the market has become "defensive" since October and that a lot of Canadian technology stocks are also "defensive."
"It's not throwing a dart at the wall, but in some cases it's close. You just pick a stock that's growing and expanding and you're going to do pretty well," he said. "Those days seem to be at an end."
Below the Investing News Network takes a closer look at the nine companies mentioned by the panelists. All figures mentioned were current as of February 4, 2019.
1. Kevin Krishnaratne
Kinaxis (TSX:KXS) — Market cap: C$2.07 billion; year-to-date percentage gain: 20.29 percent; current share price: C$79.27; target price: C$100
Kinaxis, a company focused on enhancing business supply chains, was Krishnaratne's first pick. The firm is involved in multiple areas, including the aerospace and defense, automotive, high-tech and electronics and life science industries.
"This is a great company, a great management team and really cool technology that helps big, large, complex manufacturers — helps them optimize and predict what happens to [the] supply chain at their organizations," Krishnaratne said. "I do think that's really important in this environment."
In the first week of February, the company unveiled new data visualization and analytics capabilities for an enhanced planning experience.
"This is a name that will continue to show some good revenue beats and the stock should re-rate higher," Krishnaratne said.
Baylin Technologies (TSX:BYL) —Market cap: C$161.9 million; year-to-date percentage gain: 6.3 percent; current share price: C$4.05; target price: C$5.75
Second on Krishnaratne's list was Baylin Technologies, a diversified global wireless technology management company focused on research, design, development and sales of RF products and services.
"This is a great way for investors to play the wireless CAPEX infrastructure investment cycle that is about to hit," he said.
In January, the company announced that its wholly owned subsidiary, Alga Microwave, had signed an agreement with a tier-one telecom equipment producer headquartered in Sweden for design and manufacturing of "key components."
Through the multi-million-dollar agreement, Alga will produce passive components used in point-to-point and point-to-multipoint telecom equipment, along with design and support services.
Shopify (TSX:SHOP) — Market cap: C$22.3 billion; year-to-date percentage gain: 20.56 percent; current share price: C$227.61; target price: C$170
Krishnaratne chose the multi-channel ecommerce platform Shopify as his final pick. Shopify's platform provides merchants with a back-office and single view of their business, from payments to shipping.
"If we go into a recessionary market, I think that the business model of Shopify is resilient," he said.
The company is set to release its 2018 fourth-quarter financial results on February 12. In January, it announced that Colleen Johnston, former CFO of Toronto-Dominion Bank (TSX:TD), had joined its board of directors.
2. Stephanie Price
Constellation Software (TSX:CSU) —Market cap: C$21.03 billion; year-to-date percentage gain: 13.54 percent; current share price: C$992.19; target price: C$1,250
Price selected Constellation Software, a firm that acquires, manages and builds vertical market software businesses, as her first pick.
"As you head into a better M&A environment potentially, with their staffed up M&A team I think that they're well positioned to participate in that M&A upside," she said.
Founded in 1995 with the intention of assembling a portfolio of vertical market software companies that are in a prime position to lead their respective segments, Constellation Software now has a diverse customer base of over 125,000 customers across 100 countries.
The company, which generates consolidated revenues exceeding US$2.1 billion, is set to announce its 2018 fourth-quarter financial results on February 13.
CGI Group (TSX:GIB.A) — Market cap: C$21.81 billion; year-to-date percentage gain: 6.5 percent; current share price: C$88.46
CGI Group is one of the largest IT and business consulting service firms. It focuses on its clients through a local relationship model that is augmented by a global delivery network to transform organizations and accelerate results.
In late January, the company released its 2019 first-quarter results, reporting revenues of US$2.96 billion, up 5.2 percent on a year-over-year basis.
"These guys though are outperforming their peers," Price said. "When you look at the overall market fundamentally, we're seeing a strong tech market right now. So overall the global software space is expected to grow in the 9-percent range in 2019, and CGI is benefitting from it."
OpenText (NASDAQ:OTEX) — Market cap: U$10.1 billion; year-to-date percentage gain: 15.34 percent; current share price: US$37.60; target price: US$50
OpenText, a company that allows organizations to gain insight through market information and management solutions, emerged as the final pick for Price.
In January, the company acquired Catalyst Repository Systems for C$75 million in an all-cash transaction.
"This is the one that I would say is undervalued within the market, and in this kind of volatile market I think … that is interesting in and of itself," she said.
3. Pardeep S. Sangha
AcuityAds Holdings (TSXV:AT) — Market cap: C$53.28 million; year-to-date percentage gain: 13.04 percent; current share price: C$1.30; target price: CS$3.25
Sangha's first pick was AcuityAds, a technology company that provides marketers with a solution for digital advertising across all formats.
"We find the stock is undervalued," Sangha said. "Overall, we see continued growth of the digital advertising market, which will keep revenues … ongoing for AcuityAds. And we just see that the company keeps on executing right now [so] we see some growth ahead."
In January, the company reported its unaudited financial guidance for the fourth quarter with a figure of C$32.5 million in revenue as compared to C$15.1 million in fourth quarter of 2017.
WELL Health Technologies (TSXV:WELL) — Market cap: C$37.32 million; year-to-date percentage loss: 1.11 percent; current share price: C$0.44
Second on his list was WELL Health Technologies, one of the largest providers of primary healthcare facilities in BC. The company seeks to positively change the health sector by leveraging technology to support both patients and doctors.
In January, the company completed the acquisition of NerdEMR, a provider of OSCAR electronic medical records services, for C$2.5 million.
"What WELL is doing is marrying health clinics with technology," Sangha said. "We think that the growth right now has been really strong — the company has basically grown from zero revenue to $30-million revenue in 18 months."
Solium Capital (TSX:SUM) —Market cap: C$736.28 million; year-to-date percentage gain: 10.09 percent; current share price: C$12.98; target price: C$17
Solium Capital, a company providing cloud-enabled services for global equity administration, was the final choice for Sangha.
"The top 70 of the top 100 TSX companies, they use Solium Capital's software platform to manage employee share options plans, to manage employee purchase plans, so that's huge penetration just in the Canadian market," he said.
Image courtesy of Cambridge House.
Don't forget to follow us @INN_Technology for real-time news updates.
Securities Disclosure: I, Bala Yogesh, hold no direct investment interest in any company mentioned in this article