Jan. 15, 2018 04:00PM PST
Data Investing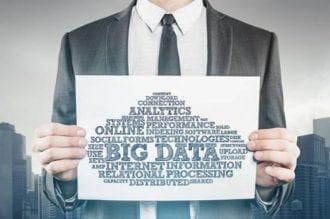 An increased need for data technologies means that the industry is about to expand — and investors have a unique opportunity to be part of this growth.
Big data is a rapidly growing industry, spurred on by an increasing demand from companies across virtually all industries. Organizations are increasingly relying on data solutions to mine and process the immense amounts of information gleaned from everyday digital interactions.
This increased need for data technologies means that the industry is about to expand – and investors have a unique opportunity to be part of this growth.
As such, here the Investing News Network (INN) looks at how organizations are getting in on big data, a brief overview of the market's outlook, and ways for investors to add big data investing to their portfolios.

Big data investing: organization investments
Organizations across the board are investing in big data, recognizing its necessity in this digital era.
For example, in 2016 a ViewPoint Report highlighted that 76 percent of 1,189 professionals representing 82 different organizations around the world have plans to increase or maintain their investment in big data over the next couple of years.
In a different survey done by NewVantage Partners, called "Big Data Executive Survey 2017," 48.4 percent of the executives polled categorized their big data investments as "highly successful or transformative," while more than 80 percent their investments were "successful."
With that in mind, since 2012, NewVantage's survey highlights roughly 37 percent of organizations have invested more than $100 million on big data, with 6.5 percent investing in over $1 billion.
Of course, like many things, a number of companies have still been met with challenges when it comes to big data investing: according to the report, the biggest provocation when it comes to big data investing isn't the technology itself, but rather cultural challenges within the workplace. 21 percent of the executives polled said big data was "disruptive or transformational" for their firms.
Even so, big data investing–for the most part– is having a favorable impact for many companies polled by NewVantage. The survey further notes that roughly 49 percent of firms have had success in decreasing expenses through operational cost efficiencies through their big data results.
Big data investing: future outlook
Big data is becoming a vital part of the world's most important industries, suggesting that as global industries grow, so too will the demand for big data solutions.
A Research and Markets report called "The Big Data Market: 2017-2030: Opportunities, Challenges, Strategies, Industry Verticals and Forecasts" suggests the big data market will grow at a compound annual growth rate (CAGR) of 10 percent between 2017 an 2020, representing an increase from $57 billion in 2017 to $76 billion in 2020.
Other research firms have given a longer timeline for big data's future growth, such as Grand View Research: according to the firm, by 2025, the market is expected to reach $123.2 billion.
But, what's driving that growth? Grand View suggests that an increase in cloud computing has created a large volume of data as technology grows. Adding to that, Market and Markets says the industry is experiencing "rapid growth" due to high amounts in organizational data. Mobile devices and apps are–and will continue to be–contributing factors.

Big data investing: industry leaders
As you can see, the big dat market is poised for significant growth in the next decade–and likely beyond that–making it an attractive market for investors to dip their feet into.
Of course, it's hard not talking about big data without bringing up some of its biggest companies.
IBM (NYSE:IBM), Hewlett-Packard (NYSE:HPQ), and Dell (NYSE:DELL) are some of the major players in the field of big data.
Amongst the companies who focus specifically on the data industry private company Pivotal is a market leader.
Pivotal became an independent firm in 2013, bolstered by a $105 million investment from General Electric. The fact that these two leading companies are private is telling. Many big data companies prefer to remain private, away from the public eyes of the stock market. In an industry where private information is at a premium, any measure that can be taken to preserve anonymity is valued.
That's why, from an investor perspective, the big multi-national tech companies might be the best first steps into this market. They give a taste of the sector and are also set to reap the rewards of its growth. All told, big data appears to be a strong sector to watch. There's lots of growth in the future of this market. The trick, therefore, is determining the best way to capitalize on it.
Don't forget to follow us @INN_Technology for real-time news updates.
This is an update to an article originally published on the Investing News Network in 2015.
Securities Disclosure: I, Jocelyn Aspa, hold no direct investment interest in any company mentioned in this article.